Free webinar: Dentists discuss experience in building, renovating ADA Design Innovation Award-winning practices
The winners of the 2019 ADA Design Innovation Awards will share their real-world experiences in designing, constructing and renovating their award-winning practices in a free webinar sponsored by BMO Harris Bank, which is endorsed by ADA Member Advantage for practice financing.
Designing a New Practice: A Panel Discussion with the 2019 ADA Design Innovation Award Winners will stream on March 23 at 1 p.m. Central time.
The webinar speakers are Kimberley Barclay, D.M.D., and Lauren Jacobsen, D.M.D., owners of new build category winner Toothbar in Austin, Texas; and Robin Henderson, D.D.S., who owns remodel category winner Dr. Robin Henderson Transforming Smiles in Clarkston, Washington.
Through a panel discussion, the three women will discuss what it took to make the construction of their practices a success, including the factors that led them to move forward with a remodel or new build. They will also talk about aspects of the planning process such as creating business plans, and seeking help from experts and financing, and share advice on what other dentists considering investing in his or her practice.
Toothbar is a 3,267-square-foot practice with a concept that sought to redefine the way people think about going to the dentist, according to Drs. Barclay and Jacobsen.
"We had always heard from patients that they hated going to the dentist," said Dr. Barclay told ADA News in 2019. "When we decided to start and build our own practice, we wanted to create a practice where patients valued their visits."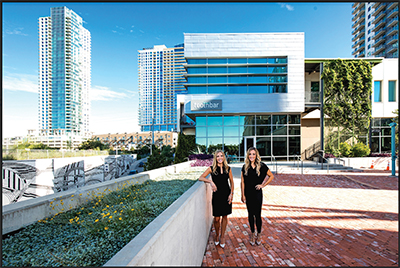 Toothbar opened in April 2018. Its lobby is set up to resemble a hotel lounge, complete with a tech bar which features complimentary Wi-Fi and a refreshment bar. It has floor-to-ceiling windows to showcase a 360-degree view of different parts of Austin.
The practice has an open floorplan concept. During their appointments, patients can take advantage of a "brush bar," which includes the doctors' favorite dental products and a large vanity mirror so patients can refresh themselves before or after their dental visit. In addition, the practice has a "toothbar lounge," which has three massage chairs and a lounge with a bar. The space can be reserved for teeth-whitening parties or if patients want a quick polish and floss in between their six-month cleanings.
Dr. Robin Henderson Transforming Smiles is a 3,200-square-foot practice that was formerly a longtime chiropractor's office. Today, the practice includes an area dedicated for the dental team with large private lockers, kitchen, break and conference rooms.
According to Dr. Henderson, the remodel design began with a focus on the new patient experience. The practice's new patient room includes glass walls adorned with a large fingerprint, which serves as a reminder that each patient is unique and deserves a unique treatment plan, she said.
"I wanted an office that better reflected the level of care provided by my team, that accommodated a digital workflow and improved access for my patients," said Dr. Henderson. The renovation began in November 2016, and Dr. Henderson began seeing patients in September 2017.
Register for the webinar will air via Zoom . Attendees can earn one continuing education credit (pending approval).