HPI poll: Dentists see increased prevalence of stress-related oral health conditions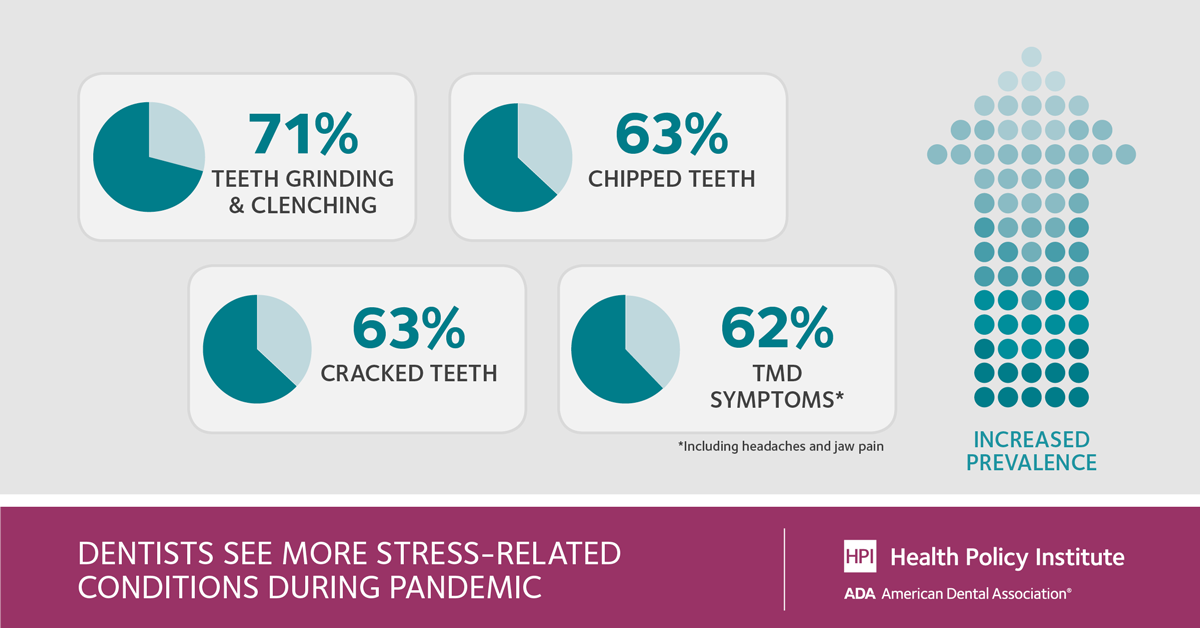 The vast majority of dentists indicate that the prevalence of stress-related oral health conditions among their respective patients have increased since the onset of the COVID-19 pandemic, according to the ADA Health Policy Institute's latest data from its COVID-19 economic impact tracking poll conducted the week of Feb. 15.
More than 70% of dentists surveyed saw an increase of patients experiencing teeth grinding and clenching, conditions often associated with stress — up from just under 60% in the fall. More specifically, 71% of dentists surveyed reported an increase in prevalence of teeth grinding and clenching; 63% for chipped teeth; 63% for cracked teeth; and 62% for temporomandibular joint disorder symptoms, which includes headaches and jaw pain.
"Our polling has served as a barometer for pandemic stress affecting patients and communities seen through the eyes of dentists," said Marko Vujicic, Ph.D., chief economist and vice president of the ADA Health Policy Institute. "The increase over time suggests stress-related conditions have become substantially more prevalent since the onset of COVID-19."
Other findings from the Feb. 15 poll covered issues related to recovery and renewal, financial sustainability and consumer sentiment. It found that:
Patient volume was estimated at 81% of pre-COVID-19 levels on average. Staffing in dental offices was at 99% of pre-COVID-19 levels. HPI expects a slight increase in patient flow in the coming months.
Over the past month, the most common measure taken by dentists to maintain financial sustainability was raising fees. Others responded to the financial challenges of practice ownership by taking out loans, reducing their dental team hours and changing suppliers. Dentists in large group practices have had to take fewer measures to maintain financial sustainability compared to those practicing solo.
More than a third of dentists are practicing some form of teledentistry, most commonly to triage emergencies, do post-ops and follow-up care and for consults.
Approximately 10% of dentists who were enrolled as Medicaid providers prior to the COVID-19 pandemic have since disenrolled.
Consumer confidence in returning to the dental office hit a new high, with 90% reporting to have already been back or are ready to go.
In addition, despite speculation from recent news reports that frequent mask-wearing may impact dental health and cause "mask mouth," the survey found no meaningful change in the prevalence reported for conditions such as bad breath and dry mouth compared to pre-pandemic.
HPI launched its COVID-19 economic impact tracking poll on March 23, 2020. Dentists were asked to join to a panel in which they complete the now-monthly poll. In this latest wave, a nationally representative sample of approximately 2,500 dentists responded.
Webinars on previous data are available on the ADA YouTube channel.
Links to reports and the interactive data dashboard are available at ADA.org/HPI.