HPI: Women make up growing percentage of dental workforce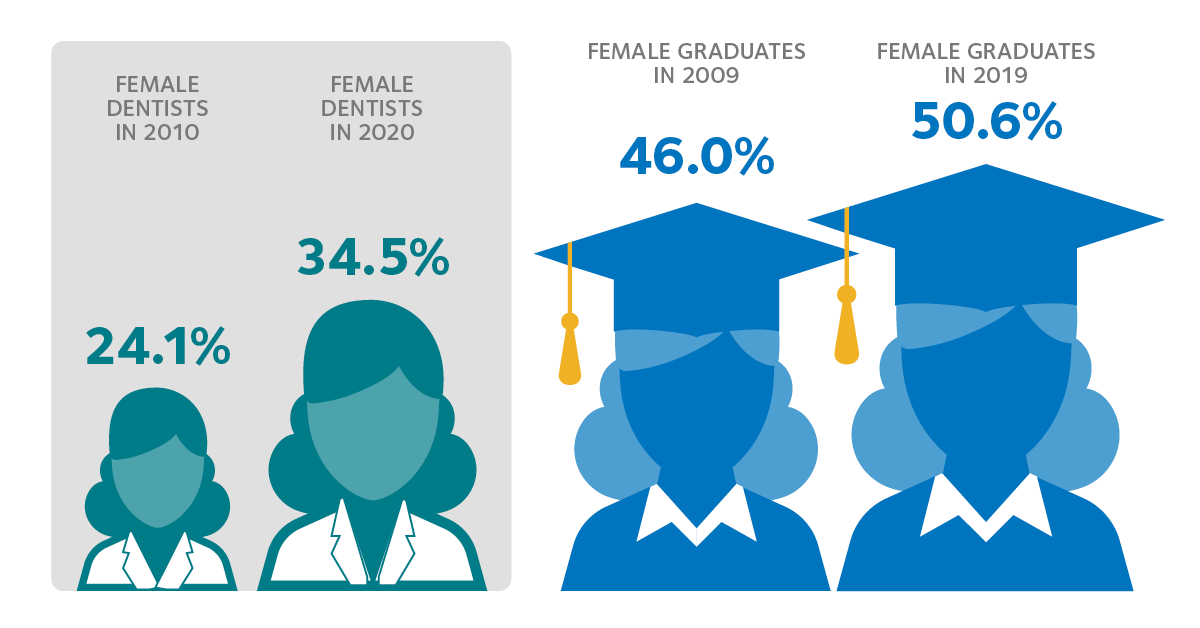 The percentage of dentists who are women is growing, a trend that mirrors the makeup of dental schools and the general workforce.
"Dental school enrollment is now 50-50 gender split, so that is the main reason why we are seeing more dentists who are women in the workforce," said Marko Vujicic, Ph.D., chief economist and vice president of the American Dental Association Health Policy Institute. "The gender shift is not unique to dentistry at all. In fact, the majority of the U.S. labor force is now women."
Data from the Health Policy Institute show the percentage of dental school graduates who are women grew from 46% to 50.6% between 2009 and 2019 and the percentage of dentists in the workforce who are women grew from 24.1% to 34.5% between 2010 and 2020.
The workforce increase is expected to continue for several more years, based on the growth seen in female dental school graduates, according to HPI.
"We are going to see a steady increase in women in dentistry," Dr. Vujicic said. "HPI predicts the dentist workforce will reach gender parity by 2040."
The ADA is addressing the growing diversity of the dental workforce in several ways. The ADA Institute for Diversity in Leadership  aims to enhance the leadership skills of dentists who belong to racial, ethnic or gender backgrounds that have been traditionally underrepresented in leadership roles. The ADA Accelerator Series also provides financial, leadership, self-care, and work and life tools to help dentists, particularly dentists who are women, move their careers forward.
At the local level, the Association partnered with Dallas County Dental Society and Procter & Gamble to launch a grassroots leadership program, Pathways to Community, that prepares and empowers female dentists to create their own communities and advance the success of women in dentistry.
"The future of the dental profession depends on how well and how fast we prepare dentists who are women for leadership roles to carry the ADA forward as women become the majority of the profession," ADA Executive Director Kathleen T. O'Loughlin, D.M.D., said. "The challenges are many — health equity, access to care, diversity within the profession to meet the needs of our communities, the cost of higher dental education and the social determinants of health that prevent our citizens from receiving the care they need and want. The speed of societal transformation is accelerating, and we are running out of time."
HPI data suggest the growing percentage of dentists who are women will have important implications for dental practice, Dr. Vujicic said.
"For example, the research shows that, all else equal, dentists who are women are less likely to own a practice, more likely to be in dental service organizations and more likely to treat Medicaid patients," he said. "They also earn less, even after adjusting for specialty and hours worked."