Chicago Tribune names ADA as top workplace
Honor extended to organization for second time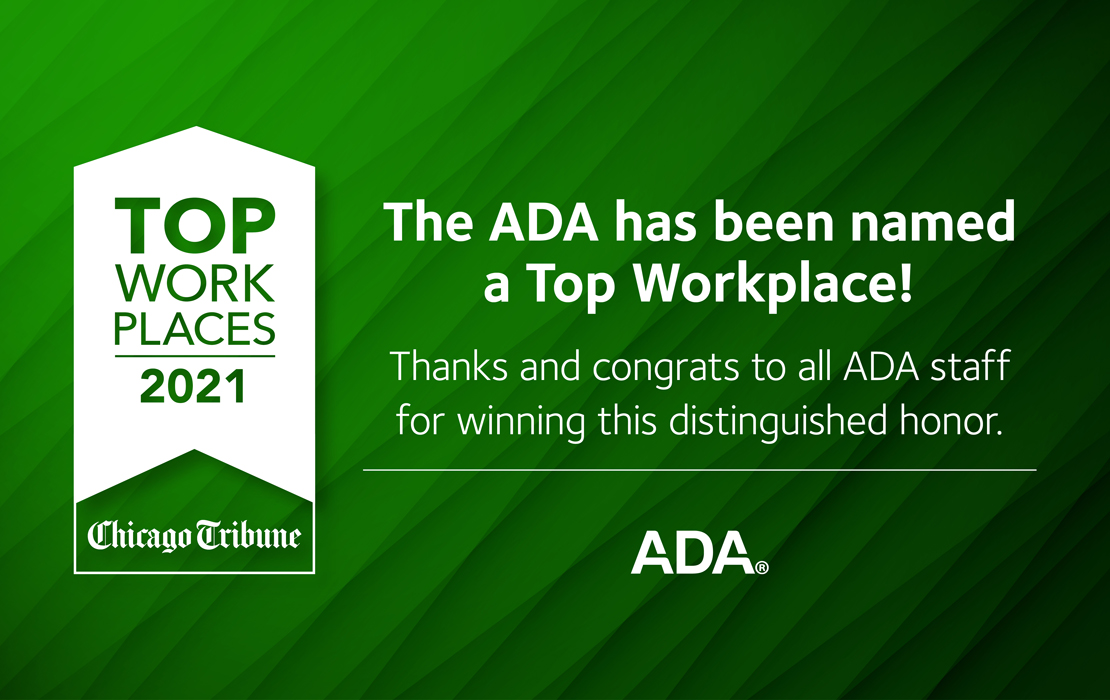 The American Dental Association has been named a top workplace for 2021 by the Chicago Tribune.
The honor is a repeat one, as the ADA was named a top workplace in 2019 by the newspaper.
"The ADA has once again been named as a top workplace by the Chicago Tribune," said Cesar R. Sabates, D.D.S, ADA president. "It should come as no surprise to the dentists and the public. The past 19 months have been challenging in a way no one had ever experienced, but the employees of the ADA stepped up and have gone above and beyond to help its members succeed. It's a well-deserved honor."
This year's recognition comes in the Chicago Tribune's 12th annual Top Workplaces special report, in which, as the Tribune said in a June 2021 story , "we explore how organizations create and sustain a positive and productive culture."
"I am so proud of my colleagues for making the ADA one of the best places to work in Chicago," said Kathleen O'Loughlin, D.M.D., outgoing ADA executive director. "The team is vital to the ADA's mission and vision, and the entire profession benefits greatly from the teamwork, innovation, and problem-solving that happens on a daily basis at the ADA."
Raymond A. Cohlmia, D.D.S., incoming ADA executive director, echoed Drs. Sabates and O'Loughlin' sentiments.
"I am ecstatic that the ADA, under Dr. O'Loughlin's stewardship, is being recognized as a top workplace," Dr. Cohlmia said. "I've always known the Association's professional team to do excellent work on behalf of the ADA's members, and I look forward to working alongside them in continued advancement of the organization and the profession."
Companies in the greater Chicago area with more than 100 employees and that agreed to participate distributed a confidential survey to employees earlier this year. The Tribune's research partner, Energage, an Exton, Pennsylvania-based workplace survey and improvement specialist, developed the survey and calculated the list of top workplaces.
Employees responded to statements related to leadership, execution, connection and more at their workplaces.
There is no fee to participate, and more than 350 companies participated, according to the Tribune.
Since 2010, the newspaper has used employee surveys to determine the top small, midsize and large workplaces in the Chicago area.
Top performers will be recognized in the report and in an online directory. Plans for an event honoring the winners will be determined at a later date.
The ADA as a company, with locations besides Chicago including Washington, D.C., and Gaithersburg, Maryland, was awarded the honor, and all locations participated in the survey.  The Tribune's award is for results from the Chicago office.