Current data on COVID-19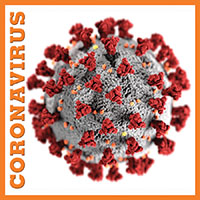 Cases of the coronavirus disease, or COVID-19, continue to climb in the U.S. and around the world.
The numbers in the first table below are based on Jan. 9 data from the Centers for Disease Control and Prevention (U.S.) and the World Health Organization (global).
CDC data include both confirmed and probable cases and deaths, and the agency updates its website daily with data reported as of 4 p.m. Eastern time the previous day. According to the CDC, it does not know the exact number of COVID-19 illnesses, hospitalizations and deaths for various reasons, including that COVID-19 can cause mild illness, symptoms might not appear immediately, there are delays in reporting and testing, not everyone who is infected gets tested or seeks medical care, and there may be differences in how states and territories confirm numbers in their jurisdictions.
WHO COVID-19 situation reports present official counts of confirmed COVID-19 cases. There could be differences between WHO reports and other sources of COVID-19 data that use different inclusion criteria and data cutoff times.
The numbers in the second table were reported by Johns Hopkins University as of 2 p.m. Central time Jan. 9.
Johns Hopkins uses data from the WHO, CDC, European Center for Disease Prevention and Control, National Health Commission of the People's Republic of China, DXY, coronavirus.1point3acres.com, worldometers.info/coronavirus, BNO News, the COVID Tracking Project, state and national government health departments, and local media reports. The publicly available data from these sources do not always agree, and Johns Hopkins frequently updates the data on its website, which could result in higher case numbers than may be available from other sources.
Check this page regularly for the latest COVID-19 data available from the CDC, WHO and Johns Hopkins. Updates will typically be made in the afternoon or evening Monday-Friday. For additional COVID-19 resources from the ADA, visit the ADA Coronavirus (COVID-19) Center for Dentists.
U.S., GLOBAL DATA FROM CDC, WHO
U.S.
GLOBAL

21,853,491

REPORTED CASES

87,589,206

REPORTED CASES

1,906,606

REPORTED DEATHS

Sources: Centers for Disease Control and Prevention and World Health Organization
U.S., GLOBAL DATA FROM JOHNS HOPKINS
U.S.
GLOBAL

22,035,618

REPORTED CASES

89,264,711

REPORTED CASES

1,919,740

REPORTED DEATHS

Source: Johns Hopkins University
Western Pacific region
Australia
Brunei Darussalam
Cambodia
China
Fiji
French Polynesia
Guam
Japan
Lao People's Democratic Republic
Malaysia
Mongolia
New Caledonia
New Zealand
Northern Mariana Islands
Papua New Guinea
Philippines
Republic of Korea
Singapore
Vietnam
European region
Albania
Andorra
Armenia
Austria
Azerbaijan
Belarus
Belgium
Bosnia and Herzegovina
Bulgaria
Croatia
Cyprus
Czechia
Denmark
Estonia
Faroe Islands
Finland
France
Georgia
Germany
Gibraltar
Greece
Greenland
Guernsey
Holy See
Hungary
Iceland
Ireland
Isle of Man
Israel
Italy
Jersey
Kazakhstan
Kosovo
Kyrgyzstan
Latvia
Liechtenstein
Lithuania
Luxembourg
Malta
Monaco
Montenegro
Netherlands
North Macedonia
Norway
Poland
Portugal
Republic of Moldova
Romania
Russian Federation
San Marino
Serbia
Slovakia
Slovenia
Spain
Sweden
Switzerland
Tajikistan
Turkey
Ukraine
United Kingdom
Uzbekistan
Southeast Asia region
Bangladesh
Bhutan
India
Indonesia
Maldives
Myanmar
Nepal
Sri Lanka
Thailand
Timor-Leste

Eastern Mediterranean region
Afghanistan
Bahrain
Djibouti
Egypt
Iran
Iraq
Jordan
Kuwait
Lebanon
Libya
Morocco
Oman
Pakistan
Palestine
Qatar
Saudi Arabia
Somalia
Sudan
Syrian Arab Republic
Tunisia
United Arab Emirates
Yemen
Region of the Americas
Anguilla
Antigua and Barbuda
Argentina
Aruba
Bahamas
Barbados
Belize
Bermuda
Bolivia
Bonaire, Sint Eustatius and Saba
Brazil
British Virgin Islands
Canada
Cayman Islands
Chile
Colombia
Costa Rica
Cuba
Curacao
Dominica
Dominican Republic
Ecuador
El Salvador
Falkland Islands (Malvinas)
French Guiana
Grenada
Guadeloupe
Guatemala
Guyana
Haiti
Honduras
Jamaica
Martinique
Mexico
Montserrat
Nicaragua
Panama
Paraguay
Peru
Puerto Rico
Saint Barthelemy
Saint Kitts and Nevis
Saint Lucia
Saint Martin
Saint Pierre and Miquelon
Saint Vincent and the Grenadines
Sint Maarten
Suriname
Trinidad and Tobago
Turks and Caicos Islands
United States of America
U.S. Virgin Islands
Uruguay
Venezuela

African region
Algeria
Angola
Benin
Botswana
Burkina Faso
Burundi
Cabo Verde
Cameroon
Central African Republic
Chad
Comoros
Congo
Cote d'Ivoire
Democratic Republic of the Congo
Equatorial Guinea
Eritrea
Eswatini
Ethiopia
Gabon
Gambia
Ghana
Guinea
Guinea-Bissau
Kenya
Lesotho
Liberia
Madagascar
Malawi
Mali
Mauritania
Mauritius
Mayotte
Mozambique
Namibia
Niger
Nigeria
Reunion
Rwanda
São Tomé and Príncipe
Senegal
Seychelles
Sierra Leone
South Africa
South Sudan
Uganda
United Republic of Tanzania
Togo
Zambia
Zimbabwe
Source: World Health Organization