End of calendar year good time to review HIPAA compliance
ADA Member Advantage-endorsed Compliancy Group among resources member dentists can use to follow federal rules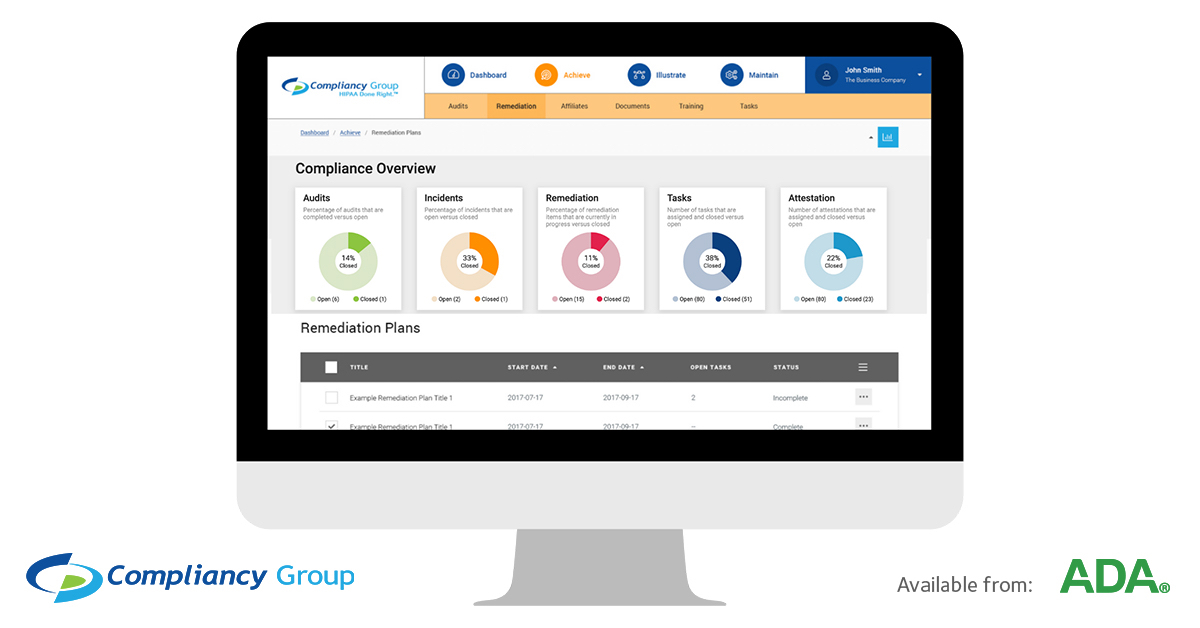 To comply with the Health Insurance Portability and Accountability Act's Security Rule, practices must continue to review, correct or modify and update security protections.
The end of the year is a good time to conduct a risk assessment of the practice to help keep patient information secure as well as to avoid the potential threat of costly investigations and fines, said Marc Haskelson, CEO and president of Compliancy Group, the ADA Member Advantage-endorsed partner that specializes in helping practices and organizations comply with HIPAA.
.
"HIPAA requires providers to conduct risk assessments to identify what updates are needed," Mr. Haskelson said. "The ideal time to perform this assessment is at the end of the calendar year. The end of the year is when strategic planning takes place for the following year. Strategic planning involves considerations: technology to adopt, new year personnel changes, and budgeting, among others, that trigger the obligation to complete a security risk assessment. By conducting a security risk assessment before the end of the calendar year, a practice will have an excellent idea of what its security posture is before the practice makes operational changes that take effect the following year."
The HIPAA Security Rule requires that covered entities and its business associates conduct risk assessments of their organization. A risk assessment helps the practice ensure it is compliant with HIPAA's administrative, physical and technical safeguards. A risk assessment also helps reveal areas where the practice's protected health information could be at risk.
Compliancy Group, headquartered in Greenlawn, New York, has been serving the health care industry, including the dental profession, for more than 15 years, by providing a proprietary, software-as-a-service solution called The Guard. The Guard is supported by individualized, live coaching that helps simplify the compliance process, providing users with tools to help demonstrate having made a good-faith effort to meet HIPAA's requirements.
Compliancy Group offers a 15% discount to ADA members.
The ADA Catalog offers Compliancy Group: HIPAA Compliance Software Solution on its website.
Also, The ADA Complete HIPAA Compliance Kit is offered through the catalog and includes The ADA Practical Guide to HIPAA Compliance: Privacy and Security Manual with digital forms and The ADA Practical Guide to HIPAA Training videos.