ADA director of standards wins Peyton-Skinner Award from IADR Dental Materials Group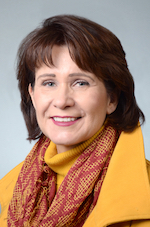 Ms. Stanford
The American Dental Association's director of standards has won the Peyton-Skinner Award from the International Association for Dental Research's Dental Materials Group, recognizing the outstanding contributions she has made to dental material innovation throughout her career.
"When learning of my selection for this prestigious award, I was honored and humbled as this was possible because of the many material scientists and dental professionals who have contributed thousands of hours to the ADA standards program for dental products," said Sharon Stanford, who manages the development and maintenance of standards for dental materials and devices for the ADA. "That support throughout the years has improved the quality and safety of dental products used on a daily basis throughout the world."
The award includes $2,000 and a commemorative plaque. It is named for Drs. Floyd Peyton and Eugene Skinner, two of the founders of the Dental Materials Group.
The ADA standards program establishes baseline standards and technical recommendations for almost every tool used in modern dentistry, from radiographic systems to sealants to manual toothbrushes. Its mission is to ensure the highest level of patient safety and professional satisfaction through the publication of clear industry standards for both dental products and dental informatics.
The ADA is an accredited dental standards body of the American National Standards Institute, as well as the official U.S. representative for the International Organization for Standardization Technical Committee 106 on Dentistry.
To learn more about the ADA standards program, visit ADA.org/dental-standards .