CODA seeks public member nominations for its review committees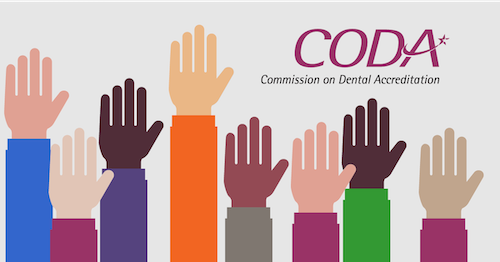 The Commission of Dental Accreditation is seeking nominations by Sept. 24 to fill seven upcoming public member vacancies on its review committees and/or Board of Commissioners.
Self-nominations are permitted. The Commission is seeking a consumer perspective in the public member role. Nominees and their close family must not be involved in the profession of dentistry. If selected, appointments are made for one four-year term. Public members are entitled to the same ADA reimbursement process as any other volunteer. In-person meeting expenses are reimbursed and virtual meetings are not.
Review committee members:
Are responsible for reviewing all policy matters, site visit reports, progress reports, applications for accreditation and special reports on accredited programs, which are submitted to the commission for final action.
Are required to make time commitment of 10-20 days per year.
Will serve as consultants to the commission and are required to complete the web-based site visitor training prior to serving on the committee. The self-paced instructional manual on the commission's policies, procedures and standards takes about six to eight hours to complete.
Are required to become familiar with the CODA training manual and participate in a full day of training at ADA Headquarters. Review committee members should observe at least one site visit within their first year of service on the review committee.
Are expected to be accessible and able to communicate by fax, electronic mail and the commission's web-based communication tools.
Accreditation is a peer-reviewed process and volunteers are an integral part of that process, according to CODA. The Commission provides training to all its volunteers and CODA staff are available for support throughout the process.
The nomination committee will review the nominations and submit recommendations to the Commission.
For more information or to fill out the nomination form, visit CODA's Call for Nominations web page.