Duo receives Dr. David Whiston Leadership Awards
Dr. Chandra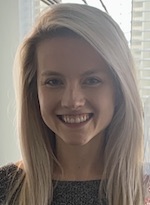 Dr. Sawicki
The ADA Foundation announced Sept. 15 the 2021 Dr. David Whiston Leadership Award honorees: A clinical director at a multi-site federally qualified health center in the greater Seattle area and a postdoctoral research associate at New York University College of Dentistry.
Ritika Chandra, D.M.D., of Lynnwood, Washington, and Caroline Sawicki, D.D.S., Ph.D., of New York City, were recognized for demonstrating leadership skills that advance the dental profession through community engagement, service to the profession, and/or scientific advancement of oral public health. The duo will each receive $5,000, designed to cover the costs of attending the 12-month ADA Institute for Diversity in Leadership this fall.
Dr. Chandra currently serves as the clinical director of the Community Health Center of Snohomish County in Washington State, which receives about 80,000 patient visits each year. In her time at the health center, she has been part of several large-scale projects including school-based exam and sealant programs, and medical and dental integration initiatives.

"While I have been in a leadership position in my organization for a few years now, I also wish to impact our profession positively," Dr. Chandra said. "The strong faculty in this program will allow me to gain formalized training in leadership. Equally important, this will help me cultivate a solid network for learning and collaboration."
Dr. Sawicki is currently in a combined training program at NYU College of Dentistry, focusing on her pediatric dentistry residency in conjunction with post-doctoral research. She also serves as a post-graduate student representative for the research advisory council at NYU College of Dentistry, where she is responsible for advising the college administration on research issues and challenges residents may face.
"The [award] would give me the opportunity to grow my ability to lead the next generation of women in science," Dr. Sawicki said. "By learning how to put into practice the leadership training I would receive as a recipient of this award, I will set up an example for future generations of female clinician-scientists that belong in a traditionally underrepresented group."
Created in 2003, the ADA Institute for Diversity in Leadership is designed to enhance the leadership skills of dentists with racial, ethnic and/or gender backgrounds who have been traditionally underrepresented in leadership roles. During their program year, the Institute class members will develop their leadership abilities through faculty seminars and experience designing and leading projects for their dental associations or other community organizations. Participants will work with leading educators from Northwestern University's Kellogg School of Management and Duke University's Fuqua School of Business.
The ADA Foundation created the Dr. David Whiston Leadership Awards in 2014 to honor Dr. Whiston, who served the oral health profession in a number of leadership roles for many years, including as ADA president from 1997-98, trustee from 1992-96 and president of the ADA Foundation's board of directors from 2010-14. Applicants for the award must be a dental student, graduate student or resident enrolled in an accredited dental school education program, or an early-career dentist under the age of 40 or in their first five years of professional work following residency.
For more information about the award, visit adafoundation.org .