Learn benefits of minimally-invasive rehabilitations in CE course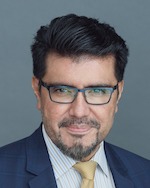 Dr. Ruiz
Every practice has up to 15% of patients with severe wear, loss of vertical dimension of occlusion and serious esthetic and functional concerns.
Full or partial rehabilitations, which traditionally require cutting teeth for crowns, are expensive and complicated.
Minimally Invasive Rehabilitation: A Healthier, Less Costly, and Predictable Approach (1106) , on Oct. 11 from 10 a.m.-noon at Jasmine B in the Mandalay Bay South Convention Center, is a fast-paced course that will cover techniques for composite rehabilitations, partial coverage porcelain restorations, occlusal and esthetic considerations with a supra-gingival minimally invasive goal.
Worth two hours of continuing education credit, the course will be taught by Jose-Luis Ruiz, D.D.S., director of Ruiz Dental Seminars at the LA Institute of Clinical Dentistry.
The learning objectives for participants include the many benefits of minimally invasive rehabilitations and how to avoid complications and techniques for direct composite and partial coverage porcelain rehabilitations.
The fee is included with the Smile Pass and Platinum Smile Pass.