ACE Panel report examines how dentists assess overall patient health, work with medical colleagues
Most dentists obtain medical histories, collect vital signs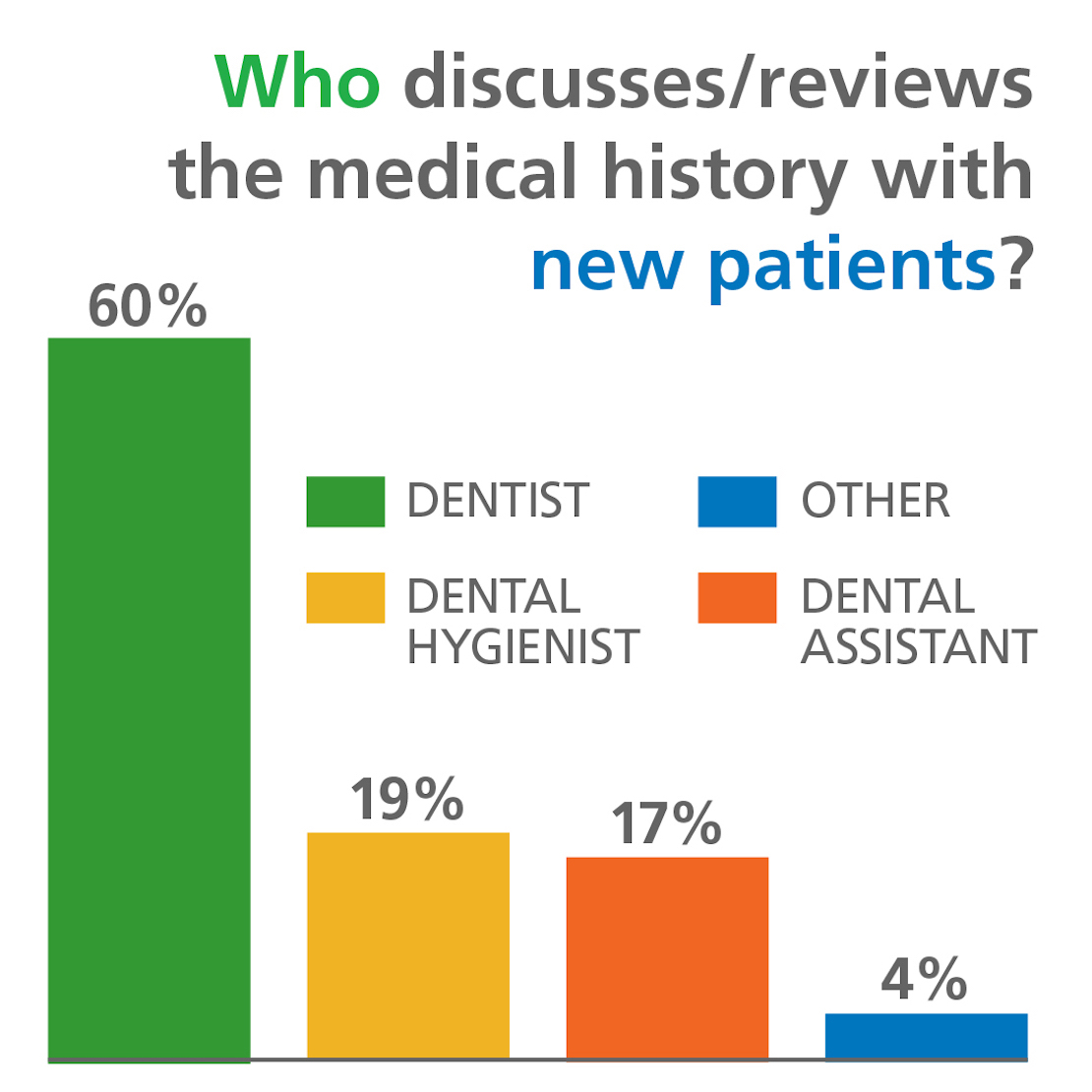 Most dentists obtain and use their patients' medical histories and collect their vital signs, but how often they take these assessments and how they use them vary, according to an ADA Clinical Evaluators Panel report published in the April issue of The Journal of the American Dental Association.
"Mounting evidence over the years shows that poor oral health is associated with a variety of systemic conditions, for example, diabetes mellitus, cardiovascular diseases and hypertension," said Alessandro Villa, D.D.S., Ph.D., one of the report's co-authors and a member of the ADA Council on Scientific Affairs. "In addition, poor oral health leads to increased general medical costs. We chose this topic to better understand what role dentists currently play in the management of their patients' chronic diseases."
The report, which includes the responses of 258 ACE Panel member dentists, found more than 90% of dentists obtain and use patients' medical histories, medication lists and interviews. At every dental visit, 75% of dentists or their team members ask about changes to medical histories, 66% ask about updates to medication lists, and 33% ask about visits with other health care providers. At initial visits, dentists typically discuss and review histories, but in subsequent appointments, dental assistants or hygienists often complete this task.
Eighty-five percent of dentists said they routinely collect some combination of pulse, temperature, respiratory rate, blood pressure and pulse oximeter reading at appointments, and of those dentists, 57% collect at least one vital sign for every patient at every visit.
"Dentists routinely take blood pressures, update patients' medications and their medical history, and provide dental treatment for medically complex patients, including cancer patients," Dr. Villa said. "These represent some of the many efforts the dentists perform to improve the general health of patients."
Heart and blood conditions are the chronic conditions being monitored by the most dentists, followed by cancer, precancer or other neoplastic conditions. More than 90% of dentists treat people who are either actively undergoing cancer treatment or are in remission from cancer, and 84% refer patients to another health care provider for at least one of the most common oral complications associated with cancer treatment.
Nearly half of dentists said they perform risk assessments for all patients. On average, dentists said they refer 12% of their patients to another health care provider in a typical week, and 54% routinely refer medically complex patients to specialty practices or dental schools.
"Almost 50% of the respondents performed risk assessment evaluations on all of their patients. This is a step in the right direction," Dr. Villa said. "Dentists play a major role in the overall health of their patients and often refer and interact with physicians from other specialties in a patient-centric approach."
Dentists can view the entire ACE Panel report online and download the PDF at JADA.ADA.org .
ACE Panel reports feature data from ADA member dentists who have signed up to participate in short surveys related to dental products, practices and other clinical topics. The ACE Panel Oversight Subcommittee of the ADA Council on Scientific Affairs writes the reports with ADA Science & Research Institute staff.
The reports offer ADA members a way to understand their peers' opinions on various dental products and practices, providing insight and awareness that can benefit patients and the profession.
Members are invited to join the ACE Panel and contribute to upcoming surveys, which occur no more than once every few months and usually take five to 10 minutes to complete.
To learn more or join the ACE Panel, visit ADA.org/ACE .