Pitch in, give back, and learn more about volunteer opportunities on Philanthropy Day
SmileCon attendees can participate in charitable activities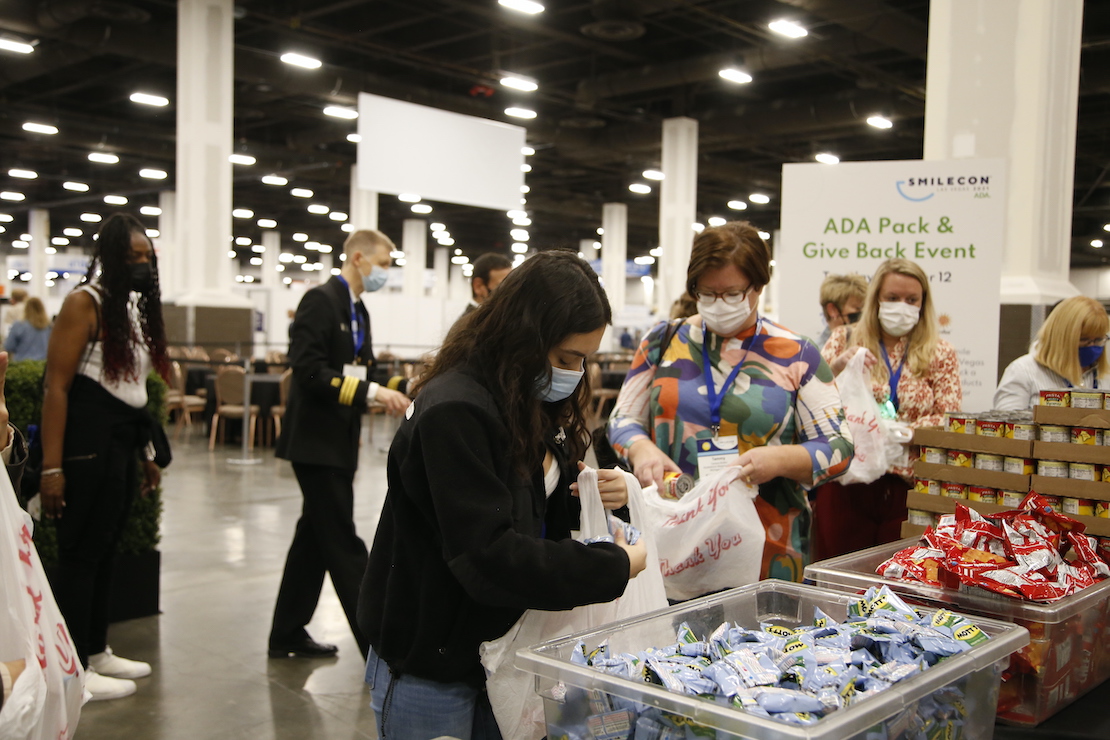 An entire day dedicated to giving back on Oct. 13 will give SmileCon attendees a chance to participate in charitable activities, learn more about volunteer opportunities and share their passion for giving back.
"Philanthropy Day at SmileCon offers an opportunity to attendees to pay it forward and make a difference by participating in several charitable related events throughout the day," said Michael Medovic, D.D.S., an ADA trustee, member of the ADA Give Kids A Smile National Advisory Committee and vice chair of the ADA's Advisory Committee on Annual Meetings. "It's a great way for the ADA to shine a light on the many philanthropic oral health programs in existence while also supporting and giving back to the local Houston community."
Philanthropy Day will kick off with the SmileDash 2022 C.H.A.T. (connect, huddle and talk), a 5K fun run around downtown Houston that will support the ADA's Give Kids A Smile program. Participants will gather at 6 a.m. for the in-person event, and all SmileCon attendees, spouses, family members and guests can participate. Registration is not required for the 5K fun run, but it is encouraged.
Participants can register for SmileDash through the SmileCon registration portal. SmileDash is a wellness initiative where participants are asked to log as many miles as possible by running, walking, biking, swimming or participating in any distance activity from Oct. 1-15 to help meet the ADA's goal of logging 5,000 miles. This includes any miles logged while checking out Dental Central, walking to and from continuing education courses or exploring Houston during SmileCon. The registration fee is $35, and a portion of the fee will support GKAS programs and projects. Those who register in advance will receive a participant t-shirt and medal. The fee is not tax deductible.
Dental professionals and their families and friends who don't attend SmileCon can also participate in SmileDash 2022 virtually — logging miles and supporting GKAS from anywhere from Oct. 1-15. Off-site participants can register at Eventbrite.com.
Philanthropy Day will also give SmileCon attendees a chance to pitch in to pack approximately 1,000 backpacks with nutritious food, toothbrushes, toothpaste and oral health education cards for food insecure children in Houston in collaboration with the Houston Food Bank. The Give Kids A Smile Pack & Give Back event will be held next to Smile Zone A in Dental Central at the George R. Brown Convention Center from 10 a.m.-noon. Backpacks will be distributed to Houston schools to provide children in need with nutritious food for weekends and oral health care supplies. No registration is needed to participate. Just drop in and lend a hand!! The event is sponsored by Henry Schein Cares, Colgate and the Dental Trade Alliance Foundation, with additional support from the ADA Foundation.
The Colgate Bright Smiles Bright Futures mobile dental van will roll into Dental Central to provide oral health screening and education to Houston children from 9:30 a.m.-3:30 p.m. The van will remain in Dental Central and be open for SmileCon attendees to tour Oct. 14 and 15, 9:30 a.m.-3:30 p.m.
An eye-opening experience — and delicious coffee — await those who want to learn more about volunteer opportunities in oral health care. Coffee and Philanthropy DENT Talks, from 2-4 p.m. in Smile Lounge A, will feature representatives from a variety of volunteer organizations and programs who will share information and stories about their organizations and programs. The program is designed to provide an overview of volunteer opportunities in the U.S. and abroad and show attendees how participation can increase access to oral health care worldwide. No registration is required for this event.
And for those who want to meet up with colleagues who share their passion for volunteering, philanthropy and giving back, a Philanthropy Day C.H.A.T. (connect, huddle and talk) event will convene from 5-6:30 p.m. at the Marriott Marquis Sky Bar. No registration is required for this event.
"Philanthropy Day will be a great way to connect with like-minded individuals interested in serving those in need," said Dr. Medovic. "We would also like to offer a special thank you to Henry Schein, Colgate, the Dental Trade Alliance Foundation and the ADA Foundation for their support. I look forward to seeing attendees bring to life the caring nature of our profession in Dental Central on Oct. 13."
For additional information about Philanthropy Day events, contact gkas@ada.org.
SmileCon will be held Oct. 13-15 in Houston. For the latest information on the meeting, visit SmileCon.org.