Everyone for Veterans approaches milestone
Nonprofit honors those who have served by finding volunteer dentists willing to serve them with donated dental care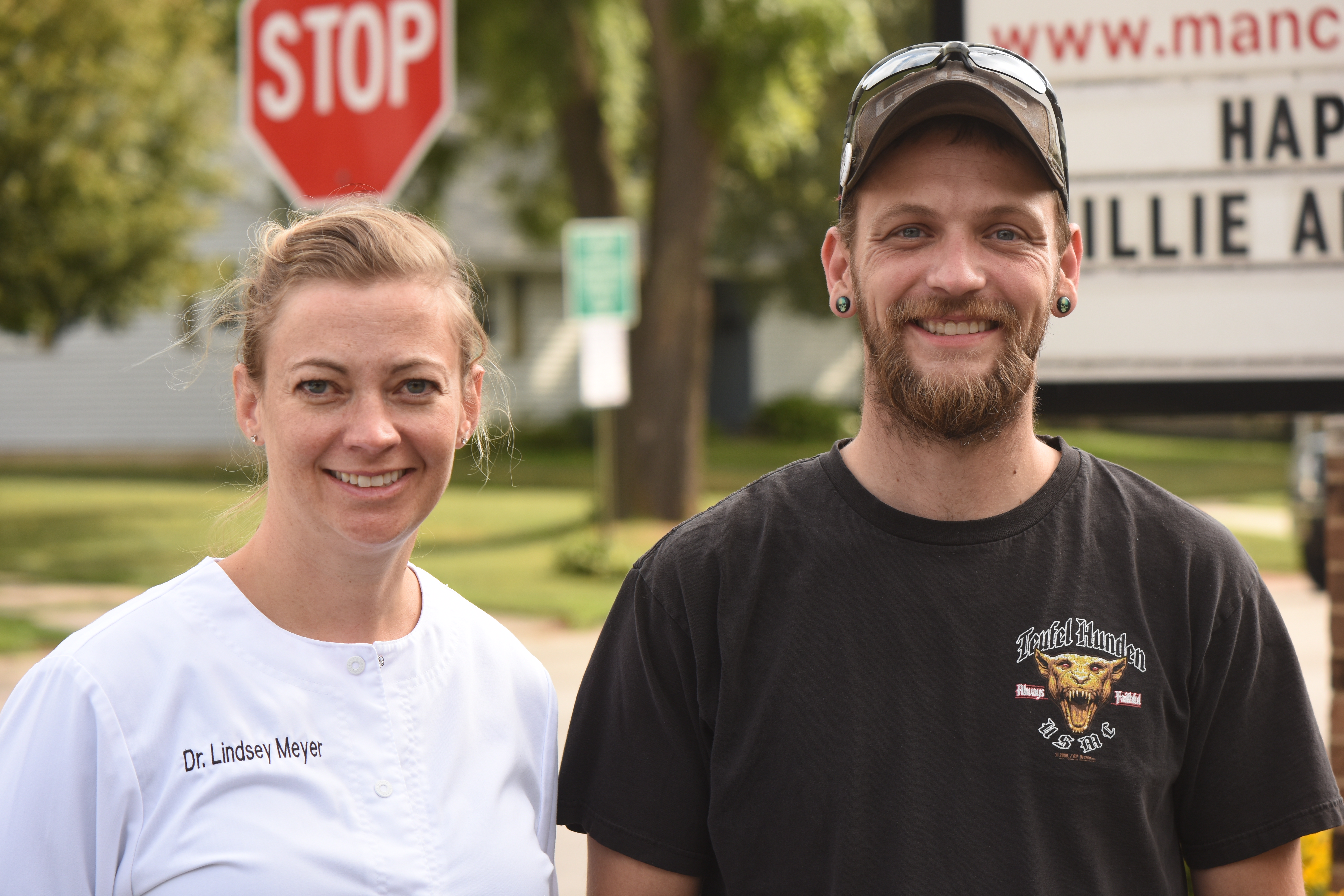 Robert Chavez served in the U.S. Army from 1987-92 and deployed to Kuwait during the Gulf War.
Returning home after his discharge, he struggled and was unemployed for a time. He and his wife, Rosevelina, neglected their oral health needs for years until the pain became too much to bear.
Then, Mr. Chavez said, "I got lucky."
He connected with Everyone for Veterans - also known by its acronym, E4V - a nonprofit organization that works to improve veterans' quality of life through free services, primarily dental care. The organization also helps veterans' spouses with the same care, recognizing the role they play in holding the veterans' families together.
Between them, Mr. and Mrs. Chavez received several fillings, cleanings, crowns, implants and braces - totaling more than $55,000, though costing them nothing. The volunteering general dentist collaborated with an orthodontist, endodontist, oral surgeon and dental lab to help the couple.
"Thanks to this generous multidisciplinary collaboration, Robert and Rosevelina are now smiling brightly with renewed confidence," said Theresa Cheng, D.D.S., and president and founder of E4V.
Beginnings
E4V was founded by Dr. Cheng to honor those who have served in war zones by reaching out to the community to find dental professionals willing to go that extra mile providing comprehensive dental care for the nation's heroes.
E4V serves veterans who have deployed to combat or imminent danger areas, are experiencing significant financial hardship, and have limited or no dental insurance. Over the last five years, E4V has been able to increase their capacity by streamlining the application experience and automating many processes.
With this improved capability, they will be expanding their eligibility criteria to extend care to qualified non-combat veterans and their spouses who are experiencing financial hardship across the nation beginning Jan. 1.
Dr. Cheng, a periodontist and past ADA Humanitarian Award recipient who retired from private practice in 2014, said she was inspired in 2008 after reading about a local soldier who had suffered grave injuries in Fallujah, Iraq.
Dr. Cheng began designating one day each year to treating veterans and their family members on a pro-bono basis, as well as collaborating with general dentists to complete their dental care.
"I learned quickly that most veterans do not get dental benefits," she said.
The VA provides dental benefits exclusively to veterans with a 100% disability rating, former POWs or those with service-related dental conditions. This amounts to about 15% of U.S. veterans, Dr. Cheng said, and leaves millions of veterans living with chronically poor dental health, especially for those with low incomes."
As she met more veterans, she discovered other challenges they faced to attain oral health. Getting to free or affordable clinics or events, for example, was often prohibitory due to transportation, child care or work schedule issues.
Dr. Cheng felt that it wasn't right that veterans were facing challenges receiving care while enduring a lifetime of dental disease.
"We decided that at least for the veterans who have returned from combat areas and are low-income, we would provide comprehensive care," she said.
With this in mind, Dr. Cheng founded Everyone for Veterans with the goal of expanding what she had already been doing on a smaller scale.
"Dentists in their local communities would be the best candidates to help care for a veteran in their clinics," she said.
As 2022 ended, E4V had assisted 662 veterans since its inception. Nearly 600 dentists nationwide are signed up to provide future care as well as three dental schools: the University of Washington School of Dentistry, University of the Pacific's Arthur A. Dugoni School of Dentistry and University of Iowa College of Dentistry and Dental Clinics.
'Phenomenal, fantastic'
Bryant Sawdey is another veteran who has been helped by E4V.
A veteran of the Marine Corps and Operation Enduring Freedom, Mr. Sawdey said he avoided looking at himself in the mirror several years after his discharge because he didn't like the look of his teeth and mouth.
"I was very self-conscious," he said, admitting that he had neglected his oral care. "I was disgusted at myself."
The Iowa resident heard about E4V through the veteran grapevine and contacted them.
To his surprise, E4V contacted him two days later, and within 10 days Mr. Sawdey was sitting in the dental office of Lindsey Meyer, D.D.S.
"It was phenomenal, fantastic," he said of his experience.
The providers who treated the Chavez couple and Mr. Sawdey said donating their services was the least they could do for veterans.
"I am glad to donate my time to E4V," said Dr. Meyer. "There is no better cause than those that volunteer to serve for the U.S. armed forces. I am happy to help."
Diane Doppel, D.D.S., an orthodontist who treated Rosevelina Chavez, said that she feels that the community can do more to take care of veterans.
One of the reasons she decided to go into dentistry, she added, was because she saw it as a way to help people.
"I am so fortunate to have had help and support along the way so that I would get to enjoy orthodontics as my profession," Dr. Doppel said. "Contributing to our communities is one way to show gratitude. Our veterans have sacrificed so much in service of our country."
Dentists who would like to volunteer to see a E4V veteran or spouse are encouraged to learn more at everyoneforveterans.org/dental-volunteer-opportunities .