ADA, American Dental Hygienists' Association to discuss updated findings on COVID-19 impact
Live webinar to take place Feb. 22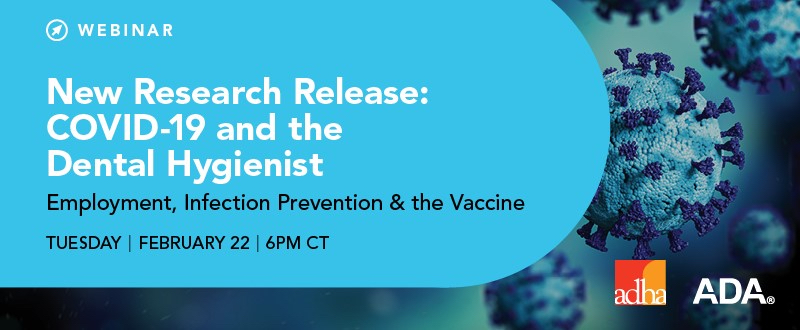 Researchers from the American Dental Association and American Dental Hygienists' Association will discuss their latest findings on the impact of COVID-19 on employment, infection prevention and vaccine acceptance among dental hygienists during a live webinar Feb. 22.
The ADA and ADHA have joined forces to conduct a longitudinal study of the pandemic's impact on dental hygienists. They conducted the study over a 12-month period with a nationwide panel of dental hygienists, and results will be published in the February issue of The Journal of Dental Hygiene.
Webinar panelists will include Cameron Estrich, Ph.D., health research analyst with the ADA Science & Research Institute; JoAnn Gurenlian, Ph.D., director of education and research for the ADHA; and Rachel Morrissey, senior research analyst with the ADA Health Policy Institute.
New Research Release: COVID-19 and the Dental Hygienist will take place at 6 p.m. CST. To register and submit questions for the panelists, go to the webinar page. Registrants will receive a link to a recording of the webinar a few days after the live event.