Give Kids A Smile celebrates 20th anniversary
ADA's signature access-to-care program has provided care to 7 million children over two decades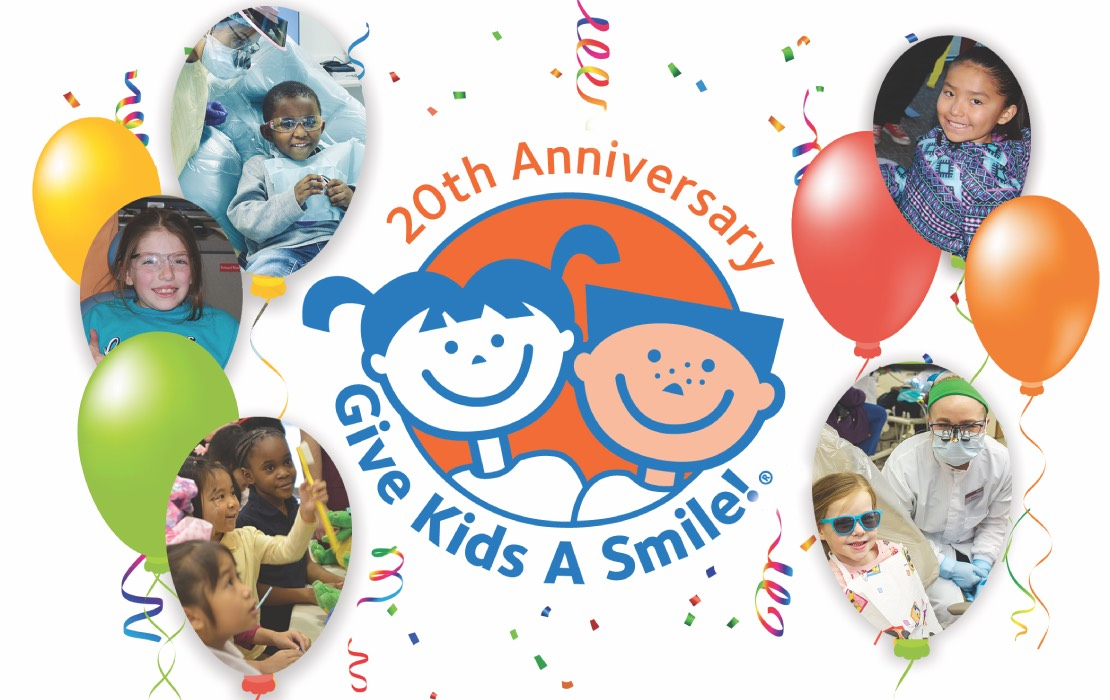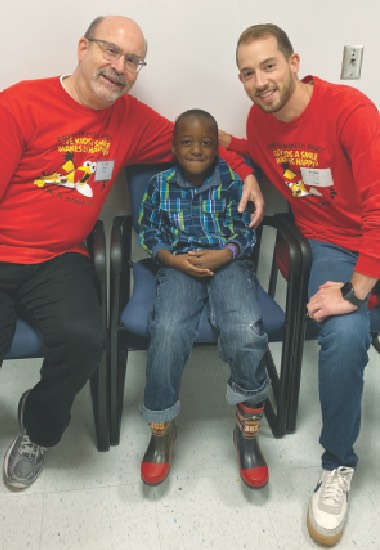 Togetherness: Dr. Jeffrey Dalin, left, poses with his son Dr. Andy Dalin and a young patient at a St. Louis Give Kids A Smile clinic at the St. Louis University Center for Advanced Education School of Dentistry
"It's a good day when you save a smile," said Jeffrey Dalin, D.D.S., the co-founder of the St. Louis  Give Kids A Smile program and the recipient of the ADA's 2022 Humanitarian Award. "It's a great day when you change a life."
The arrival of 2022 means that the ADA's signature access-to-care program Give Kids A Smile is 20 years old, with a legacy of providing oral health services for 7 million children - and counting.
To date, 954 Give Kids A Smile events are registered in the ADA's online system for 2022 to provide services for more than 260,000 children.
Changing lives is a hallmark of Give Kids A Smile, which traditionally kicks off the first Friday of February in conjunction with National Children's Dental Health Month. Events are held throughout the year: anytime volunteers have the time and inclination to help underserved children.
"Giving back is a foundation of the dental profession and the ADA," said Cesar R. Sabates, D.D.S., ADA president. "Across the country, about 6,500 dentists and 25,000 dental team members volunteer at local Give Kids A Smile events to provide free oral health education, screenings, preventive and restorative treatment to about 300,000 children annually. As GKAS enters its 20th year, the program continues to transform children's lives by brightening their smiles. Its strong foundation ensures that Give Kids A Smile will carry on for many more years beyond this one."
The concept of Give Kids A Smile came from an ad-hoc committee of the Greater St. Louis Dental Society that was charged with coming up with ideas on how to give back to the community.
"As editor of our local dental society bimonthly magazine, we decided that I should publish a list of programs that provided dental care around the world," Dr. Dalin said. "I think I came up with around 10 pages of these programs. We thought it could inspire our members to sign up with these programs and travel all around the world doing this."
The committee regrouped a few months later and decided that they could do more.
"I remember suggesting we had plenty of problems here in St. Louis that we could try to alleviate. Why go overseas when we could spend time cleaning up our own backyard?" Dr. Dalin said.
That summer, Dr. Dalin volunteered at a back-to-school event. About 200 children from impoverished neighborhoods went "shopping" for all sorts of donated products at the fair: book bags, winter coats, school supplies, toiletries, pants, shoes, underwear and socks.
"It was an adorable program, seeing these kids walking out of the 'shopping room' dragging a huge bag of goodies with them," Dr. Dalin said.
When the committee met again a few months after that, Dr. Dalin described that back-to-school event he attended.
"I pointed out that these kids needed shoes and socks and underwear and thought that would prove that these kids had definite economic needs," Dr. Dalin said. "Why not get those 200 kids and take care of their dental needs?"
Give Kids A Smile was born.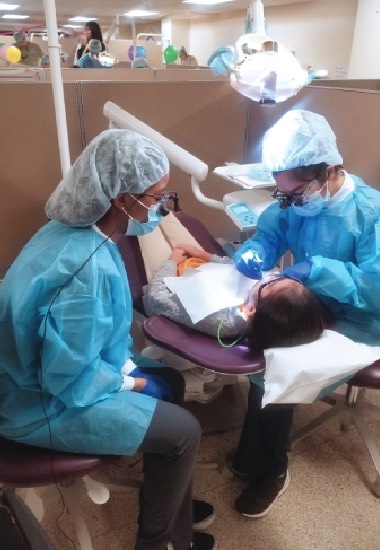 Counting teeth: Howard students Kristina Fabi, right, and Ariel Banks perform an exam on a patient during the dental school's Give Kids A Smile event in 2020. All students were supervised by a dentist.
 Four months later, in February 2002, B. Ray Storm, D.D.S., and Dr. Dalin held the first Give Kids A Smile event in a run-down, soon-to-be-demolished dental clinic in St. Louis, where 15 patient chairs were cobbled together to deliver free dental care to nearly 400 children.


After the success of that first clinic, Dr. Dalin thought, "Why can't groups all around the country do the same thing?"
Dr. Dalin called the ADA to see if they were interested in this program, and met with then-ADA Executive Director Jim Bramson, D.D.S., who took the concept to the Board of Trustees.
The Board voted to adopt Give Kids A Smile as their national children's dental access program.
Although he is proud of the program's accomplishments,Dr. Dalin said he is pained to realize that Give Kids A Smile is still needed.
"Dental professionals feel that it is a shame in 2022 that children still are having access-to-care problems," Dr. Dalin said. "We do not want kids to be in pain, to have trouble eating, to have self-esteem issues with teeth that do not look good, to not sleep well and to have trouble paying attention in school. Give Kids A Smile is probably needed now more than ever."
Dental groups across the nation are following the lead of Drs. Dalin and Storm by continuing Give Kids A Smile in 2022.
Meelin Dian Chin Kit-Wells, D.D.S., is part of a University at Buffalo School of Dental Medicine team that ran a recent Give Kids A Smile event. The Feb. 4 gathering brought together 70 children and a multidisciplinary group for preventive and restorative treatment.
"Even in the midst of so many pandemic distractions, Give Kids A Smile reminds us of the core of life - service, and serving healthy smiles, important for healthy lives," she said.
It was the University at Buffalo team's 19th year of reaching out to a diverse group of at-risk children, including new refugees who need appointments and dental homes, children with disabilities and their Amish neighbors.
Eastward, the Oklahoma City Indian Clinic also held a Give Kids A Smile event Feb. 4, with 50 children served. The clinic has participated in Give Kids A Smile since 2015, said Monica McKee, registered dental hygienist and director of patient services at the clinic.
"This allows us to serve some of the most vulnerable residents of central Oklahoma, disadvantaged American Indian youth," Ms. McKee said. "Native children are no strangers to poverty, poor health outcomes and poor oral health. During a recent Give Kids A Smile event, 55% of the children served received oral care for the first time."
Give Kids A Smile has always been the highlight of Februarys at the Howard University College of Dentistry, said LaToya M. Barham, D.D.S., associate professor at the dental school.
"No matter what, the need to value and protect children's oral health will always remain at the center of my heart and soul," Dr. Barham said. "I will make it my point to continue programs like GKAS during pandemics and endemics as safely as possible if it means that it continues to give help and service to those most vulnerable ones in our society."
Give Kids A Smile is sponsored nationally by Henry Schein and Colgate with continued support from the ADA Foundation, CareCredit, 3M, Premier Dental Products Company and others.
The ADA provides online resources to local Give Kids A Smile programs to assist with planning and promoting their events; collects program data that can be accessed by local coordinators and dental societies for reporting purposes; oversees the allocation of Give Kids A Smile product kits, generously donated from Henry Schein and Colgate, to be shipped to local events each year; and provides training, such as the Give Kids A Smile Community Leadership Development Institute for a select group of ambassadors to enhance their programs and assist other coordinators in their respective areas.
Stanley M. Bergman, chairman of the Board and Chief Executive Officer of Henry Schein, said that as an early supporter and sponsor of Give Kids A Smile, the company is pleased to continue to support the program.
"Under the direction and leadership of the American Dental Association, the program has made such an incredible long-term impact on children of all ages, helping achieve a lifetime of good oral health and overall health," Mr. Bergman said. "Together with public-private partnerships and the dental community at large, we are so pleased to be a part of the program's creation, evolution and its long-term success. The Give Kids A Smile program exemplifies Henry Schein's commitment to expanding access to care to those who need it most, and we look forward to supporting the program for years to come."
Steve Kess, vice president, global professional relations for Henry Schein, is an honorary ADA member in recognition of his and Henry Schein's unwavering support of Give Kids A Smile.
"By supporting Give Kids A Smile since the beginning, we're reminded of the valuable role we, and our partners, can play in helping health happen," Mr. Kess said. "Congratulations to the American Dental Association for your leadership; all the dental volunteers who help ensure children have access to oral care and a health home; industry partners who provide the supplies and products to help dentists and their teams deliver quality care; and dental school faculty, staff and students who have donated thousands of hours of their time and talents to make GKAS the success it is today - the largest charitable dental health program in the country."
Give Kids A Smile has had its focus expanded over the years.
"When Give Kids A Smile began in St. Louis, we decided to see kids between kindergarten and eighth grade," Dr. Dalin said."We felt that this would be a good group to treat in our clinic settings. What we learned was that in too many instances, by the time we saw them by age 5 or so, we were too late. Many children were showing up with extensive dental problems."
So the Give Kids A Smile team started a second program, calling it Tiny Smiles. 
"We want to see children from around a year old until 4 years old with their parents for an exam and education session," Dr. Dalin said. "We want to show parents how to take care of their baby's teeth from the moment their teeth appear. We want to encourage all dentists to perform some sort of examination of all children by age 12 months."
The pandemic introduced a brand new set of challenges for the program to tackle. The ADA responded by developing and posting an online guide to assist local Give Kids A Smile programs in conducting events safely during COVID-19 and providing ideas for virtual oral health education. Additional masks and "6 ft. apart" stickers were also included in the Give Kids A Smile product kits.
Teams throughout the country got to work customizing the program for implementation in their communities. For example, the team in St. Louis developed a program called GKAS Takes A Journey. Instead of a large clinic at its normal location, the organizers located kids in need of dental services, lined up volunteer dentists and assigned those kids to all of their offices.
"We know that dental offices are a very safe place to be at, even during this pandemic," Dr. Dalin said. "Dentists have established protocols for our offices that keep dentists, staff and patients safe. We cannot let this pandemic stop the Give Kids A Smile program."