Jeffrey B. Dalin, D.D.S, recipient of ADA's 2022 Humanitarian Award
For co-creating and continually guiding the ADA's signature access to care program Give Kids A Smile for 20 years, Dr. Dalin was named the 2022 recipient of the Association's Humanitarian Award, one of the highest honors the ADA bestows on members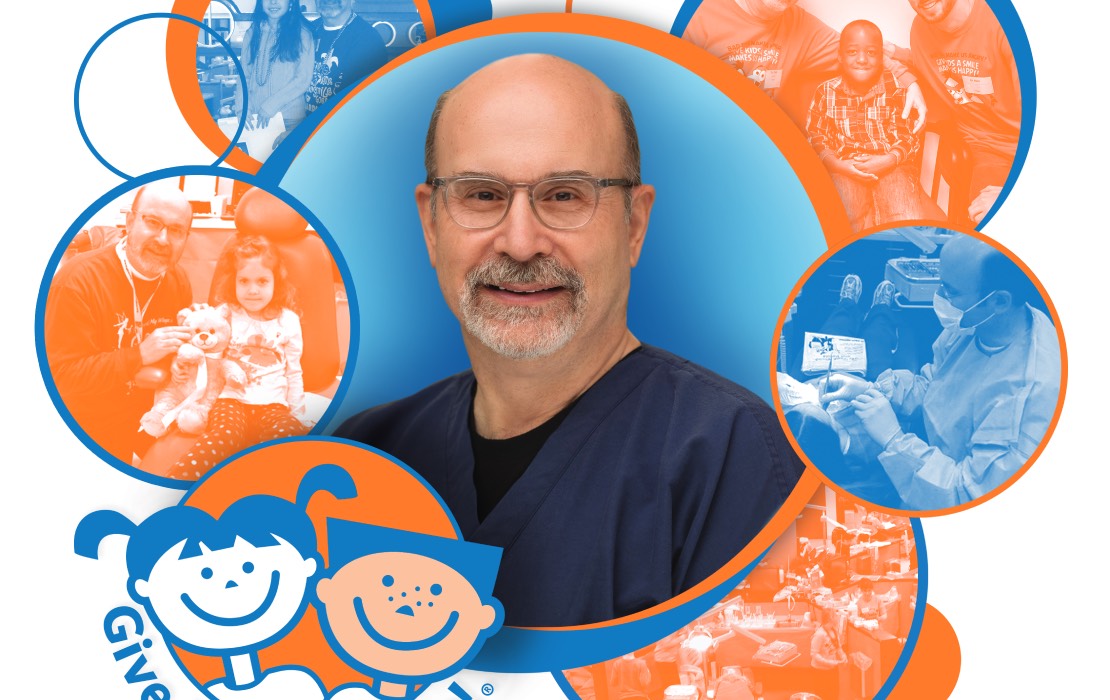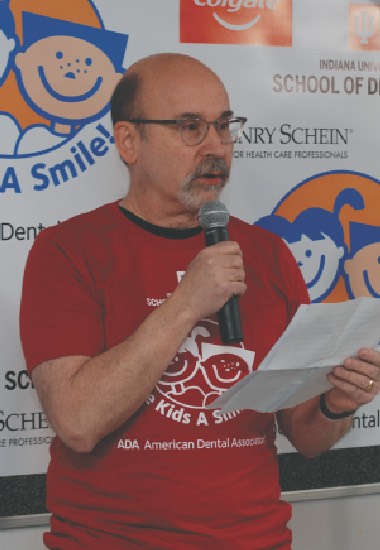 St. Louis - More than 7 million underserved children have received free oral health services through the national Give Kids A Smile program.
That's what gives Jeffrey B. Dalin, D.D.S., a smile.
"Creating beautiful smiles on my patients and creating beautiful smiles on Give Kids A Smile children are perfect ways to make me smile," he said.
For co-creating and continually guiding the ADA's signature access to care program Give Kids A Smile for 20 years, Dr. Dalin was named the 2022 recipient of the Association's Humanitarian Award, one of the highest honors the ADA bestows on members, in recognition of his efforts co-founding the St. Louis Give Kids A Smile programand continually guiding the national ADA Give Kids A Smile program for 20 years.
"It is my distinct pleasure, on behalf of the Board of Trustees, to recognize our friend and colleague Dr. Jeffrey Dalin for his stewardship over the past two decades," said Dr. Cesar R. Sabates, ADA president.
"Each year, about 6,500 dentists and 30,000 dental team members volunteer at local Give Kids A Smile events across the country to provide free oral health education, screenings, preventive, and restorative treatment to about 300,000 children. Giving back is a foundation of the dental profession. Dr. Dalin has been the program's staunchest ambassador and is the perfect example of how a dentist's generosity and devotion can result in millions of healthy smiles."
The ADA Humanitarian Award recognizes dentist members who have distinguished themselves by giving a minimum of 10 years to improving the oral health of underserved populations in the United States accompanied through outstanding and unselfish leadership. The award includes a $10,000 award to be given to the dental charity or project of the recipient's choice and national recognition at an ADA event in the future.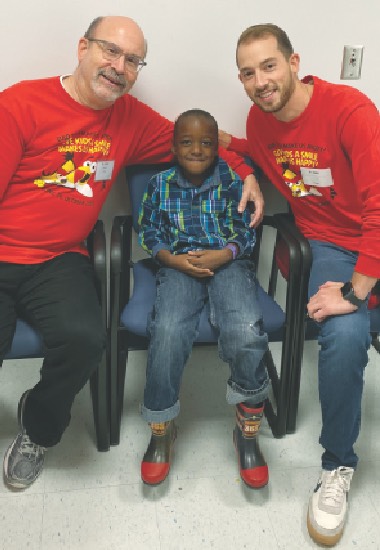 It takes a village
When Dr. Sabates called Dr. Dalin around Thanksgiving to inform him he will be the 2022 recipient, Dr. Dalin's first thought was of the countless people who have steered him and the program over the years.
"I went speechless," Dr. Dalin said. "It is such a humbling thing to hear news like this. I also thought, 'How can I share this award with all of the people I work with here in St Louis?' A huge thank you goes out to all of the volunteers around the country. And how could we accomplish all that we have done without sponsors and supporters like Henry Schein, Colgate, CareCredit, 3M, Premier Dental Products Company and others who have been so generous with their contributions? This is a team effort. Programs like this do not get started and do not keep going without the dedication of so many people."
In 2002, B. Ray Storm, D.D.S, and Dr. Dalin held the first Give Kids A Smile event in a run-down, soon-to-be-demolished dental clinic in St. Louis, where 15 patient chairs were scraped together to deliver free dental care to nearly 400 children.
After Dr. Dalin approached the ADA and shared the success stories from the St. Louis Give Kids A Smile event, the Association recognized that this grassroots effort had great potential to raise awareness nationally about the importance of oral health to overall health and about the need that exists among millions of children who go without care.
So, in 2003, Give Kids A Smile evolved into a nationwide program officially launched by the ADA. Although Give Kids A Smile is celebrated nationally in February during National Children's Dental Health Month, events take place throughout the year, such as Give Kids A Smile back-to-school events held in August.
The reach and impact of Give Kids A Smile was not diminished by the pandemic. Through webinars and other means of providing volunteers with resources regarding how to carry on the program safely, Dr. Dalin and thousands of other GKAS champions kept the tradition alive. As a result, there were nearly 1,500 registered Give Kids A Smile events in 2021.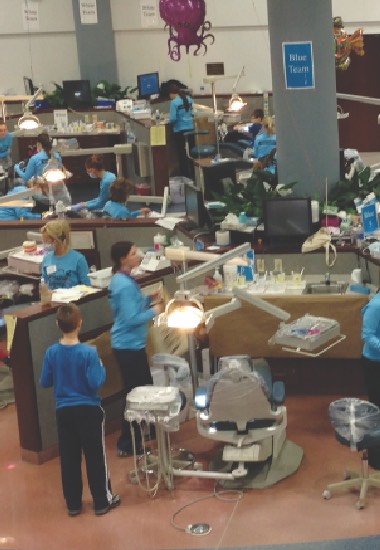 Good examples
Dr. Dalin first realized the power of the profession to do good through his parents. His father was a dentist.
"He always made it look interesting and fun to be a dentist," Dr. Dalin said. "I was always available to help out at his office in any way that I could. If he had to meet an emergency patient on a weekend, I would volunteer to help him. My parents were always setting good examples for me. They were always available to help others when asked. I love the idea of giving back to others using my skills as a dentist."
Each one of those 7 million children who has attended a Give Kids A Smile event has a story, and Dr. Dalin remembers many of those he has seen over the years.
"We have so many great stories from our program," he said. "One of my favorites was a girl who was always in trouble in school. She was constantly being sent to the principal's office. She always looked disheveled. Her teachers told us she had not been doing well with her classwork."
Then the girl came to a Give Kids A Smile event.
"She ended up having a tooth removed, a root canal performed and a number of restorations. We were told that after seeing us, she became a model student. She no longer was getting into trouble, she came to school looking good, did much better work in her class. She was in a lot of pain, and nobody would do anything about it. She came to our Give Kids A Smile clinic, and we cleared up her pain. She became a changed person. This is what makes volunteering at a Give Kids A Smile event feel so good. There is nothing better than seeing a child feel good and look good."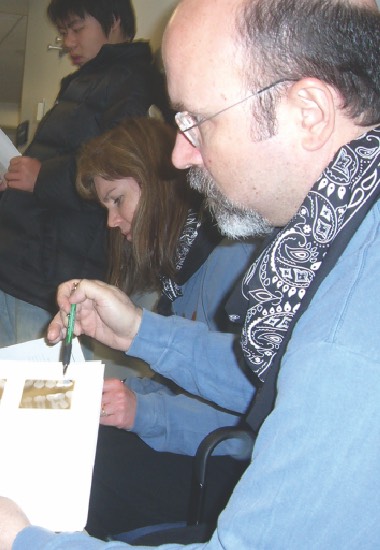 Colleagues' acclaim
Dr. Dalin was nominated by the Greater St. Louis Dental Society for the Humanitarian Award. According to its nomination letter, more than 17,000 St. Louis area children have received dental care worth over $10.2 million in the 37 clinics that have taken place since the very first one in 2002. Dr. Dalin is actively involved with planning and participating in the clinics and has served as a provider in all 37.
As Dr. Dalin acknowledges, he alone isn't responsible for creating and turning Give Kids A Smile into a movement, but his colleagues in St. Louis and around the nation praised him for his tireless advocacy as a Give KidsA Smile emissary over the years.
Raymond J. Tseng, D.D.S., Ph.D., was a member of the Give Kids A Smile National Advisory Committee from 2017-2019 and a graduate of the GKAS Community Leadership Development Institute class of 2014. The ambassador program, held annually (though on hold during the pandemic), gathers Give Kids A Smile coordinators from around the country to receive additional training on how to enhance and/or expand their local GKAS events and to serve as a resource for Give Kids A Smile coordinators in their area.
"When you consider his accomplishments, I hope you'll join me in saying, 'This. More of this,'" Dr. Tseng said. "In our current times, I believe we need more Dr. Dalins to show us what we have in common and how to come together regardless of our differences."
Thomas C. Flavin, D.D.S., Give Kids A Smile St. Louis president, said Dr. Dalin is a natural-born leader.
"He took the idea to the ADA and the rest, as they say, is history," Dr. Flavin said. "He inspires by example. No one works harder than he does. And ideas seem to flow from him as naturally as breathing. Dr. Dalin represents the best of our profession. He has been blessed with a significant intellectual capacity equaled only by his desire to help his fellow man. How fortunate we are to have him in our profession."
Jill Schupp, state senator in Missouri, said that she has known Dr. Dalin for more than a half-century, from being in Sunday school together to now him being her dentist.
"I can attest to his commitment to serve those who lack access to needed dentistry here in the St. Louis region and beyond," Sen. Schupp said. "In past years, I've had the opportunity to see his vision in action by visiting the Give Kids A Smile event in St. Louis. The numbers of providers, children served, organization of the event and the energy and positive experience for all involved was simply breathtaking. Who ever imagined a trip to the dentist could be so amazing?"
Eyes to the future
The ADA Give Kids A Smile program is entering its 20th year in 2022.
"To think that millions of children have benefited from this program sends chills up and down my back," Dr. Dalin said.
Dr. Dalin has worked to ensure that Give Kids A Smile will live a long life, even within his own family.
Dr. Dalin's youngest, Andy Davin, D.D.S., decided to go to the Indiana University School of Dentistry, the same school his father graduated from in 1980.
"He had worked with us at our Give Kids A Smile programs for many years, even when he was a child," Dr. Dalin said of his son. "He started out by entertaining kids waiting in lines by doing magic tricks. He learned how important programs like Give Kids A Smile can be."
Dr. Dalin continued: "Fast forward to his second year at Indiana University School of Dentistry. They had not held a Give Kids A Smile program there in a number of years. He worked with other students to reactivate their program. In fact, later, the ADA's annual national kick-off launch of Give Kids A Smile in February 2020 took place at the Indiana University School of Dentistry. Talk about a proud father."
Dr. Dalin also credited his wife of 36 years, Debbie, and his other children, Jamie and Zach, for their support and encouragement over the years — including volunteering at nearly every St. Louis Give Kids A Smile event since the beginning.
The thousands of volunteers that Dr. Dalin either directly or indirectly led will continue on — despite Dr. Dalin's greatest wish.
"I wish that we would no longer have a need for a Give Kids A Smile program," he said. "That would mean that all children have good access to great dental care. So as long as kids without access to care need dental treatment to fix problems that are causing them to suffer, Give Kids A Smile will be there to help."
For more information on Give Kids A Smile and ways to get involved in the movement, visit ADA.org/gkas .