Technology can help mitigate staffing shortages
AI, Aprio, ADA Member Advantage-endorsed Stynt aim to let dentists resume their patient care duties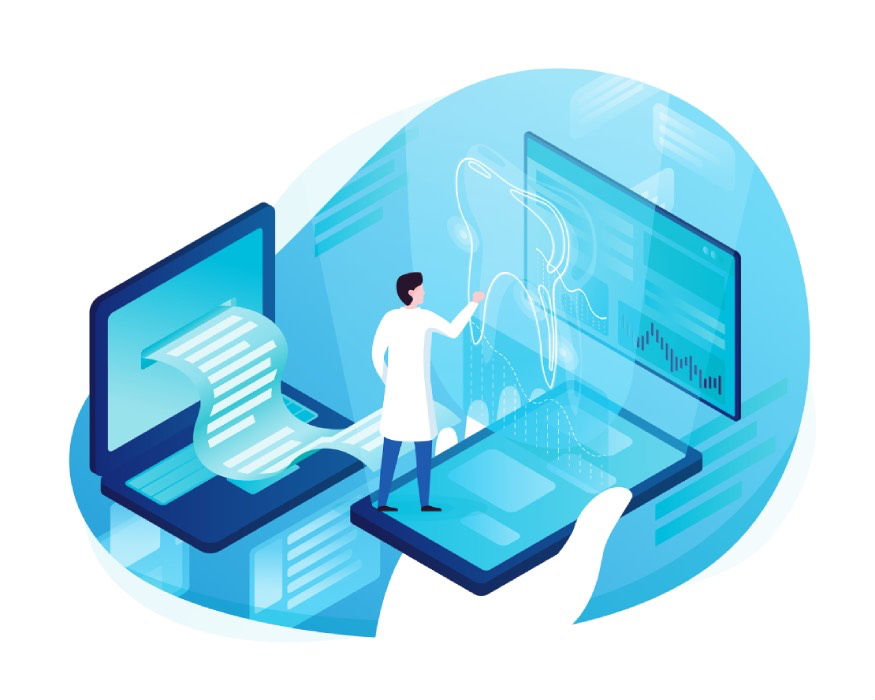 Editor's note: This is the latest story in the ADA News series Focus on Workforce that seeks to alleviate the nationwide difficulties of recruiting, training and retaining valuable members of the dental team.

Nationwide dental team staffing shortages continue to limit practices that want to see more patients, according to data from the ADA Health Policy Institute, which has been tracking poll results on the impact of COVID-19 on the U.S. dental economy.
Some possible solutions to the staffing shortage could be by utilizing advances in technology to mitigate the challenges the crisis has presented.
"I have learned that being on the cutting edge as far as the latest advances in technology allows me to take better care of my patients," said Manny Chopra, D.M.D., a member of the ADA Council on Dental Practice. "Even with the effects of the nationwide dental staff shortage, I firmly believe that those practitioners who are [facing that challenge] can utilize some of these newer innovations in technology to help them weather the storm."
James Hoddick, D.D.S., chair of the ADA Council on Dental Practice, agreed with Dr. Chopra that technology can help ease the staffing crisis.
"After more than 35 years of practice, I have found that being on top of the latest advances in technology has helped me greatly in the treatment of my patients," Dr. Hoddick said. "For other dentists, using some innovations in technology can help to alleviate the staffing shortages that are plaguing the industry and ensure that patient care is never compromised."
Aprio
"While the labor shortage has highlighted the need for technology in dental practices, it also brings a huge opportunity for practice owners willing to invest in their practices," said Brad McKeiver, Dental Practice Leader at Aprio, a financial consulting and CPA firm with advisory services that include accounting and wealth management.
The good news is, Mr. McKeiver said, there are steps a dental practice can take to alleviate pressure caused by the labor shortage by implementing the right technology that saves time and helps in the retainment of employees by improving workflows and providing a quality patient experience.
"In today's new environment, matching your culture with the right technology can increase employee retention in your office," Mr. McKeiver said. "There are numerous benefits that come from embracing modern technology, including easing the burden on your team, streamlining operations and increasing profitability. Your employees — and patients — want convenient solutions to existing workflows."

Using technology such as in online scheduling and automated payment, can ultimately impact the bottom line, Mr. McKeiver said.
"In an inflationary period, cost will continue to increase on a hard dollar perspective," he said. "However, we believe that dental profit margins can be maintained by technology feeding into the client experience."
That client experience includes convenience, Mr. McKeiver said.
"Today's consumers seek convenience — there's no better example than Amazon," he said. "You can purchase just about anything you want with the click of your phone. Why not make paying for your dentistry as easy?"
Stynt
Another possible technology-based solution to the dental team member shortage is offered by ADA Member Advantage-endorsed Stynt, an on-demand health care platform that helps fill temporary or permanent staffing needs.
Stynt was founded by CEO Alex Adeli, D.M.D., who developed the company to let dentists resume to their patient care duties and keeping their businesses moving.
Stynt's online platform lets offices post openings that qualified professionals can then bid on.
Stynt is a software-as-a-service marketplace with a focus on health care staffing, Dr. Adeli said, providing health care facilities with credentialed professionals quickly.
In most cases, it's within 15 minutes or less, he said.
The platform saves dentists time by onboarding professionals through verifying their credentials, work experience and conducting reference checks. It then lets potential staffers set their own schedule and desired hourly rate. Algorithms alert them to relevant work in their area and suggest bids.
The company is already working with more than 5,000 offices around the U.S. and 40,000 professionals, according to Dr. Adeli.
To learn more about Stynt, visit  stynt.com/ada. ADA Members get a $50 credit toward their first hire, plus access to Post Boost, a service which elevates the job posts in the community with additional communications.
Augmented intelligence
Advocates believe that utilizing augmented intelligence can help alleviate burdens created by the staffing shortage.
Augmented intelligence is the theory and development of computer systems that can perform tasks that would otherwise require human intelligence, such as visual perception, speech recognition, decision-making and translation between languages. The term may also be applied to any software that acts intelligently.
Dentists can use augmented intelligence in their practices in many different ways, including evaluating digital information such as radiographs, photographs and patients' electronic health records to help make diagnoses and propose treatments; monitoring phone calls to improve patient communications; and making the claim adjudication process more efficient.
The strength of augmented/artificial intelligence is identifying patterns, said Christopher J. Smiley, D.D.S., a practicing dentist and editor of The Journal of the Michigan Dental Association.
"It can assess current and past images to determine the advancement of pathologies, such as bone loss or decay," Dr. Smiley said. "It can also access the patient record and health histories to assess patient risk for oral disease based on past caries rate and medical conditions such as diabetes or dry mouth from medications. This is also helpful when auditing charts the night before a patient visit to identify issues of concern."
Dr. Smiley, who said that he has been affected personally with the staffing shortage — "Dental hygiene positions are impossible to fill" — added that AI can also help with workflow if implemented chairside.
"Consider a situation where an overdue or new patient presents in the hygienist's schedule," he said. "New radiographs are captured and assessed by AI, contrasted with past images, and integrated with current and past periodontal charting to identify progressing areas of concern and suggest options for care based on identified disease patterns, such as radiographic bone loss and subgingival calculus and charted conditions. This way, valuable chair time is saved to allow for AI-confirmed care to support an immediate treatment plan proposed by the dentist. In this way, fewer patients need to be rescheduled to address needs."
Nathan Suter, D.D.S., chief innovation officer at Enable Dental, which provides portable dentistry to underserved patients, said that technology and digitization of workflows through teledentistry, automation, and AI will be critical to how dentists adapt to a tight labor market.
"Teledentistry already offers a tool for dentists to extend the physical reach and the hours of hygiene care in the practice," he said. "As practices shift to more modern, cloud-based software systems we will see how automation and AI will alleviate some of the manual processes. You can already see this in both front office and clinical applications through patient engagement, claims submission and imaging. If you look at the manual tasks each patient and team member participates in for a dental visit, you can see how it is mostly data entry followed by decision-making. When we set parameters to a dentist's clinical guidelines or a practice's workflows you can see how automation can eliminate a lot in regards to data entry and the reduction of errors. Investment in tech-enabled care is the future of dentistry."
Kyle Stanley. D.D.S, and chief clinical officer of Pearl, said that AI can make dentists better, both clinically and also from an administrative standpoint
"AI brings consistency to dentistry," he said. "By being consistent and comprehensive, we can build trust with our patients, reduce our liability and decrease stress. Technology can help by streamlining steps in dentistry from calling patients, to pouring models, and analyzing radiographs. Digital dentistry can help in almost every aspect of dental practice."
According to the HPI, one in three owner dentists indicated they need more staff to see the same number of patients compared to before the pandemic, and about the same percentage surveyed have recently or are currently recruiting a dental hygienist. Forty percent have recently recruited a dental assistant.
Among those, roughly nine out of 10 hiring dentists indicate that it has been "extremely" or "very" challenging to recruit dental hygienists and dental assistants compared to before the COVID-19 pandemic.
For support with recruiting, hiring and training your dental team, visit ADA.org/dentalstaff.