HPI: Majority of dentists maintain mask requirements for patients, staff
Poll finds dental practice schedules were, on average, 88% full in March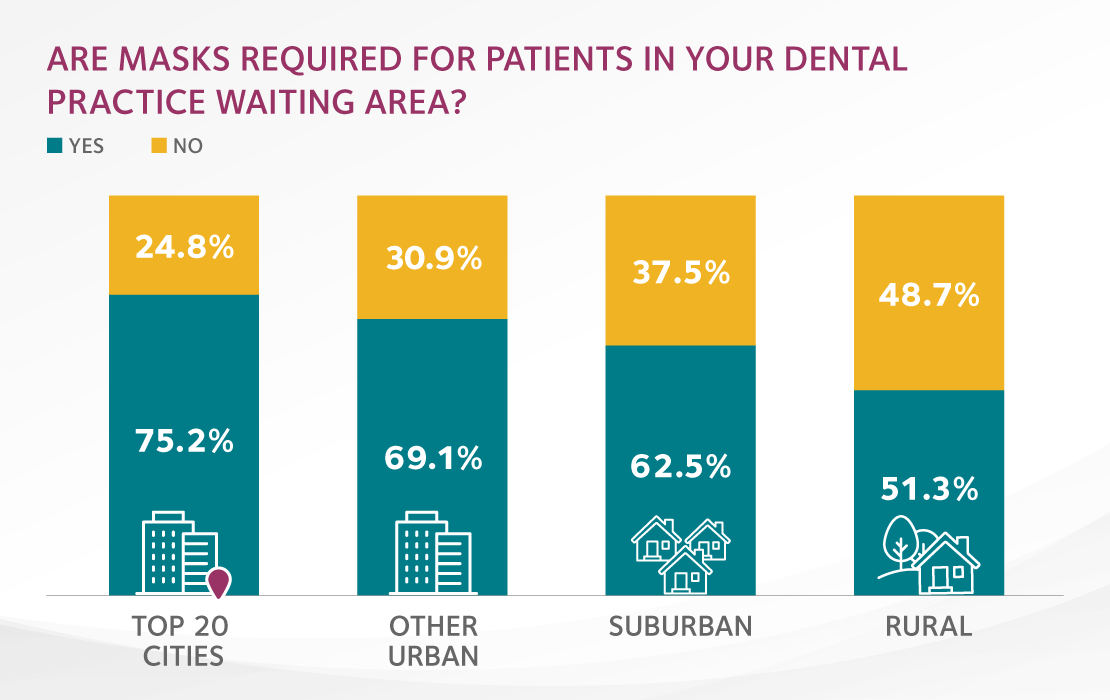 Two-thirds of dentists in the country required patients to wear a mask in the waiting area in March, according to the latest wave of the ADA Health Policy Institute's Economic Outlook and Emerging Issues in Dentistry poll.
In addition, most dentists required both clinical and non-clinical staff, 70% and 62% respectively, to mask continually throughout the workday.
The poll also found that masking requirements for patients in waiting areas and for clinical and nonclinical staff in the practice were more common in urban than in rural settings.
Other results from the poll, which involved more than 1,900 respondents, included:
Dental practices have gotten busier since January. Schedules were 88% full on average in March, up from 83% in February and 77% in January. Patient cancelations remained the most common reason for not having a full schedule.
Dental team recruitment needs eased up slightly in March. One-third of dentists had recently or were currently recruiting dental hygienists and 38% had recently or were currently recruiting dental assistants. The level of difficulty with recruitment these positions has remained relatively stable.
Fewer than 3 in 10 dentists are confident in the U.S. economic recovery, though the majority remain at least somewhat confident in their practice's and the dental sector's recovery.
The mask requirement findings come after the ADA released new resources to help dental practices make informed decisions and facilitate conversations about the Centers for Disease Control and Prevention's latest public indoor masking recommendations.
According to the resource, the CDC on Feb. 25 revised its mask recommendations, indicating that indoor masks are no longer necessary for most individuals in areas with low COVID-19 community levels. It recommended that communities should take into account three different metrics — new COVID-19 hospitalizations, hospital capacity and new COVID-19 cases — to determine its risk level and masking guidance.
The HPI's Economic Outlook and Emerging Issues in Dentistry monthly poll began in January to measure the economic impact of the COVID-19 pandemic and to gather dentists' opinions on other current and emerging issues impacting their practices. The revamped panel is a continuation and expansion of the previous poll that HPI conducted between the onset of the pandemic and December 2021.
To join the panel or to read the full monthly reports, visit ADA.org/HPIpoll.