ADA thanks dentists, dental societies, stakeholders who came together for Question 2
Massachusetts ballot measure passed by large margin on Election Day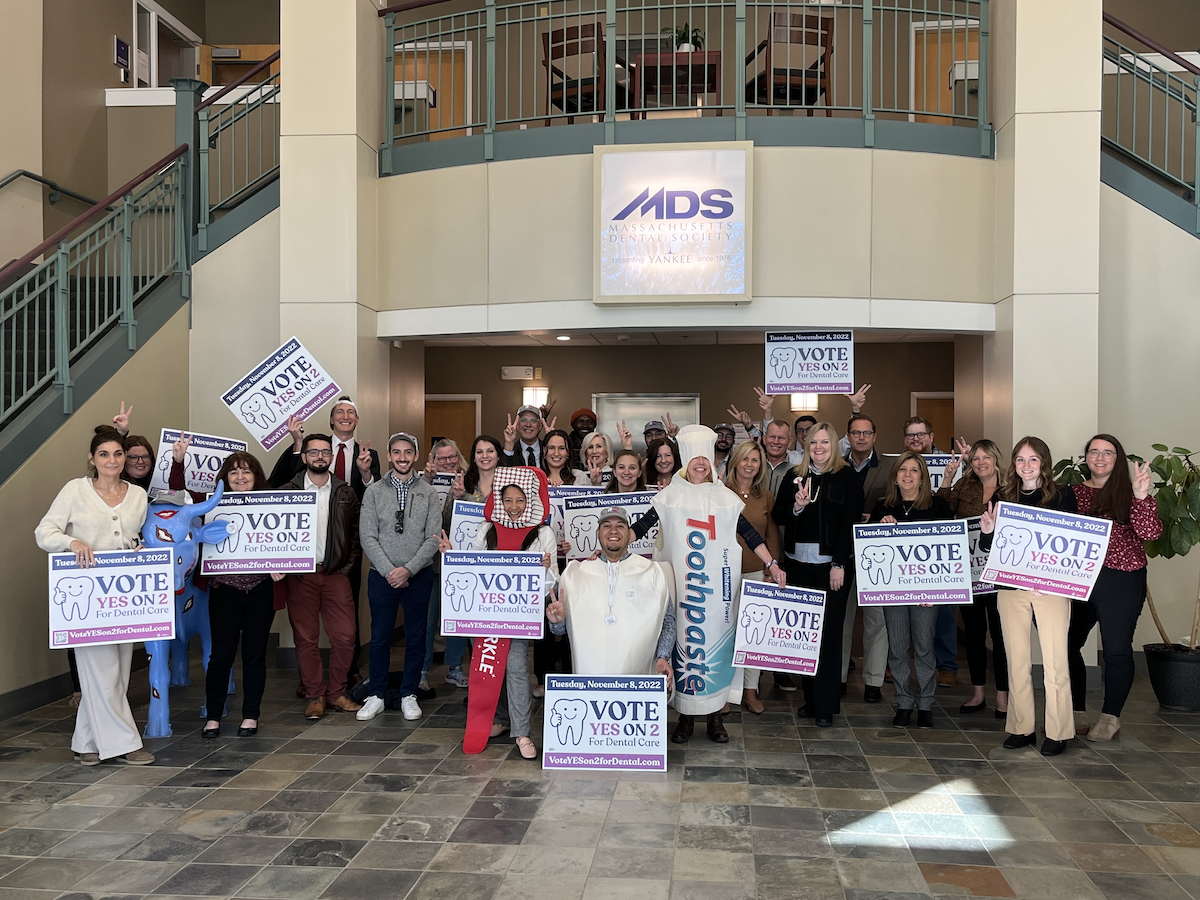 The ADA is celebrating the historic win in Massachusetts by thanking the hundreds of dentists and dental stakeholders whose support helped pass Question 2.
On Election Day, the voters of Massachusetts overwhelming approved the establishment of a medical loss ratio for dental plans across the state. In passing the ballot measure, 70% of voters said "yes" to seeing more of their dental premiums going toward patient care and to ensuring that adequate, quality dental care is within their reach. More than 1.6 million people in the state voted in favor of the measure.
The ADA hopes this "precedent-setting win" will now set the stage for similar dental insurance reform around the country, said ADA President George R. Shepley in an Nov. 9 email message to members.
"Today, the American Dental Association celebrates this giant step forward in creating a dental benefits system that is truly beneficial for all," Dr. Shepley said. "The 'Vote Yes on 2' campaign, supported by Massachusetts Dental Care Providers for Better Dental Benefits, could not have succeeded without YOU!!"
In his message, Dr. Shepley thanked the hundreds of dentists across the country, along with 49 state dental societies, and an array of dental and other health care organizations, who publicly backed the initiative. All told, more than $7 million was donated to the campaign, including the ADA's contribution.
"Whether you made a financial contribution, volunteered on the campaign, or spread the word, thank you for supporting meaningful dental insurance reform in the Bay State and beyond," Dr. Shepley said.
Dr. Shepley and other officials from the ADA and Massachusetts Dental Society were part of a rolling rally on Election Day that made stops at several polling places across Massachusetts to meet with dentists and voters.
"The energy was palpable at a sunrise visit to voting centers in Pittsfield, throughout lunchtime stops in Springfield and Worcester, and during a lively watch-party-turned-victory-bash with dental students in Boston," he said.
Dr. Shepley noted that ADA's efforts to improve dental insurance are as much about those dental students as they are about today's patients and professionals.
"These students will be caring for our communities in the very near future," he said. "That's why it's important that we create an environment where they can treat patients without interference from insurers and where patients can see them without the frustration that can be all too common in the dental benefits experience."
"It's also why Tuesday's victory in Massachusetts matters: It's a promising milestone for dental insurance reform nationwide - for the patients and profession of today and tomorrow," he continued. "So the ADA's work continues, along with the efforts of all the dental societies leading insurance reform on the state level and continually advocating on behalf of those they serve. But for now, we reflect on and celebrate a well-earned victory and a major step in the right direction."
"Thank you for making it so," he concluded.
To see a full list of the organizations that contributed, visit the Massachusetts Dental Care Providers for Better Dental Benefits website.