Dentists report less busy schedules in latest HPI poll
ADA Health Policy Institute research shows staff shortages may be easing slightly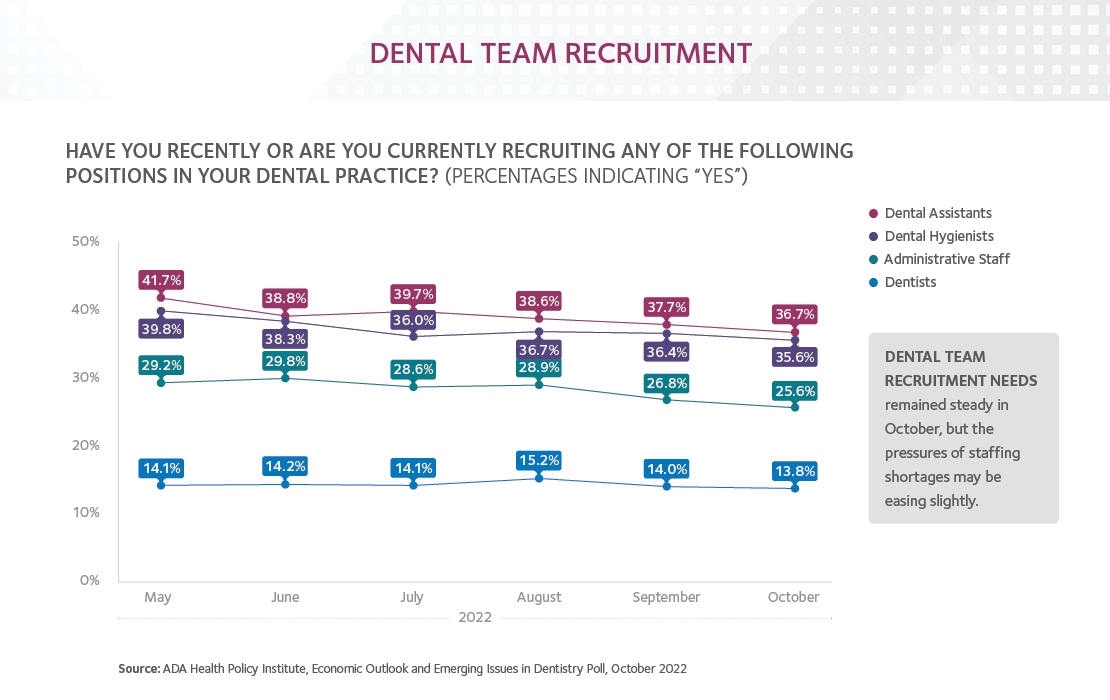 Less busy practice schedules and lower patient demand are among the key findings in the latest wave of the ADA Health Policy Institute's Economic Outlook and Emerging Issues in Dentistry poll.
Most of the roughly 1,200 practicing dentists who responded to the poll Oct. 18-23 reported their practice's schedule was 83% full, a drop of 3 percentage points from the previous month and a level comparable to February 2022 polling. Nearly 82% reported that patient no-shows and cancellations with less than 24 hours' notice were the largest factor preventing their practices' appointment schedule from reaching 100%. Patient volume was the second most common reason for unfilled practice schedules, with 46% reporting "not enough patients making appointments".
Results of the latest poll also indicated a slight drop in confidence in economic recovery of their dental practice, the dental sector as a whole and the U.S. economy after several months of modest gains.
Dentists were asked to indicate whether staffing shortages or low patient demand concerned them the most looking ahead the next six months. Responding dentists were evenly split, with 44% citing dental team staff shortages as their biggest concern and 40% indicating their biggest concern was not enough patient demand. Dentists affiliated with dental support organizations and those in the 35-44 age group were the most concerned with dental team staffing issues, whereas solo dentists and those in larger cities reported greater concerns over patient volume.
Results from the poll also indicated that dental team recruitment needs remained steady in October, but the pressures of staffing shortages may be easing slightly. Dental assistants and dental hygienists remain as the most in-demand members of the dental team, with about 4 out of 10 dentists currently or recently recruiting for these positions, while recruiting dental hygienists continues to present the most difficulty for dentists.
The HPI's Economic Outlook and Emerging Issues in Dentistry monthly poll began in January to measure the economic impact of the COVID-19 pandemic and to gather dentists' opinions on other current and emerging issues impacting their practices. The revamped panel is a continuation and expansion of the previous poll that HPI conducted between the onset of the pandemic and December2021.
To join the panel and read the full monthly reports, visit ADA.org/HPIpoll.