ACE Panel report finds most dentists comfortable treating seniors but face challenges
Top challenge is managing comorbidities with dental treatment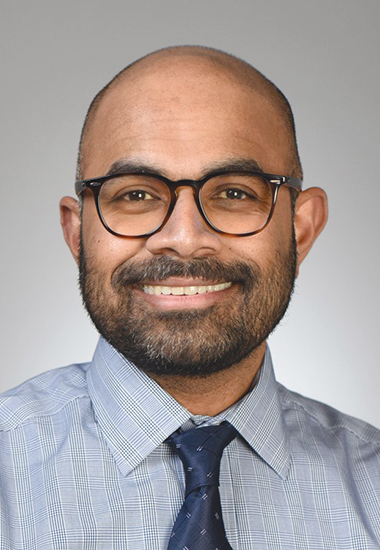 Dr. Elangovan
Most dentists are comfortable treating seniors but find managing comorbidities with dental treatment to be challenging, according to an ADA Clinical Evaluators Panel report published in the September issue of The Journal of the American Dental Association.
"This is a highly relevant topic as there will be an increase in the number of geriatric patients, who are 65 and older, visiting dental offices for their treatment needs in the coming years," said Satheesh Elangovan, B.D.S., D.Sc., D.M.Sc., one of the report's co-authors and a consultant to the ADA Council on Scientific Affairs' ACE Panel Oversight Subcommittee. "We wanted to understand the challenges the dental community faces when treating this patient demographic and how prepared they are."
The report, which included the responses of 269 ACE Panel member dentists, found 76% of respondents are comfortable treating geriatric patients. Of those who are comfortable, 58% indicated training and experience as a student contributed to their competency.
However, 59% of dentists said treating geriatric patients is more challenging than treating nongeriatric patients. The most frequently cited challenges included comorbidities and their management and impact on dental treatment, cited by 86% of responding dentists; home care needs for some of the patients, cited by 69%; and cognitive impairment, cited by 68%. The top three symptoms dentists reported seeing in geriatric patients were dry mouth, carious lesions and tooth wear.
The report pointed to the importance of understanding the impact of aging and associated medical treatments on oral tissues and patient management, with 67% of responding dentists indicating they would be interested in attending continuing education courses dedicated to managing the care of geriatric patients.
"Only 20% of the survey respondents thought that they had access to an adequate number of CE courses specific to geriatric patient management. Hence, there is a greater need to develop and promote CE courses with a geriatric dentistry focus," Dr. Elangovan said.
Dentists can view the entire ACE Panel report online and download the PDF at JADA.ADA.org. The report has an accompanying CE course available at ADA.org/CE. From Policy to Chairside: Improving Oral Health Care of the Aging Population, an ADA symposium that took place in August, also discussed the report results. The symposium is expected to be available as an on-demand CE course by December.
ACE Panel reports feature data from ADA member dentists who have signed up to participate in short surveys related to dental products, practices and other clinical topics. The ACE Panel Oversight Subcommittee of the ADA Council on Scientific Affairs writes the reports with ADA Science & Research Institute staff.
The reports offer ADA members a way to understand their peers' opinions on various dental products and practices, providing insight and awareness that can benefit patients and the profession.
Members are invited to join the ACE Panel and contribute to upcoming surveys, which occur no more than once every few months and usually take five to 10 minutes to complete.
To learn more or join the ACE Panel, visit ADA.org/ACE.