Not all debt is bad debt': Three new dentists get real in discussing student debt, finances
Three new dentists get 'real' in discussing student debt, finances at SmileCon 2022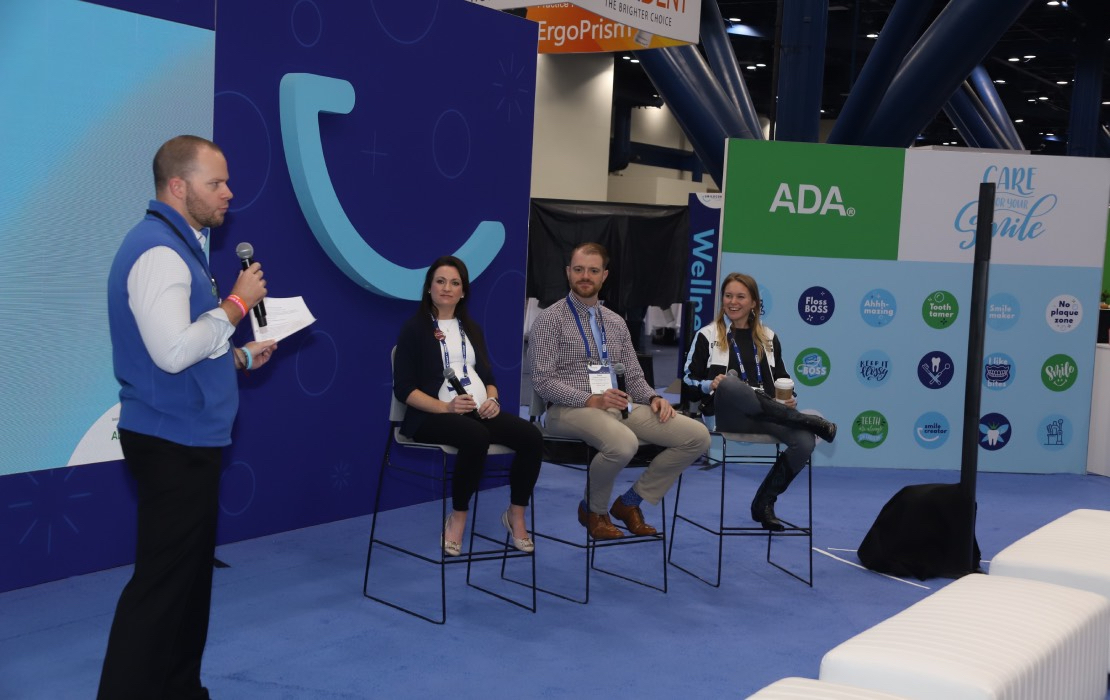 Houston - A Mitsubishi Endeavor, a Chevrolet Impala and a Toyota Camry with a missing hubcap.
What do these vehicles have in common?
They all played a crucial role in developing the character of three new dentists during their journeys to becoming dentists and managing student debt.
During the Real Talk C.H.A.T.: Surviving and Thriving with Student Debt Oct. 13, new dentists Gabriel Holdwick, D.D.S., Stephanie Ganter, D.D.S., and Kellie McGinley, D.D.S., took to the stage to get frank about a serious topic for many new dentists.
The SmileCon "chats" - short for connect, huddle and talk - are a series of hot topic discussions during SmileCon.
"We want to get real, and we want real numbers. What is the ballpark amount of student debt you each graduated with?" said Seth Walbridge, D.M.D., chair of the ADA New Dentist Committee, who moderated the discussion.
The ADA defines "new dentists" as those who graduated from dental school less than 10 years ago.
"My number coming out of dental school was just a little bit over $290,000 of student debt," said Dr. McGinley, now a pediatric dentist in Reno, Nevada, who attended the University of Michigan School of Dentistry. "I then went on to residency. I did a forbearance. I was still accruing interest during that time, but I didn't have enough money to pay on my student debt while going to school. And once I got out of school, I bought a practice. So I then took on that debt. And then I got married and I took on my husband's student debt. So for better or for worse, we have a ton of debt, but we look at it as very smart debt."
"About $400,000," said Dr. Holdwick, a general dentist in Harbor Beach, Michigan, who attended the University of Detroit's Mercy School of Dentistry, which is private. "My parents are not dentists nor are they independently wealthy. So I had to borrow the full amount. And I did a GPR."
"When I got out of residency, I was in the process of buying a practice in my hometown," Dr. Holdwick continued. "There are two dentists in Harbor Beach, of which I am now one, and there's 1,600 folks that live there. I bought a practice while I was coming out of residency because the dentist in Harbor Beach was retiring. And the reason I'm telling you all this is because the bank wanted a balance sheet of how much my debt was and how much my assets were. I think I even assigned a value to my laptop and my car, which was a 2005 Chevy Impala with 200,000 miles on it."
"I love how you said a 2005 Chevy Impala. I'm working with a 2006 Toyota Camry, and it's missing a hub cap as of last week," said Dr. Ganter, a periodontist who graduated from the Texas A&M University College of Dentistry with about $120,000 in debt.
"I drove my high school car [a Mitsubishi Endeavor] until last year," added Dr. McGinley.
Not buying new cars helped them set their paths financially. So did focusing on the future.
"When people tell me, 'I've got student debt,' I'm like, honestly, you're kind of smart. Not all debt is bad debt," Dr. Ganter said.
"My family also didn't have a lot of money either," said Dr. Holdwick, who has gone on to pay off his student debt. "My mom and dad were business owners` and so I understood what that life looks like. Long story short, frugality comes natural to me. [I was told] live like you're a dental student or a resident for a couple years when you get out. Even if you kick out your roommate and upgrade your car and literally don't make any other changes in your life for a couple years and pay your student loan debt or save or whatever the market ? that will set you up for success in the future. And that is true."