HPI poll - Insurance reimbursement not keeping up with increased practice operating costs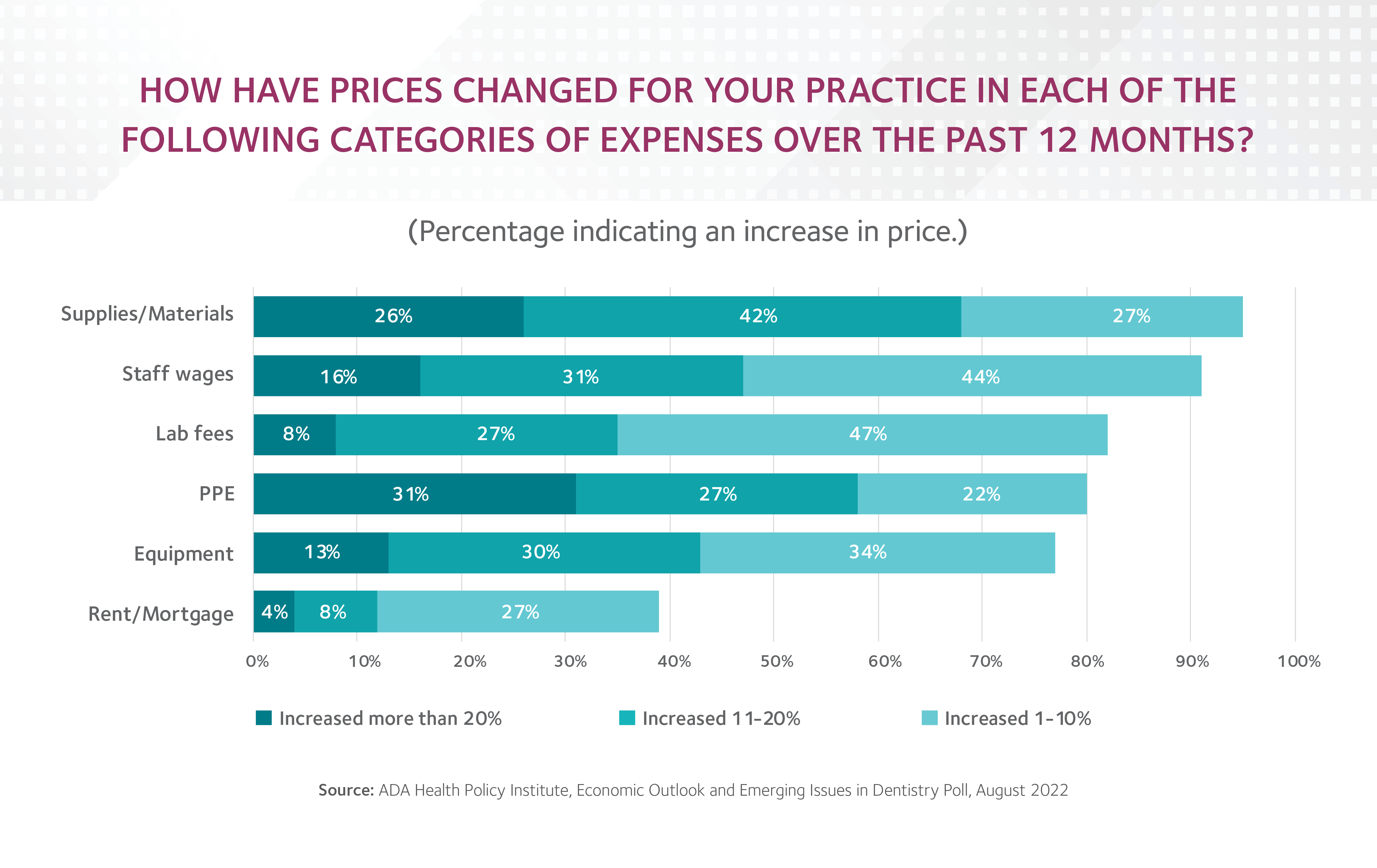 Most U.S. dental practices have experienced increased operating costs, but insurance reimbursement has not increased accordingly, say dentists responding to the latest wave of the ADA Health Policy Institute's Economic Outlook and Emerging Issues in Dentistry poll.
Most of the roughly 1,200 practicing dentists who responded to the poll Aug. 16-20 reported increased prices across the board by expense category, including supplies and materials, staff wages and lab fees. Nearly one-third of dentists (31%) indicated that personal protective equipment prices have increased by more than 20 percent. Roughly 1 in 4 dentists (26%) indicated that supplies and materials prices went up by at least 20% in the past year.
According to the August poll results, the insurance industry is yet to respond to increased operating costs for dentists. Nearly 60% of dentists responded that rates have remained stagnant, 25% indicate their rates have decreased and only 7% of dentists reported getting an increase in insurance reimbursement in the past year.
"The ADA provides a comprehensive Contract Negotiation Guide to help dentists engage with third-party payers on contract negotiations," said Krishna Aravamudhan, B.D.S., vice president of the ADA Practice Institute. "The ADA will continue to bring the issue of rising operational costs to the attention of the dental carriers."
Other results from the poll included:
Dental practice schedules have been very steady for the past six months. Schedules were 86% full on average in August. Patient no-shows and late cancellations are largely to blame for unfulfilled appointment slots, followed by low patient demand.
Dental team recruitment needs remain steady in August. Dental assistants and dental hygienists remain as the most in-demand members of the dental team, with about 4 out of 10 dentists currently or recently recruiting for these positions, while recruiting dental hygienists continues to present the most difficulty for dentists.
Dentists' confidence in U.S. economic recovery improved slightly in August. For the first time since April, more than a quarter of dentists indicated they were "very" or "somewhat" confident in the U.S. economic recovery, up from a low of 16% in the month of June.
The HPI's Economic Outlook and Emerging Issues in Dentistry monthly poll began in January to measure the economic impact of the COVID-19 pandemic and to gather dentists' opinions on other current and emerging issues impacting their practices. The revamped panel is a continuation and expansion of the previous poll that HPI conducted between the onset of the pandemic and December 2021.
To join the panel, read the full monthly reports or view the new interactive state dashboard, visit ADA.org/HPIpoll.