October JADA looks at effect of dental intervention before radiotherapy in patients with head and neck cancer
Systematic review by ADA Science & Research Institute finds limited evidence that intervention may increase risk of developing jaw osteoradionecrosis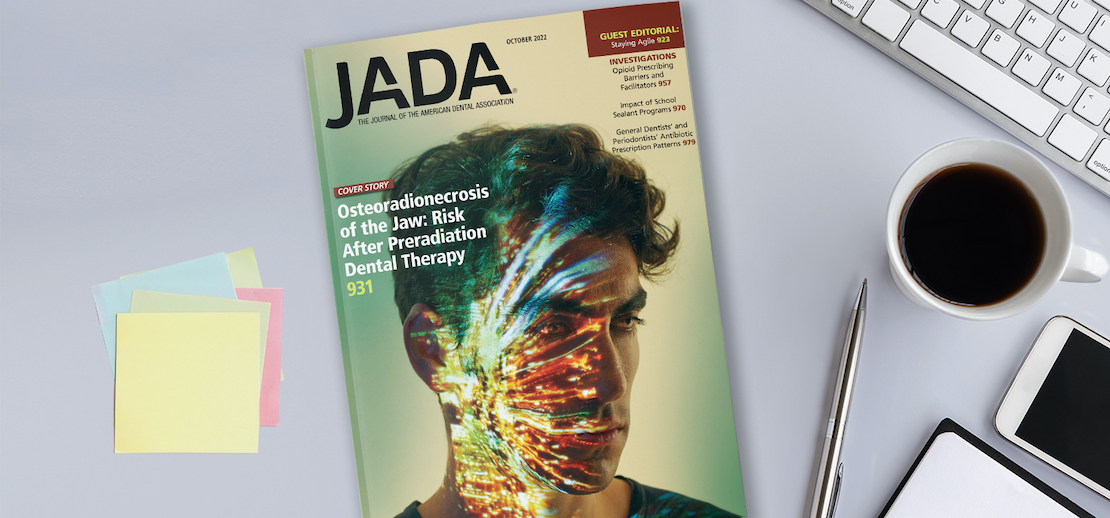 Dental intervention before radiotherapy for the treatment of head and neck cancer may increase the risk of developing osteoradionecrosis of the jaw, according to limited evidence found in a systematic review by the ADA Science & Research Institute.
"Effect of Preradiation Dental Intervention on Incidence of Osteoradionecrosis in Patients With Head and Neck Cancer: A Systematic Review and Meta-Analysis," published as the cover story of the October issue of The Journal of the American Dental Association, found patients undergoing extractions before radiotherapy may have a 55% increased risk of experiencing osteoradionecrosis of the jaw, based on evidence from 22 studies. However, the evidence was of very low certainty.
Findings for other procedures manipulating bone or tissue before radiotherapy relied on limited, observational studies with low or very low certainty evidence.
"Maintaining optimal oral health may help reduce the need for urgent dental treatment before radiotherapy, potentially reducing the risk of developing osteoradionecrosis of the jaw and minimizing the delay of oncologic treatment in patients with head and neck cancer," said Ruth Lipman, Ph.D., ADASRI senior director of evidence synthesis and translation research and one of the authors of the review. "Our efforts point to the potential need for robust and carefully conducted studies on optimal timing of dental interventions."
The ADASRI conducted the systematic review in response to a 2016 ADA House of Delegates resolution that instructed the ADA Council on Scientific Affairs to work with other ADA agencies and external stakeholders to develop proposed policy and evidence-based resources to optimize oral health before performing complex medical and surgical procedures.
Expert opinion varies on providing dental interventions before head and neck cancer treatment, as well as cardiac valve surgery and organ transplantation. In addition to this systematic review, the ADASRI conducted a review that failed to find a definitive benefit of dental care before cardiac valve surgery, based on available scientific literature. The scientists did not conduct a systematic review for organ transplantation.
Other articles in the October issue of JADA discuss opioid prescribing barriers and facilitators, the impact of school sealant programs, and general dentists' and periodontists' antibiotic prescription patterns.
Every month, JADA articles are published online at JADA.ADA.org in advance of the print publication.