New ADA Member App quiz helps users learn about, choose career that fits their goals
Take quiz by June 12 for chance to win VIP trip to SmileCon in Orlando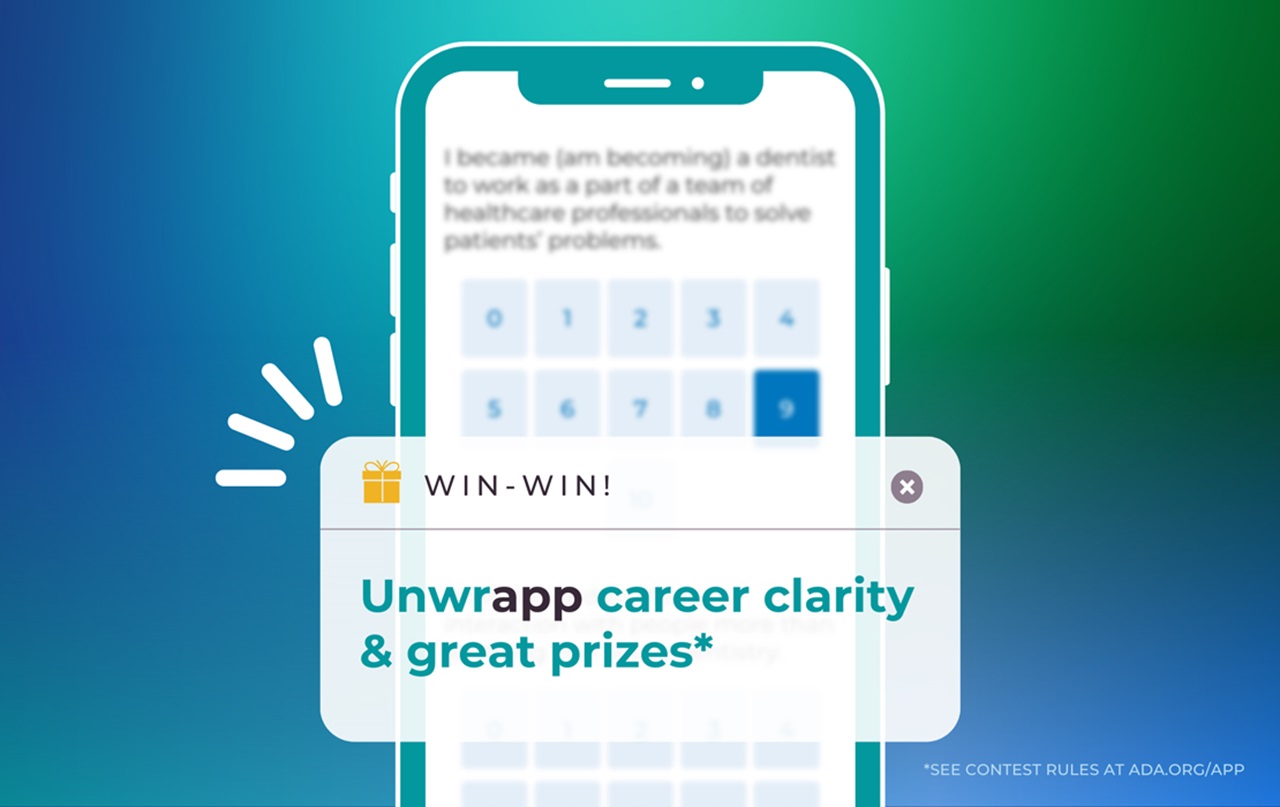 The ADA Member App has launched a helpful tool that can give dental students, new dentists and dentists considering a career change a good idea of what career path suits their interests, aspirations and lifestyle — just by taking a five-minute quiz. And, through June 12, everyone who takes the quiz will be entered into a sweepstakes to win a VIP 2023 SmileCon package in Orlando, Florida, from Oct. 5-7 or several other valuable prizes.
This hands-on tool was developed with the help of ADA research specialists who surveyed early career dentists about how they made career choices immediately following dental school and developed a predictive model to construct the quiz. The ADA also enlisted the help of several dental students and early career dentists to create and fine-tune the quiz and its resources.
"Deciding on what career path you choose can be very challenging for a new dentist," said Gretchen Kreklow, D.D.S., an early career dentist who practices general dentistry in Grand Rapids, Minnesota. "In dental school you may not get much exposure to the different pathways within the dental field. As a co-creator of the app, I felt it was important to add this piece for both soon-to-graduate dentists along with already practicing dentists. This app quiz is a great way to get more exposure to all of the different possibilities you can choose with your degree."
The interactive tool showcases nine different career paths for dentists: solo owner, small group practice, dental support organization, DSO co-owner dentist, dentist in the military, dental faculty, dentist in medical settings, federally qualified health center dentist, medical-dental practice and dentist in federal settings (Indian Health Service, U.S. Coast Guard, Federal Bureau of Prisons and other U.S. Public Health Service roles).
Quiz takers will receive a primary career recommendation plus additional careers to consider, "a day in the life" videos, additional ADA resources that might be helpful for making a decision and advice from mentoring ADA dentists on why they chose that career path. The quiz also provides an overview of each career path so that quiz takers can explore all options.
Dr. Kreklow said that as a dental student, she would have liked using a tool like this to explore all the options her dental degree could offer and also to take some time to understand her priorities for her career path.
"Knowledge about all of your choices is key when you are deciding what career path is best for you," she said. "Choosing what to do as a dental career can be very overwhelming. Having this feature on the app helps dentists to better connect their passions to possible career avenues."
Dr. Kreklow said the career path quiz not only helps quiz takers learn what option meets their needs and aspirations, but it also provides them with exposure to fields in dentistry they may have never considered before.
"We hope that this helps bring clarity when deciding what career path to pursue," she said.
"My favorite feature on this new quiz is its ability to link your answers to generate your top career pathways," Dr. Kreklow added.  "Also, if you see a career you are interested in, you can further explore it in this app. There is an abundance of information at your fingertips to help you make the most educated decision in choosing a career path to take with the degree you have worked tirelessly for."
A prompt to take the quiz will appear at the top of your screen in the ADA Member App until the quiz is completed. Quiz takers will still have access to their quiz results or the ability to retake it.
Everyone who takes the career path quiz by June 12 will be automatically entered into a special sweepstakes.
The grand prize winner will receive a VIP 2023 SmileCon package, including a Platinum Smile Pass to engage in new learning, networking events at Universal and more, plus a $2,000 travel stipend (a $5,000 retail value), or they may choose a $2,000 cash alternative.
Five winners will receive an 'appiness box (a $500 retail value), including a $250 gift card to Threadfellows (a new member perk from ADA Member Advantage), a $50 Grubhub gift card, a $30 Starbucks gift card, a one-year Calm.com subscription and ADA swag, including a Yeti tumbler and a Fjällräven mini-cooler from Threadfellows.
See terms and conditions at ADA.org/App.