September JADA highlights risk of needlestick injuries, lack of recommendations
Frequency of injuries among dental students 'alarmingly high'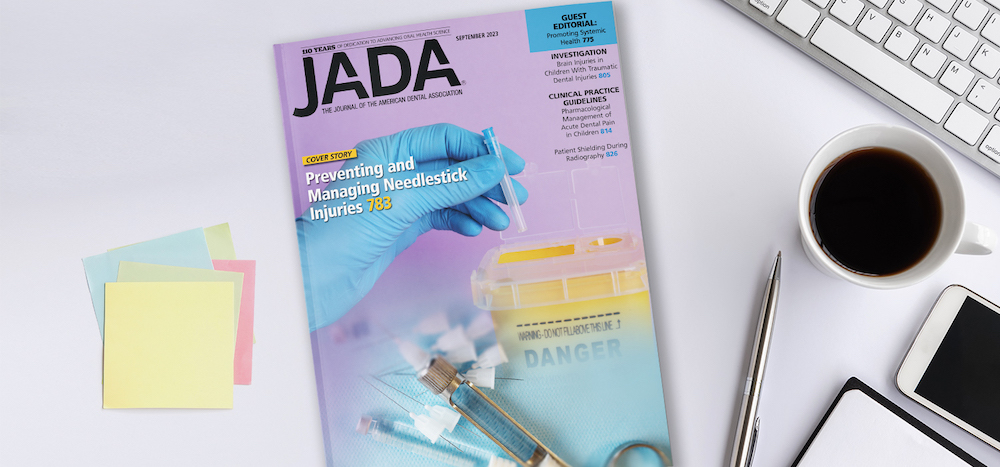 Dentists are at an increased risk of needlestick injuries, and recommendations for preventing these injuries are inconsistent, according to a study published in the September issue of The Journal of the American Dental Association.
According to the cover story, "Needlestick Injuries in Dentistry: Time to Revisit," injuries from needles or other sharp objects are the main sources of bloodborne pathogens in health care workplaces, and needlestick injuries have the most potential to transmit these pathogens. The authors searched electronic databases for articles focused on the various aspects of needlestick injuries, including their possible causes and prevention and management protocols, and found a lack of literature on the global prevalence of needlestick injuries among dental practitioners.
While researchers found the reporting rate of needlestick injuries by dentists was low, the frequency of these injuries among dental students was "alarmingly high." They also found apparent inconsistencies in guidelines and recommendations from various agencies in charge of limiting and managing needlestick injuries.
"Dentists, dental students, and auxiliary staff are prone to [needlestick injuries]. There is a specific increased susceptibility for dental students, untrained staff, and newer practitioners," the authors said in the study. "Preventing [needlestick injuries] is much easier than the protocols to be followed once [a needlestick injury] happens. A global standardization for guidelines, recommendation, and post-exposure management may be an idea that should be explored. Dental schools and other health professions educational institutions should have a training, retraining, and enforcement protocols in place to prevent and succinctly manage [needlestick injuries]."
Other articles in the September issue of JADA discuss brain injuries in children with traumatic dental injuries, pharmacological management of acute dental pain in children and patient shielding during radiography.
Every month, JADA articles are published online at JADA.ADA.org in advance of the print publication. ADA members can access JADA content with their ADA username and password.