IHS dentist rescues South Korean tourists stranded during 'blizzard of the century'
'My experience as a dentist has taught me that patience, empathy and good humor can all work harmoniously to calm anxious people'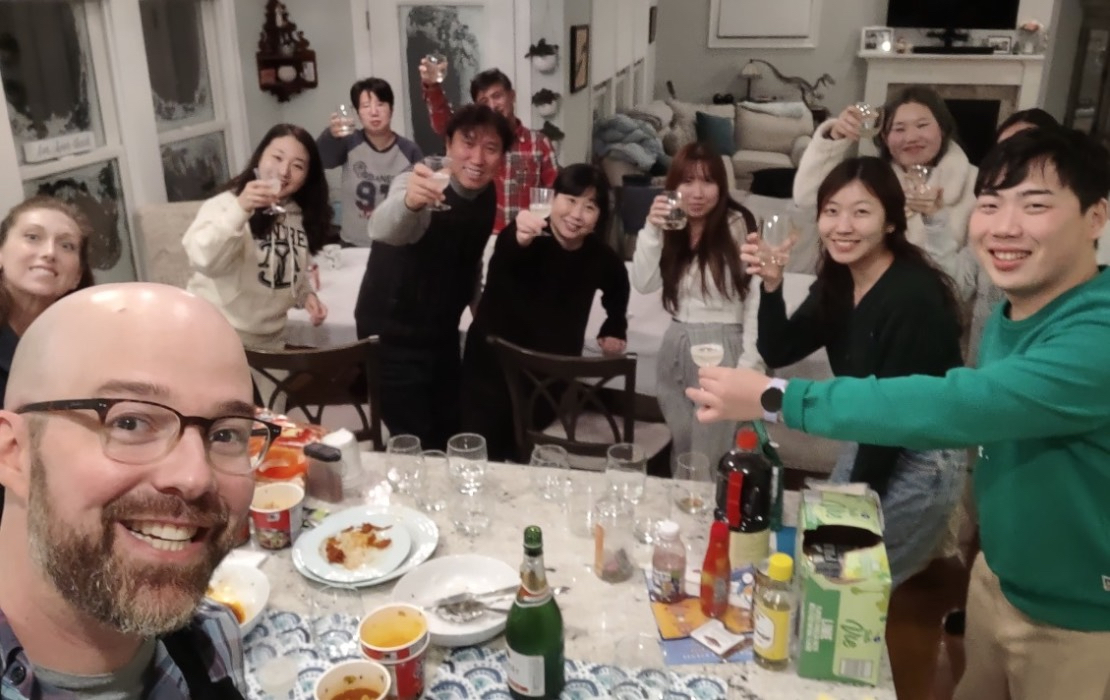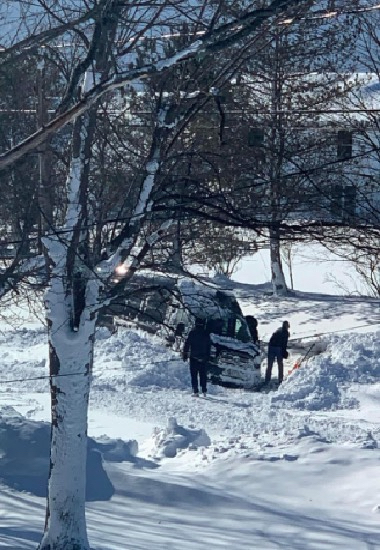 Stranded: A tour bus carrying South Korean visitors got stuck in a winter storm, ending up in front of the home of Alexander Campagna, D.D.S., needing shelter.
Several years ago, Alexander Campagna, D.D.S., found himself snowed in at his apartment for four days with a dwindling food supply.  
Since then, he has made sure that his fridge and pantry are always well-stocked in the winter months.
His shopping habits came in handy this past December —on Christmas weekend, no less — as he and his wife, Andrea, welcomed a group of 10 stranded South Korean tourists into their home. 
The tourists' bus became stuck in the snow across the street from Dr. Campagna's house, and he opened his home for two days until the tourists could continue on their scheduled trip to Niagara Falls.
It was a dark and snowy afternoon when the surprise visit began.
"I have lived in western New York since 1995, and this was the worst snowstorm I have ever experienced," Dr. Campagna said. "The blizzard wreaked havoc on Buffalo for nearly 48 hours straight, bringing not just many feet of snow and freezing temperatures, but also relentless wind and near-zero visibility."
The tourists were stranded in what New York Gov. Kathy Hochul described as "the blizzard of the century" - a storm that killed at least 28 people in western New York's Erie and Niagara counties, The Buffalo News reported .
People who died in the surrounding Buffalo area were discovered in snow banks and inside vehicles, The Associated Press reported , as snowfall totals reached more than 49 inches at Buffalo Niagara International Airport.
Dr. Campagna, a general dentist in the Seneca Nation Health System since 2011, and Andrea, a surgical nurse practitioner, were hunkered down and cozy inside their home as the blizzard began on a Friday afternoon two days before Christmas.
At 2 p.m., they heard a knock on their door.
Two men, covered from head to toe in snow, asked for shovels to dig out their vehicle that had become stuck in front of the Campagnas' home. 
The men told Dr. Campagna that they were a part of a 10-member, South Korean tour group en route to Niagara Falls.  
"I realized they were in danger simply being outside in the elements, so I instructed the two men to bring the entire tour group inside of the house," Dr. Campagna said.
The group was understandably shaken and nervous in their new surroundings, Dr. Campagna observed.  
But he knew what to do.
"My experience as a dentist has taught me that patience, empathy and good humor can all work harmoniously to calm anxious people and make them feel comfortable in an otherwise novel situation," he said.  "My wife, Andrea, has the most compassionate heart and a wonderful bedside manner."
Once they confirmed everyone was safe, and that there were no immediate medical emergencies, the Campagnas brought out extra dining chairs, set out refreshments and Christmas cookies, and encouraged the group to sit around the dining table to have a snack and catch their breath.  
While Mrs. Campagna attended to their basic needs, including providing sweaters, blankets and dry socks, it became clear to all that the house would also be home to these travelers for at least one night.
But as the blizzard continued outside and the streets remained impassible, it ended up being two nights.
This is where Dr. Campagna's habit of stocking up in the winter months came of use. 
"It was serendipitous that these Korean tourists ended up in our home, as my wife and I proactively had the food to accommodate friends and family for the holiday season," he said.
Fortunately for the tourists, the Campagnas had Korean food in the cupboard.
"Korean culture and cuisine are international favorites enjoyed by my wife Andrea and me, so we own many staple ingredients of their dishes," he said. "Our first date was at a Korean restaurant in Buffalo, and in addition to the food, we have Korean American friends from our respective graduate schools that introduced us to all things Korean."
While the language barrier was a bit challenging, the guests and hosts bonded over meals prepared by two of the guests — a Korean mom and dad, traveling with their college-aged daughter.
"We had plenty of chicken, pork, and rice to share, along with the aforementioned special sauces and spices my wife and I have collected over time," Dr. Campagna said. "A young couple was actually celebrating their honeymoon on this trip, so we surprised them with a toast of champagne on their first dinner together as a group."
The Campagnas and tourists also bonded over sports, with Dr. Campagna pointing out that now that the World Cup in Qatar had concluded, the guests should shift their focus to American football and the Buffalo Bills.
Coincidentally, the Bills had a game on Saturday afternoon, so it provided convenient entertainment on TV as the Buffalo area continued to be mired in blizzard conditions. 
It wasn't until nearly noon on Christmas Day that massive industrial-sized plows and trucks started to efficiently clear the road in front of the house.  
"Everyone cheered at the sound of the first plow making its way down our street, like Santa's sleigh coming to deliver Christmas cheer," Dr. Campagna said. 
All of the guests safely departed the home by Sunday night, certainly making it the most unique Christmas the Campagnas and their new international friends had ever experienced.
It is no wonder that Buffalo is known as the City of Good Neighbors.