ADA dentists provide care to more than 2,500 Ukrainian refugees
Volunteers traveled to Warsaw, Poland, to partner with International Medical Relief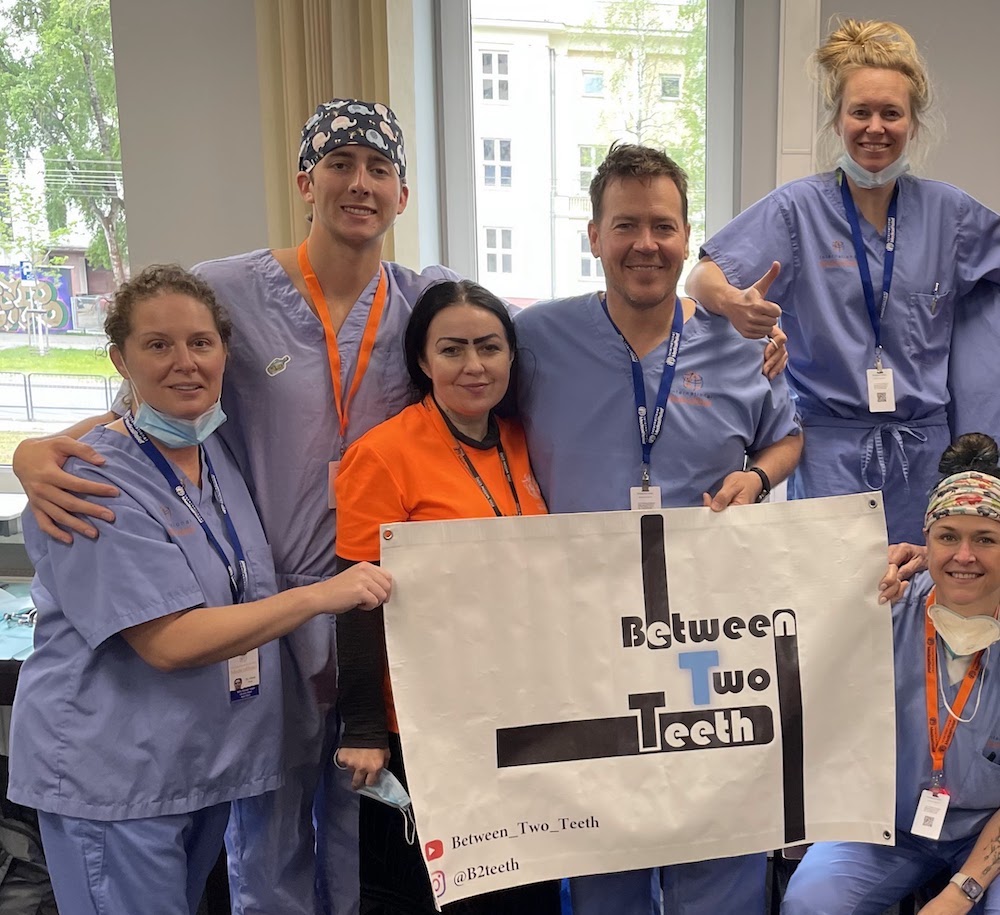 The stories Robert G. McNeill, D.D.S., M.D., heard from Ukrainian refugees during a recent mission trip to Poland will stay with him for many years to come.
"Hearing stories from patients about sleeping in bomb shelters for months and fleeing their villages but leaving behind loved ones to fight is not something I will forget anytime soon," Dr. McNeill said. "It made all my own problems seem very small."
Dr. McNeill and his co-host of the Between Two Teeth YouTube channel, Stephanie R. Ganter, D.D.S., were two members of a volunteer team that provided free dental care to 2,560 refugees from April 22-29 in Warsaw.
"We witnessed, firsthand, the humanitarian crisis that war creates," Dr. Ganter said. "I've never been more moved than by what we saw at the refugee shelter."
The team — which also included Craig S. Armstrong, D.D.S., ADA 15th District trustee and chair of the ADA Foundation board of directors; ADA staff members Hana Alberti, D.D.S., and Kate Davidoski; Dr. McNeill's son and pre-dental student David G. McNeill; finance professional Alex Tolksdorf; and EMT Thomas Meehan — partnered with International Medical Relief, a nonprofit organization that brings health care services to underserved and vulnerable people around the world. The team's work was supported by the International College of Dentists' Global Visionary Fund, the Henry Schein Cares Foundation and ADA member dentists.
The volunteer dentists performed extractions, fluoride varnish treatments and limited restorative care for the patients, while the other volunteers helped with triage and entertainment for the children.
While both Drs. McNeill and Ganter have volunteered their dental services in the past, this trip hit a little differently.
"I have participated in many trips like this in the past, but this one was different for me, as it was a way to serve with my pre-dental student son during this active humanitarian crisis," Dr. McNeill said. "I also loved working side by side on a team that included ADA staff members."
Dr. Ganter said she was struck both by the teamwork of the volunteers and the resilience of the refugees.
"I was amazed at patients' strength and willingness to cooperate with us as we worked in a uniquely humble setting," she said. "Even with food and resources scarce, I still had patients bringing me their 'only chocolate bar' and giving hugs after treatment. Everyone here was overwhelmingly grateful, and it was heartfelt the humanitarian impact we were making on this trip."
For Dr. McNeill, volunteering helps to put things in perspective, and he encourages other dentists to take the leap and say yes to serving.
"Dr. Ganter and I have made it one of our goals with our YouTube channel Between Two Teeth to push a message of service and adventure," he said. "It will always be difficult to take time away from your practice, but at the end of my career, I will remember my time on this mission versus the time I missed in my practice."
As a new dentist, Dr. Ganter said she is always looking for ways to give back, both to the profession and society. Her passion for philanthropy is a big reason she went into dentistry, and volunteering has been a positive part of her career thus far.
"On mission trips, at home or abroad, I always receive so much more than I give," she said. "I can't tell you how impactful humanitarian service has been on my life."
View videos from the trip on the Between Two Teeth YouTube channel, and learn more about International Medical Relief at internationalmedicalrelief.org.