Give Kids A Smile comes home to St. Louis
Access-to-care program kicked off Feb. 3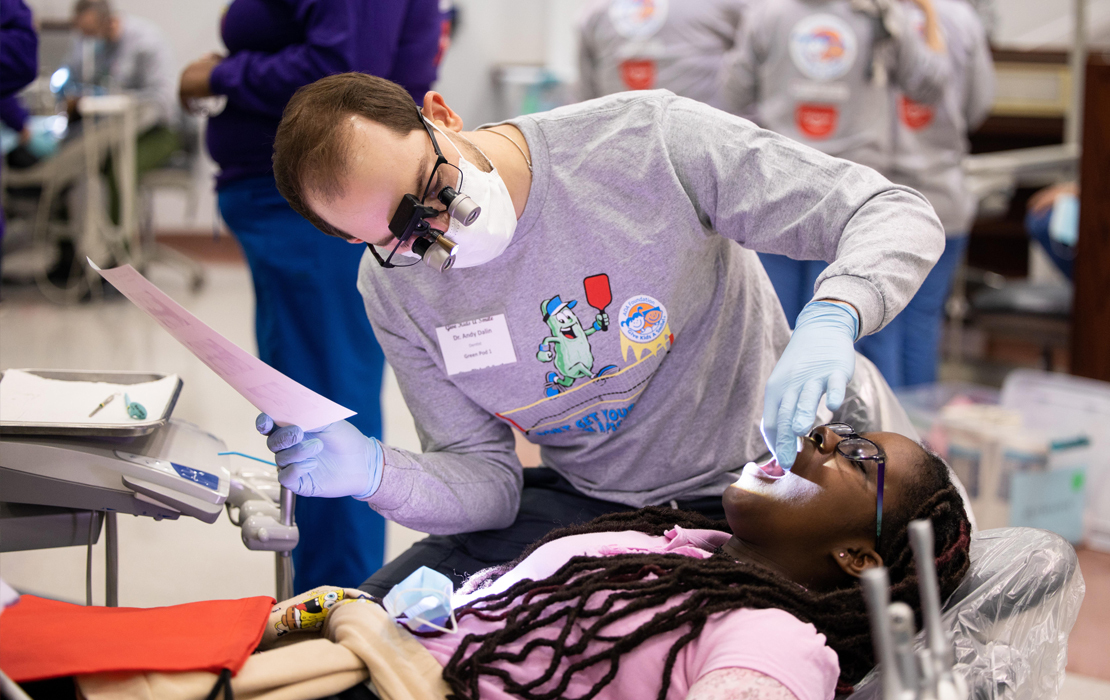 The day began with a mantra they all knew.
"I am quick. I am sharp. I am bright. I am smart. I am rich and good looking, and I am a major blessing. Now point to your neighbor and say, 'That's you.'"
The nearly 350 dentists, dental residents, hygienists and volunteers cheered and then got to work. More than 150 children were expected to pass through the clinic at the St. Louis University Center for Advanced Dental Education Feb. 3 as part of the national Give Kids A Smile kickoff event.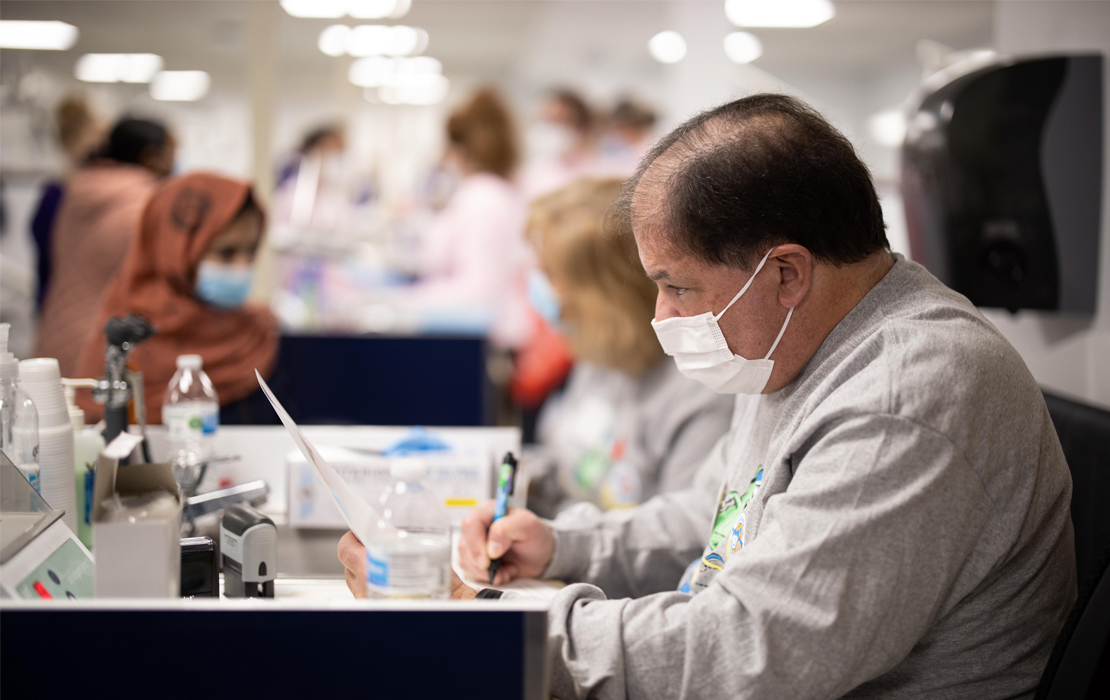 For many of the volunteers, it was their first time. For some of the old-timers, this will have been their 22nd year donating their time.
Give Kids A Smile is the flagship access to-care program administered by the ADA Foundation where nearly 6,500 dentists and 20,000 dental team members volunteer annually to provide underserved children with free oral healthcare services and education. ADA Foundation, ADA and tripartite leaders joined with representatives from national sponsors Colgate-Palmolive and Henry Schein Inc. to commemorate the day in St. Louis.
You see, St. Louis was not only the host of this year's Give Kids A Smile national kickoff event, it was the birthplace. Twenty-two years ago, Jeff Dalin, D.D.S., and members of an ad hoc committee of the Greater St. Louis Dental Society were charged with coming up with ideas on how to give back to the community and GKAS was born.
"It is amazing to think that we scraped together 15 chairs in an office in downtown St. Louis just 22 years ago," Dr. Dalin said. "And then to think that the ADA had the vision to adopt it as their national children's dental access program and over 7 million children have benefited from our wonderful volunteers across our country. Dentistry is one very special caring profession."
ADA President George R. Shepley, D.D.S., applauded the volunteers for the difference they make in children's lives.
"With only 15 patient chairs and nearly 400 children in need of care, Give Kids A Smile started back in 2002 as a grassroots effort in a soon-to-be-demolished dental clinic right here in St. Louis," Dr. Shepley said. "The care we will provide today won't just improve a child's oral health — it will have a resounding ripple effect on every area of their life. Because when a child feels and looks their best, there's no stopping what they're capable of — they can excel in the classroom and have the confidence that a healthy smile can bring. And today, we are making that a reality for hundreds of children."
"What began as a grassroots effort in St. Louis has become a national movement to ensure access to quality health care for all children," said Craig Armstrong, D.D.S., chair of the ADA Foundation. "The success of GKAS would not be possible without the nearly 30,000 dental professionals who volunteer at local events each year in addition to national sponsors, Henry Schein and Colgate. My sincere appreciation and thanks to all of you who have been a part of the program, some from the very first day. We are all involved for the right reason – to give kids a smile and help children in need."
Visiting the clinical annually is the reality for Purity Raiji and her children, Abigail, 12, and James Sankale, 7. They were alerted to the free event by Vitendo 4 Africa, a nonprofit in Missouri that connects immigrant individuals and families to services. Ms. Raiji has been bringing her children to the Give Kids A Smile event for five years.
"Pricing for the dentist is very high and even with insurance, sometimes it can still be very high and that's coming out of your pocket," Ms. Raiji said.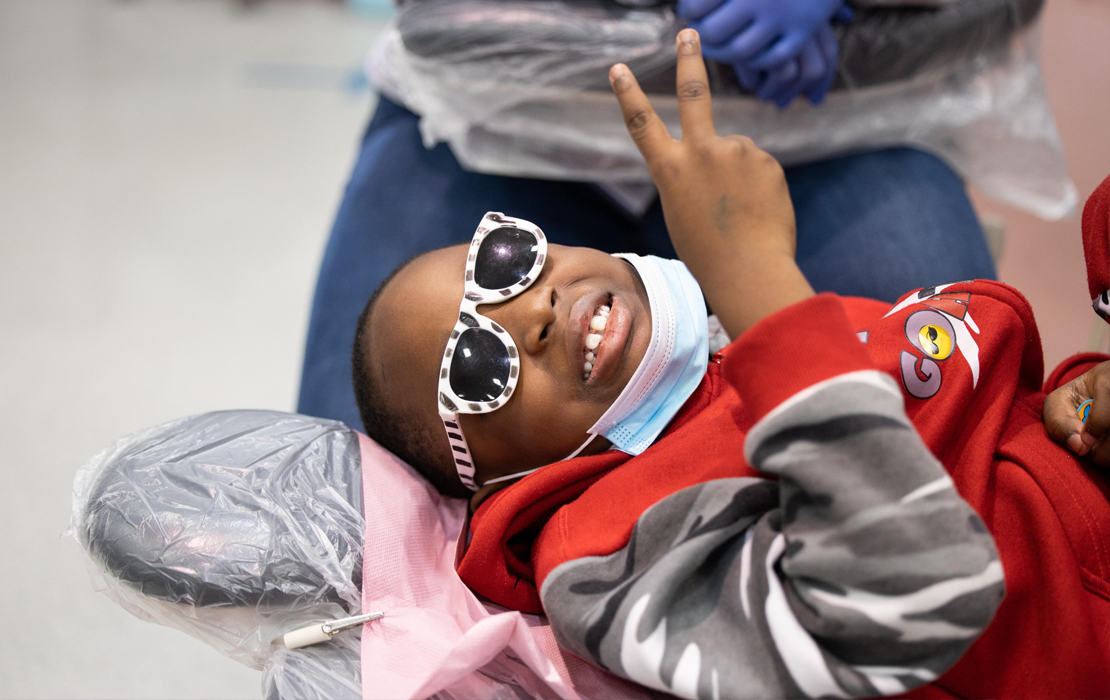 Upon arrival, Abigail and James and the rest of the children had their photo taken for their chart. They were then taken to get X-rays to determine the care they needed that day.
Robert Shapiro, D.D.S., was the dentist in charge of triaging the children. An orthodontist who practices in St. Louis, each year he keeps an eye out for one child who may need a lot of orthodontic work done and will offer free care at a later date.
Around five years ago, Dr.Shapiro identified a teenage girl who had a lot of crowding so he took out four teeth and basically fixed her smile. Then they went their separate ways.
In April 2022, he was out for dinner and a woman he didn't recognize was hovering around the table.
"She came over and said our meal was no charge and I asked her why?" Dr. Shapiro recalled. "She said, 'I was at Give Kids A Smile event, and you straightened my teeth for free, and it changed my life.' Then she smiled, and she was absolutely beautiful."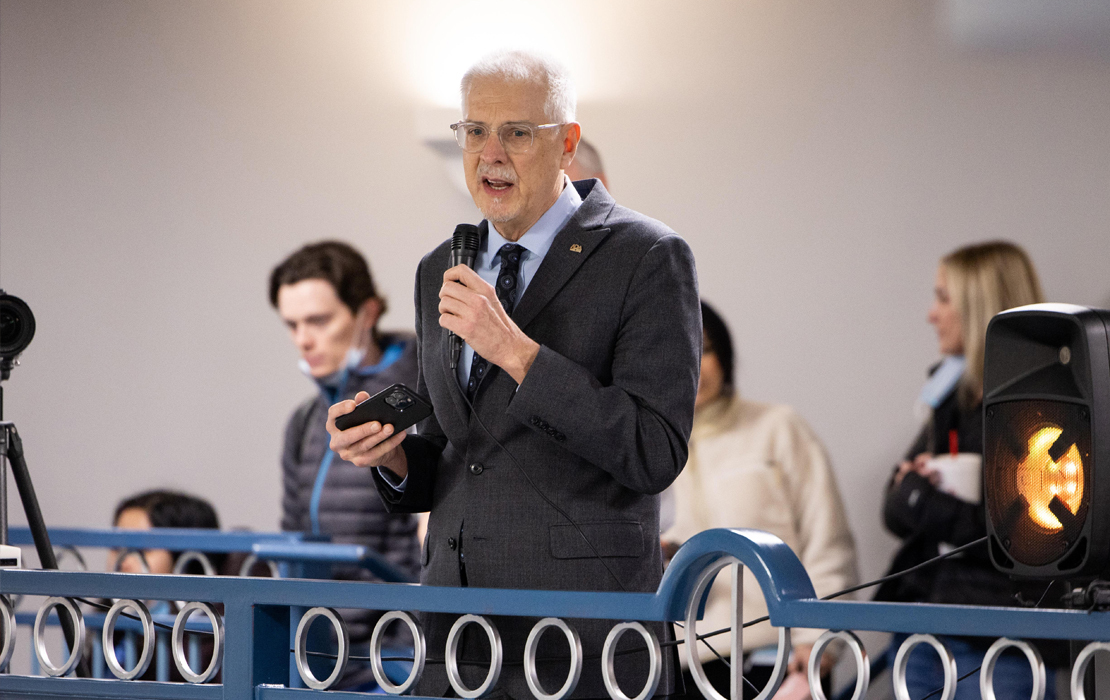 Another important component of the St. Louis GKAS program is Tiny Smiles. Tiny Smiles focuses on children 0-5. This ADA Foundation program, sponsored by Colgate and CareCredit, provides free resources for dental professionals, medical professionals and educators to raise awareness about the oral health needs of children ages 0 (birth) to 5.
Craig Hollander, D.D.S., a pediatric dentist in St. Louis, founded Tiny Smiles after noticing a gap in care at the Give Kids A Smile events.
"I noticed when I was in the trenches volunteering that a lot of the kids who had been here for the first time and had never been to the dentist before just had really bad teeth," Dr. Hollander said. "I realized early on in my training that you have to get to the parents before the teeth are messed up, before there's even problems."
He brought some dental students from some of the institutes where he teaches to help provide nutritional counseling for parents and provide treatment for any babies who needed it.
"If they learn how to do this today, it's a skill they'll be able to take to their office once they graduate and become a general dentist," Dr. Hollander said.
For more information on Tiny Smiles, visit adafoundation.org/tinysmiles . For more information on Give Kids a Smile, visit adafoundation.org/GKAS .