Veterans Smile Day 'serves those who've served'
Annual event offers free dental care to military veterans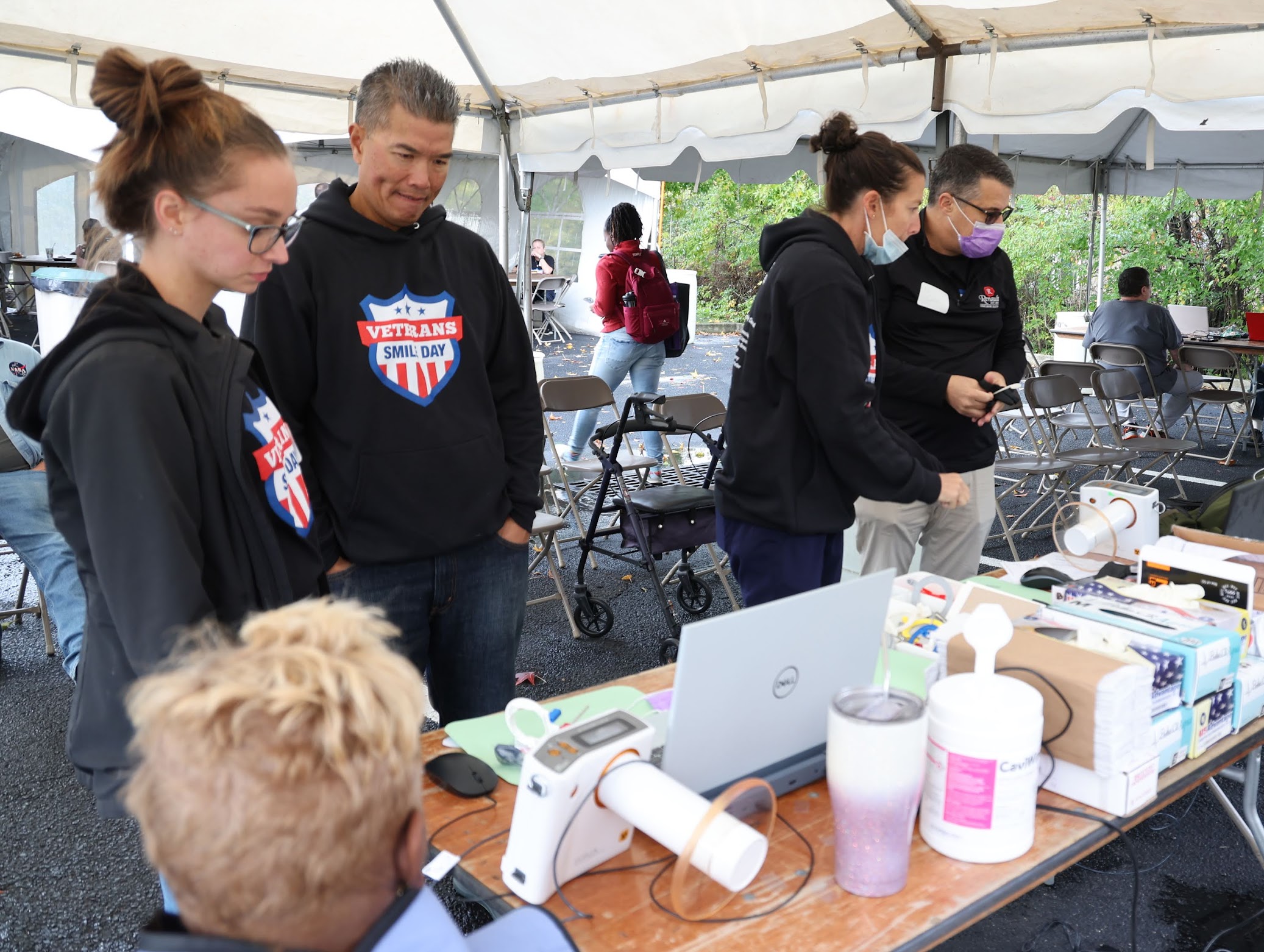 When Deryck Pham, D.D.S., left the military in 2007, he spent hours undergoing exams and sifting through piles of exit paperwork. During the process, he chose medical, health and life insurance plans, but he couldn't find dental options anywhere. It quickly dawned on Dr. Pham that dental care was not included in his benefits package provided by the U.S. Department of Veterans Affairs, nor was it for almost anyone else not considered completely disabled without a service-connected condition. As both a veteran and a dentist, lack of access to dental care for veterans troubled him. 
Not long after rejoining civilian life, an idea crept into his mind. Dr. Pham wanted to provide free dental care to military veterans as a way to thank them for their service, while simultaneously spreading awareness about the lack of dental care for veterans across the country. The seedling idea eventually blossomed into what is now known as Veterans Smile Day.
 "I knew when I actually became an owner of a practice that I was going to start this day of giving for veterans," Dr. Pham said. "That wasn't until 2012 when I became an owner, and I said, 'Okay, this year we're going to open up our doors on a Saturday and treat as many veterans as we can. So that's how it started.'"
That first day, Dr. Pham's New Jersey private practice saw approximately 35 veterans. The following year, about 10 of his dentist friends also agreed to open their doors, and the year after that, more than 30 offices provided free dental care to veterans. At that point, Dr. Pham decided to turn the annual event into a nationwide foundation that would raise funds and awareness, as well as recruit dentists, schools and hospitals to join.
The event has since evolved into something of a community event, with some locations offering blood pressure and glucose screenings, flu shots, COVID-19 shots, professional haircuts, massages and even raffles.
On the day of the event, usually on or around Veterans Day, veterans show up to a participating location and register on provided laptops. They are then given a number and complete both triage and a medical history assessment. From there, a dentist will take the necessary X-Rays and create a treatment plan, starting with the patient's chief complaint or urgent needs. Finally, the patients wait for an available doctor and ultimately receive customized care. 
Karin Irani, D.D.S., co-founder of the Veterans Smile Day Foundation and member of the ADA Board of Trustees, said that the event consistently generates positive reviews from both veterans and doctors. 
"I always get great feedback from both sides. The veterans are always so thankful – they're an amazing group, always so appreciative. And the doctors always feel really good [participating], because when you put them in touch with this group of people, they realize how humble [the veterans] are and the sacrifices they have made," she said. 
According to Dr. Pham, many dentists are unaware that the VA doesn't offer dental care to most veterans. This is partly why the foundation's overarching mission is not only to provide dental services, but also to draw attention to the fight for veterans' access to oral health care. 
"Veterans deserve better. Most dentists across the country don't know that veterans don't get that care from the VA, and that each dentist can actually help by treating one veteran, five veterans. It doesn't matter how many, just help," Dr. Pham said. 
Dr. Irani, for example, was unaware that most veterans don't qualify for dental insurance until Dr. Pham, who was her classmate at the University of Southern California School of Dentistry, told her about it in 2012. Generally, to qualify for VA dental services veterans must either have a dental issue that is service-connected or based on other criteria, such as being a former prisoner of war or having a disability rated as total.
According to the Pew Research Center, 13% of veterans were completely disabled in 2011, which means 87% of veterans did not receive dental benefits. 
In 2021 the VA launched its VETSmile program, a pilot that works with community providers to improve dental care access for veterans who do not qualify for VA dental health benefits.  
"Like many other regular people, I was not aware of it. I always thought veterans get the best health and dental and medical," Dr. Irani said. 
Upon learning this, however, she immediately joined the cause by helping to create a name for the foundation and reaching out to sponsors such as Henry Schein, Ultradent and The Dentists Supply Company. Since those early days, Dr. Irani has delivered many presentations with various dental associations and advocated for legislation that supports access to oral health care for veterans.
Although the Veterans Smile Day Foundation has evolved significantly since it began, both Dr. Irani and Dr. Pham have high hopes for the future. Dr. Pham said he would like to see an official ADA service program for veterans – perhaps similar to the ADA Foundation's Give Kids A Smile program, which provides underserved children with free oral health care.
"I think the ADA bringing attention to the issue would work on a greater spectrum, and also it would bring more doctors into the fold to participate, because people would hear more [about it] than [they do from] a small program like ours," Dr. Irani said. 
Still, the mission of the program has always been and will continue to be in support of veterans, whether that be in small or large ways. It is, as Dr. Pham says, "to serve those who've served."
"Every time we help one veteran smile again, that's what we want. If we can get someone out of pain, that's awesome," Dr. Pham said. "If we can get another dentist to join and open up their doors, that's an accomplishment. It's almost like one brick at a time to really build a foundation."
For more information on Veterans Smile Day, visit veteransmileday.org.