ADA continues to advocate for veterans' access to care as 2024 approaches
About 7.8 million veterans enrolled in the system — 85% — are ineligible for Veterans Affairs dental benefits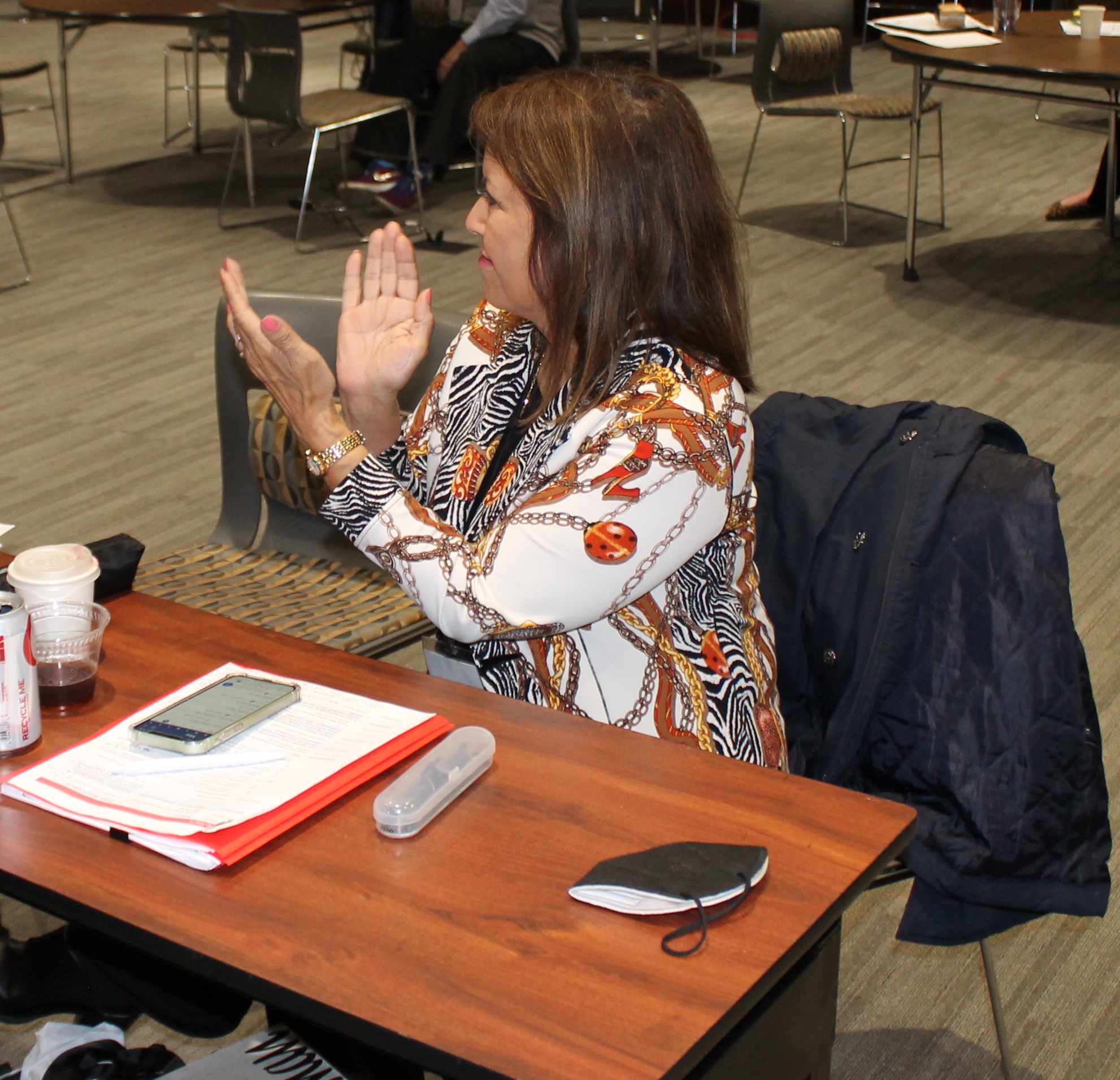 When the father of Mark A. Vitale, D.M.D., died, his widow gave her son the Bronze Star that his father had been awarded decades before for bravery and heroism while risking his life in the Korean War.
Years later, when he was chair of the ADA Council on Government Affairs, Dr. Vitale was shocked to learn that most veterans, many of whom risked their own lives, were ineligible for dental benefits through the Veterans Affairs health care system.
His father had sacrificed greatly, and so had so many others. Dr. Vitale said it bothered him that those who served their countries didn't receive basic dental care when they came home. He made a commitment to change that.
As 2024 approaches, Dr. Vitale, the ADA and the ADA Foundation are committed to improving veterans' access to oral health care though new initiatives — coupled with the ADA's efforts to address veterans' oral health care needs with lawmakers.
"The nation's dentists are proud to care for the oral health needs of those who have served our country so well," said ADA President Linda J. Edgar, D.D.S. "Doing so also requires the ADA to advocate tirelessly for improving veterans' access to dental care as a way to help them achieve optimal overall health."
While the Veterans Affairs health care system offers comprehensive dental care benefits to certain qualifying veterans — more than 600,000 veterans were provided dental care in the 2022 fiscal year — about 7.8 million veterans enrolled in the system — 85% — are ineligible for VA dental benefits.
Generally, to qualify for VA dental services, veterans must either have a dental issue that is service-connected or based on other criteria — for example, the veteran is a former prisoner of war, or if the veteran has a service-connected disability rated as total.
VA Dentistry provides comprehensive dental care to qualifying veterans, and the VA is celebrating One Million Strong Nov. 9 at the VA Central Office in Washington, D.C.
Give Veterans A Smile
Well-suited to act as a national convener and potential collector and deliverer of data and resources relating to charitable oral health services for veterans, the ADA convened the first-of-its-kind Give Veterans A Smile Summit in May 2022. The day-and-a-half gathering  highlighted the need to prioritize the delivery and access to care for veterans across the county.
The discussion items included gathering data for a national database of charitable veterans' oral health care programs; facilitating the sharing of best practices; fostering collaboration among organizations/programs that provide care to veterans; and ultimately determining if there is a productive role the ADA can play in advancing access to care efforts for veterans.
Carol Gomez Summerhays, D.D.S., a veteran herself and past ADA president, chaired the summit. In her summit opening remarks to the attendees, Dr. Summerhays quoted President John F. Kennedy: "As we express our gratitude, we must never forget that the highest appreciation is not to utter words but to live by them."
Dr. Summerhays said that in addition to bringing to the table key stakeholder organizations focusing on veterans' care, the ADA wants to see if the Association's 21-year-old signature access to care program, Give Kids A Smile, could be used as a model for serving veterans.
The ADA Board of Trustees has demonstrated its continued enthusiasm about these nascent efforts through creating a Give Veterans A Smile National Advisory Committee to guide the development of a Give Veterans A Smile-program and provide strategic advice with respect to matters of concern in the provision of care for veterans. The committee, chaired by Dr. Vitale, held its first meeting in April 2023.
The committee's work is underway. To date, the proposed initial goals of the Give Veterans A Smile program, to be housed within the ADA Foundation, include:
• Shining a light on and calling national attention to the unmet dental needs of veterans.
• Encouraging dentists to provide pro bono oral health care services and dental homes to underserved veterans.
• Collaborating with and highlighting the good works of other organizations and programs providing overall health services to veterans.
• Collecting and sharing national charitable oral health care data for veterans to help guide advocacy efforts to increase funding and access to care for underserved veterans.
ADA advocacy
A policy, Resources for Veterans Ineligible for VA Dental Care, was adopted by the 2020 House of Delegates. It reads as follows:
"Resolved, that the American Dental Association supports the federal authorization of administrative support resources within the Veterans Administration Medical Centers to assist veterans to identify and utilize dental services offered by federally qualified health centers, not for profit dental care facilities, and volunteer dental professionals, and be it further resolved, that the ADA supports the work of component and constituent dental associations, dental organizations, societies and dentists to develop new programs with outreach strategies to assist veterans with unmet dental treatment needs, and to serve as a resource in finding dental homes for veterans."
 In 2023, the ADA's government affairs laid the groundwork for a robust 2024 calendar of advocacy for veterans.[SSK1] 
In a March 28 letter, the ADA urged Congress to provide additional funding and resources to the Department of Veterans Affairs Dentistry to meet the dental care needs of all eligible veterans.
Then-ADA President George R. Shepley, D.D.S., and Executive Director Raymond A. Cohlmia, D.D.S., requested that Congress provide $1.25 billion in fiscal year 2024 funding for VA Dentistry — $50 million above the fiscal year 2023 enacted level — noting that "because funding and resources for VA Dentistry have not kept up with the increase in veterans eligible for VA dental benefits, real access to care is threatened by VA Dentistry's lack of funding and resources."
Drs. Shepley and Cohlmia also asked Congress to set aside dedicated funding for VA Dentistry so that the money appropriated for VA Dentistry is not used elsewhere in the VA, and to restore the appropriate executive authority of the head of VA Dentistry so that they can protect resources intended for dentistry.
In a September Action Alert, the ADA asked dentists to write to their congressional delegation and urge them to support improved access to dental care through increased resources for Department of Veterans Affairs Dentistry.
Increased funding for the under-resourced VA Dentistry would enable it to care for those already eligible for benefits, according to a September ADA action alert.
The VET CARE Act is a piece of legislation that would create a pilot program offering VA dental care to veterans with Type 2 diabetes as well as studying whether there is a correlation between receiving regular dental treatment and reduced complications of chronic disease.
"Many dentists are actively serving in the military or are veterans," according to the alert. "But did you know that while veterans' oral health is worse on average than non-veterans, only about 15% of veterans are eligible for VA dental benefits? More can, and must, be done to improve veterans' access to oral health care."
Visit ADA.org/advocacy/legislative-action-center/vet-care-action-alert to take action by contacting your federal representatives.
Other ADA efforts to support veterans include:
• Entering into a memorandum of agreement with the VA's Center for Care and Payment Innovation to assist it in finding partners for and promoting the VETSmile pilot program. VETSmile collaborates with community dental care partners to enhance veterans' access to dental services — often at a reduced cost — if they do not qualify for dental care through the VA. VETSmile also helps veterans to integrate oral hygiene practices into their daily lives in order to improve their overall health.
• Calling for improving VA's ability to attract skilled professionals such as dentists, "an essential part of providing veterans with access to high-quality dental care," according to an Aug. 3, 2022, letter to Sen. Jon Tester, D-Mont., from then-ADA President Cesar R. Sabates, D.D.S., and Dr. Cohlmia. In the letter, they highlighted VA Sec. Denis Richard McDonough's remarks that burnout and high demand for labor were responsible for "the worst turnover rate" in 15 years, noting the VA will need to hire 15,000 nurses over the next five years as a result. "At a time when 80% of dentists who are currently hiring are finding the recruitment of dental hygienists and assistants to be extremely or very challenging, VA must commit adequate resources to the VA dental workforce if it is going to meet the oral health needs of veterans," Drs. Sabates and Cohlmia wrote.
Follow the ADA's advocacy efforts at ADA.org/advocacy.
For additional information on the ADA Foundation Give Veterans A Smile program currently in development email gvas@ada.org.
---