SmileCon celebrates diversity, equity, inclusion
DEI Celebration highlights importance of training, supports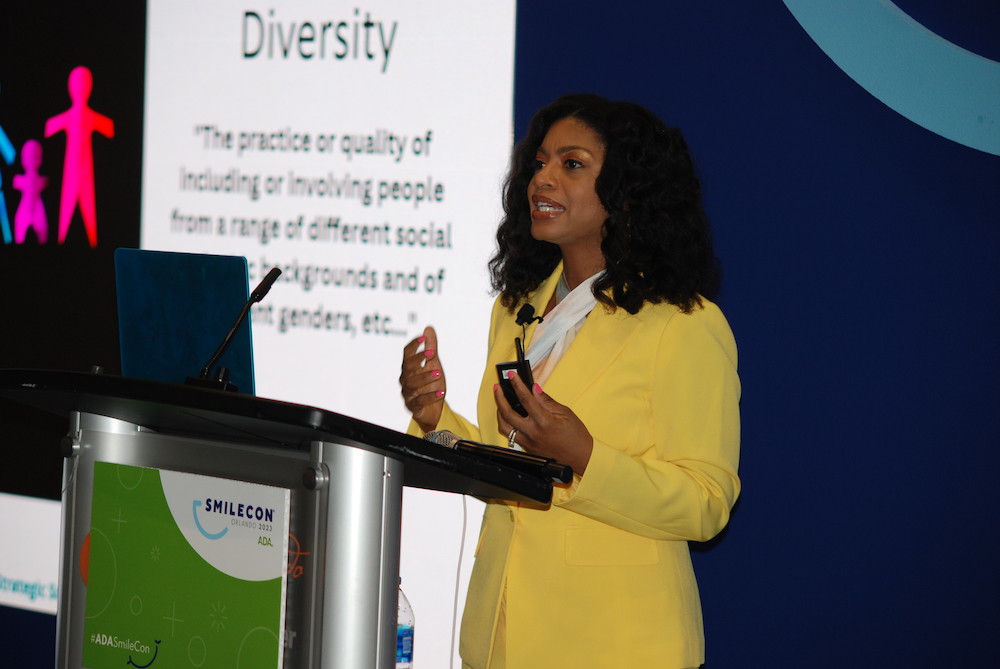 Orlando, Fla. — Being culturally sensitive is an important part of being a health care provider, Kari Carter-Cherelus told the crowd who gathered Oct. 6 for the DEI Celebration at SmileCon.
The event, which celebrated diversity, equity and inclusion in the ADA Hub of Dental Central, featured an educational session led by the dental hygienist and speaker, who shared the meaning and importance of diversity and pointed to ways the dental and health care industries can better embrace diversity and support their members and patients.
"The health care industry needs to prioritize diversity so it can provide effective and culturally sensitive care to its patients, and as health care providers, we come in contact with patients from various backgrounds and cultures daily," Ms. Carter-Cherelus said. "And due to the growing diversity of patient populations and the persistence of health disparities among different populations, many health care providers and organizations have become increasingly aware of the need to develop their cultural competency skills through diversity, equity and inclusion training."
She urged providers to get to know the communities they serve and evaluate whether their patient populations reflect those communities. If not, they can explore why that is and look for opportunities to increase the diversity of the patients they serve, not only in terms of race and ethnicity but also ability and other characteristics. Dentists also need to create a safe environment within their practices for both their team members and patients, Ms. Carter-Cherelus said.
"At times like this, it's important to make sure we support one another, to make sure that we are friend for one another, and that when the weather is bad, it's inclement, that we're under one another's umbrella," she said. "We want to feel confident that this industry — our beloved dental industry — is positively changing in its support for us and different avenues and different organizations like I see today."
Ms. Carter-Cherelus was joined by five panelists, who discussed the mission and efforts of their respective organizations. The panelists were Bunny Begay, D.D.S., president of the Diverse Dental Society; Christina Meiners, D.D.S., president of the Hispanic Dental Association; Marlon Henderson, D.D.S., president of the National Dental Association; Kimberly Smith of Henry Schein; and Beth Jordan of P&G.
To learn more about the ADA's diversity and inclusion efforts, visit ADA.org.