Association Forum Foundation honors ADA executive director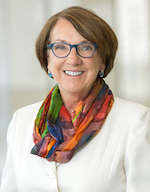 Dr. O'Loughlin
ADA Executive Director Kathleen T. O'Loughlin, D.M.D., is the recipient of this year's Samuel B. Shapiro Award for Chief Staff Executive Achievement from the Association Forum Foundation.
The award is the highest honor the organization bestows on an association professional and is presented for outstanding service and accomplishments in association/nonprofit management, according to an Association Forum Foundation news release.
"The ADA is thrilled to learn that Dr. O'Loughlin has received this award," said ADA President Daniel J. Klemmedson, D.D.S., M.D. "She is a true champion of powering the profession of dentistry and assisting dentists in advancing the health of their patients. Her leadership, particularly the last year during the pandemic, has been outstanding, and we are grateful for her guidance and service."
The award is named after Samuel B. Shapiro, certified association executive, who is a past chair of the Association Forum and the American Society of Association Executives.
"Recipients of this award have made outstanding accomplishments in their professional and personal lives," the Association Forum Foundation said.
Criteria for the award includes recognizing association professionals who have advanced their organization's mission and who have demonstrated an ability to serve as mentors.
Dr. O'Loughlin will be formally honored at the Association Forum Foundation's annual Honors Gala in August.
Dr. O'Loughlin will be retiring at the end of 2021 after 12 years of service with ADA. She joined the ADA in 2009 after serving as the chief dental officer for United Health Group and as the chief executive officer for Delta Dental of Massachusetts.