Children's Airway virtual event to address how myofunctional therapy can help kids breathe better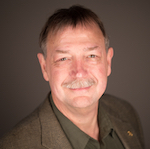 Dr. Carstensen
The American Dental Association's next Children's Airway event, scheduled to take place virtually April 22-23, will cover new content focused on myofunctional therapy, which addresses the improper function of the tongue and facial muscles.
 Connecting to Better Health: Myofunctional Therapy and Behavior Skills will help participants understand the critical role of dentists in the early identification of orofacial myofunctional disorders; screen for and identify the clinical signs of mouth breathing, mentalis strain, tongue-tie, tonsil hypertrophy, dental wear and narrow maxilla as risk factors for sleep-disordered breathing among young patients; and recognize the strengths and limitations of current treatment paradigms and help influence the direction for future research.
The course is appropriate for people who are new to the topic, as well as those who have attended a Children's Airway event in the past. It will be led by Steve Carstensen, D.D.S., a world leader in sleep-related breathing disorders. The other speakers include Carla Damon, D.D.S., and Loria Nahatis, D.D.S., co-founders of Beyond Pediatric Dentistry in Dallas; Sharon Moore, a speech pathologist with a private practice in Australia; Leyli Norouz-Knutsen, co-founder and managing director of The Breathe Institute; and Soroush Zaghi, M.D., medical director of The Breathe Institute.
"Our course is focused on what to do, what to say and whom to work with to help kids make every breath their best," Dr. Carstensen said. "Along with practical education, our specialists will give practicing dentists the opportunity to improve our profession with clinical research. Each of us can be part of changing the health future for children in their practice."
Supported by platinum sponsor Healthy Start and premium sponsor ASAP Pathway, the event will take place from 6:30-9:15 p.m. CDT April 22 and from 8:30 a.m.-5 p.m. CDT April 23. It is worth 7.5 continuing education credits.
The course is $399 for member dentists and other health care professionals, $139 for dental team members and students, and $499 for nonmember dentists.
Attendees will have the opportunity to contribute to The Breathe Outlook, an effort by The Breathe Institute and the American Academy of Physiological Medicine & Dentistry to gather data from everyday clinicians to support changing how children's breathing is assessed and treated.
Learn more and register at ADA.org .