Former ADA speaker remembered for 'commitment he made for many years to the profession of dentistry'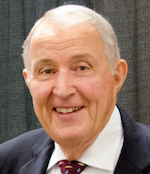 Dr. Soliday
J. Thomas Soliday, D.D.S., former ADA speaker of the House of Delegates and former president of the Maryland State Dental Association, died April 12 after suffering from cardiac amyloidosis.
An oral surgeon from Gaithersburg, Maryland, Dr. Soliday was elected in 2002 as ADA speaker and spent 10 years in that position.
Dr. Soliday served for 19 years as parliamentarian for the Maryland State Dental Association and eight years as speaker of the House of Delegates of the American Association of Oral and Maxillofacial Surgeons.
He was a certified parliamentarian and certified teacher of parliamentary procedure, as well as past president of the Southern Maryland Dental Association and the Maryland Society of Oral and Maxillofacial Surgery.
In a campaign statement published in the Sept. 16, 2002, issue of the ADA News, Dr. Soliday said that the role of a speaker is to be a watchdog of the democratic process.
"I consider myself a dentist first, an oral surgeon second," he said in the statement. "I enjoy being an ADA delegate. I'm proud I was president of Maryland State Dental Association in 1990. My 30-year private practice has shown me many of the problems we face as dentists firsthand. My focus would be on the total picture of dentistry, without favor to one practice mode over another."
Jay S. Nokkeo, D.M.D., was just a resident when he met Dr. Soliday for the first time, and said he still remembers the day Dr. Soliday asked him to join his practice in 2003.
"I was so excited to work for such an accomplished oral surgeon," Dr. Nokkeo said. "After working by his side, I realized the commitment he made for many years to the profession of dentistry. Whenever an issue arose regarding dentistry, he would try to get involved in such a way to better the profession he loved so much. I am certainly sad he is gone and will miss him tremendously."
Robert J. Wilson Jr., D.D.S., chair of the ADA Council on Ethics, Bylaws and Judicial Affairs, said Dr. Soliday was a "pillar" of the Southern Maryland Dental Society, the Maryland State Dental Association and the ADA.
"Tom Soliday played a significant role in launching my career in organized dentistry," Dr. Wilson said. "He was part of a great generation of dental professionals. He was passionate about his patients, his profession and organized dentistry. Dr. Soliday's innovations and influence modernized the ADA House of Delegates."
Dr. Wilson said he was fortunate to count Dr. Soliday as one of his mentors.
"His example, friendship, encouragement and advice are now part of who I am," he said. "Tom was always so much more than the oral surgeon down the street who took care of surgical needs for many of our mutual patients. I will always remain grateful for my opportunity to know Dr. Tom Soliday as our entire profession should be grateful for his enormous contributions."
William F. Martin III, D.D.S., past president of the Maryland State Dental Association, called Dr. Soliday a "legend in organized dentistry." He added, "He was an outstanding ADA speaker, a tremendous mentor, a fine oral surgeon, and most of all a great man I was proud to call my friend."
Tom a'Becket, D.D.S., past president of the Maryland Dental Association, said Dr. Soliday was a mentor to him and others and a friend to even more.
"He was a caring doctor to his patients, had passion for his profession and tremendous love of family," Dr. a'Becket said. "A humble giant leaving a legacy of service and good deeds."
According to his online obituary , he is survived by his wife, six sons, 15 grandchildren; and five great-grandchildren. He is also survived by his siblings Carolyn Meakem and her husband Tom, Rebecca Hawes and her husband Ernest, and Theodore Soliday and his wife Cheryl; and predeceased by his sister Jane Gontarski and her husband John.
Dr. Soliday will be cremated, and a Celebration of Life Service will be held at Gettysburg Presbyterian Church in Pennsylvania on Oct. 24, 2021. Family, friends, and others whose lives he touched are invited to the service and celebration to follow.
In lieu of flowers, memorial donations can be made to the Honduras Mission.