SmileCon chair: Reimagined experience takes annual meeting to 'the next level'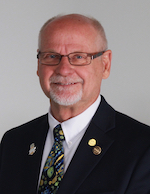 Dr. McKelvey
Dentists will have plenty of opportunities to meet, play, learn and smile during the American Dental Association's revamped annual meeting, SmileCon, scheduled for Oct. 11-13 at Mandalay Bay Resort and Casino in Las Vegas.
"Focusing on meet, play and learn provides the foundation for a meeting like none other in dentistry," said H. Charles McKelvey, D.D.S., 2021 meeting chair. "Our attendees will help to write the next chapter of dentistry and celebrate our past accomplishments."
SmileCon will be built around participants, offering them the chance to meet not only with friends, classmates and colleagues, but also with dental leaders and speakers. With an event site like Las Vegas, attendees can enjoy a variety of activities, from visiting the Mandalay Bay casino to participating in planned social events to exploring nature. Continuing education courses will focus on four main themes: science and technology, the business of dentistry, art and design, and the common good.
"SmileCon will take the ADA's annual meeting to the next level," Dr. McKelvey said. "There will be no shortage of opportunities for our attendees to meet and learn from the best."
The meeting chair recently discussed what SmileCon has in store for its attendees with the ADA News.
ADA News: What can those who attend SmileCon expect from their experience, whether they participate in person or virtually?
Dr. McKelvey: I would say that attendees should expect the unexpected. SmileCon will be both an in-person and virtual experience. Dentists will be able to see what's new in dentistry, hear from top experts and connect with their dental community as they experience a streamlined course schedule, reinvented exhibit hall, new learning formats and fun activities to help them unwind. We are putting as much energy and thought into our virtual meeting as well. SmileCon will be different from dental meetings of late. Both our opening and closing sessions will be broadcast live. We will have a master of ceremonies kicking off this new meeting with an exciting new lineup. Each day, we will have a roving camera crew at Mandalay Bay broadcasting in real time to our virtual SmileCon attendees. SmileCon virtual will be an extension of the face-to-face meeting that will give attendees a glimpse into the live meeting and an opportunity to earn some CE. We will have unique CE for our virtual participants and interviews with trusted and up-and-coming experts in dentistry.
ADA News: How will SmileCon help to foster a sense of community among dental professionals following what has been a difficult and sometimes isolating time during the pandemic?
Dr. McKelvey: The ADA and the SmileCon team recognize the impact that COVID-19 has had on our dental community. It has challenged us and made us stronger, more resilient and adaptable. As someone said, "When we get back to normal, I hope we don't get back to normal." We feel that SmileCon will be the incubator for dentistry's future. New ideas, new approaches. Our industry has a strong foundation that has come out stronger, but we all agree that the future of health care is changing, and SmileCon will be the venue for such a change and transformation.
ADA News: What is new about the CE being offered at SmileCon? Is there anything in particular that excites you?
Dr. McKelvey: This is going to be different. We will now be offering new learning formats, including presentations; experiences and conversations; and hands-on, engaged learning. We have transformed our exhibit hall into Dental Central — a place not only to buy but also to learn and engage with peers and experts. Dental Central has been completely redesigned. It is not your father's or mother's exhibit hall. Also, in addition to our CE themes of science and technology, the business of dentistry, and art and design, we will be integrating a focus on the common good into all aspects of the meeting. We will step back to see who we are and what we have to offer our colleagues and communities. Service opportunities will be highlighted and experienced both at SmileCon and in the Las Vegas community.
For more information about the meeting, visit SmileCon.org. Registration will open June 23.