West Virginia University names new dental school dean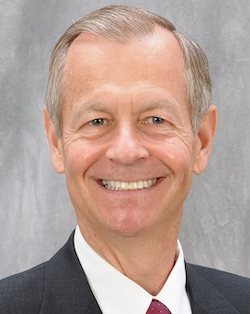 Dr. Pachuta
Morgantown, W.V. — West Virginia University announced April 7 that it named Stephen Pachuta, D.D.S., as dean of its school of dentistry, starting June 1.
Dr. Pachuta, a retired U.S. Navy rear admiral and former chief of the U.S. Navy Dental Corps, joins the WVU dental school after 32 years in the Navy where he served as executive officer or commander of multiple Navy medical and dental treatment facilities in the U.S., Guam and Japan, according to a news release.
"We are so thrilled to welcome back a Mountaineer to the WVU family," said Clay Marsh, M.D., vice president and executive dean for WVU Health Sciences. "Dr. Pachuta brings world-class experience and leadership in health care administration and operations, which will be an enormous asset to the school of dentistry as we continue to grow our services and expand our expertise in areas that will benefit West Virginia and the surrounding region."
Dr. Pachuta earned his dental degree from West Virginia University in 1985.
"Our students, faculty and staff are superstars and are the future of the dental profession," Dr. Pachuta said. "I look forward to serving alongside each, as we prepare the next generation of health care providers to meet the needs of our West Virginia families. I feel the last 35 years were all in preparation for this wonderful opportunity – returning to WVU is coming home. Let's go Mountaineers!!"
Dr. Pachuta previously served as director for health services at Headquarters Marine Corps; medical officer to the U.S. Marine Corps; and director for medical resources, plans and policy at the Office of the Chief of Naval Operations. He has also served as the executive assistant and senior policy advisor to the 37th Surgeon General of the Navy and commanded the U.S. Naval Hospital in Yokosuka, Japan.
In addition, Dr. Pachuta has held academic appointments at the Naval Postgraduate Dental School of the Uniformed Services University of the Health Sciences and the George Washington University School of Medicine and Health Sciences.
He is board certified by the American Board of General Dentistry and is a fellow in the International College of Dentists and the American College of Dentists. He currently serves on the Board of Regents of the American College of Dentists. In May 2020, he served as a judge for the Naval Postgraduate Dental School, International College of Dentists, Annual Research Award Symposium evaluating 21 resident research presentations.
"Dr. Stephen Pachuta is an outstanding choice for dean at the WVU School of Dentistry," said Michael D. Medovic, D.D.S., ADA 6th District trustee. "Dr. Pachuta is a WVU School of Dentistry alumnus and is a retired rear admiral, the highest rank a dentist can achieve in the Navy, where he ran the Navy Dental Corps and post-doctoral programs and hospitals. He will bring strong leadership and organization as well as his love of his alma mater to the dean's position."
Dr. Pachuta succeeds Anthony "Tom" Borgia, D.D.S., who retired in 2020 and Fotinos Panagakos, D.M.D., who has served as interim dean since July 2020. Dr. Borgia will be taking over as executive director of the West Virginia Dental Association.
"Dr. Pachuta and Dr. Borgia will be a strong team for dental education and ADA membership in West Virginia," Dr. Medovic said.