ADA continues its search for unified solution to eligibility, benefits verification problems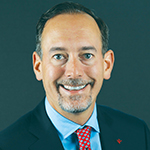 Dr. Markarian
While establishing a "unified system" may not be the most feasible approach to solving issues related to dental eligibility and benefits verification, the ADA could provide significant value in driving improvement in that area, according to a July study completed by Change Healthcare, a Nashville-based health care technology company.
The company offered four recommendations on how the Association can make eligibility and benefits verification much less burdensome for dental practices — freeing offices up to spend their time focusing on their patients instead of dealing with administrative burdens and surprise billing headaches.
According to Change, the ADA may provide greater value through:
Provider education.
Payer guidance.
Feedback on best practices for software vendors.
Endorsing a product or solution.
The company's study, commissioned by the ADA Council on Dental Benefit Programs, does not recommend the ADA pursue a proposed online portal or app at this time, due to cost, potential lack of payer participation and several other obstacles.
"I think the results of the study were very useful because they have focused the council on the next steps to take in this investigation," said Randall Markarian, D.M.D., ADA Council on Dental Benefit Programs chair. "I think that we need to pursue the next step and investigate the solutions being developed and see which product — or products — are the most useful and engage in discussions for a possible endorsement agreement."
The study is a response to Res. 102H-2020 adopted by the 2020 House of Delegates.
The resolution directed the ADA to investigate the feasibility of developing a platform to allow third-party payers to provide dentists with accurate and timely information regarding a patient's eligibility status and current dental benefits through a single unified system.
Dr. Markarian said that eligibility and benefits verification is a pain point for many dental offices on a daily basis.
"It hurts the efficiency of the office when staff are on the phone trying to verify information," he said. "We need a process that is real-time and trackable so that dental plans will stand by the information given to offices. Providing better information about the patient's coverage will enhance the doctor-patient relationship and lead to an increase in treatment plan acceptance."
For more information on dental benefits, visit ADA.org/dentalinsurance.