Dr. Frank Eggleston, former ADA trustee, dies at 78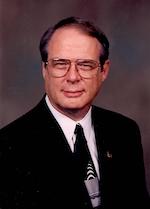 Dr. Eggleston
Frank Eggleston, D.D.S., who served as ADA 15th District trustee from 1999-2003, died on July 25. He was 78.
Dr. Eggleston held several leadership roles in organized dentistry, including as president of the Texas Dental Association and the Greater Houston Dental Society.
A lifelong Texan, Dr. Eggleston was born in Houston in 1942. He earned a double degree in biology and chemistry from Texas Christian University and his dental degree from Baylor College of Dentistry.
After three years in the Navy, where he served as a lieutenant aboard the USS Sierra in Norfolk, Virginia, he returned to his hometown and practiced preventive and restorative dentistry in downtown Houston for over 35 years.
In 1995, Dr. Eggleston was named Dentist of the Year by the Texas Academy of General Dentistry. He then received the Texas Dental Association's highest award, the Distinguished Service Award, in 1996.
As a trustee in the ADA, he served in several councils and committees, including the Council on Membership, Council on ADA Sessions, Council on Dental Benefit Programs and the Joint Commission on National Dental Examinations. He also served as chair of the Information Technology Committee, which developed the idea of an email forwarding system for the ADA, and the Dental Content Committee.
Dr. Eggleston is survived by his wife, Sara; daughter, Camille Eggleston Hailey; and three grandchildren. A memorial service was held Aug. 10 at St. Luke's United Methodist Church in Houston. In lieu of flowers, donations can be made to the Retina Research Foundation, the Nick Finnegan Counseling Center at St. Luke's United Methodist Church and Houston Hospice.