Jonathan Shenkin, D.D.S., former ADA vice president, dies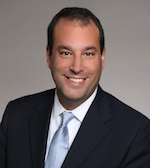 Dr. Shenkin
Jonathan Shenkin, D.D.S., who served as vice president of the American Dental Association from 2013-15, died Aug. 23.
In addition to his executive role with the ADA, Dr. Shenkin, 50, was a past president of the Maine Dental Association, a past chair of the ADA Council on Communications and also served as an ADA media spokesperson on pediatric dental issues.
He was the owner of Augusta Pediatric Dentistry and also was a clinical associate professor of health policy, health services research and pediatric dentistry at the Boston University Henry M. Goldman School of Dental Medicine.
Dr. Shenkin received his dental degree from the Columbia University College of Dental Medicine and a Master of Public Health degree from Johns Hopkins University.
In 2015, Dr. Shenkin was selected for a Fulbright Specialist Program grant in public/global health at Belarusian State Medical University where he helped the dental faculty there train pediatricians about the oral health of young children. He was also a fellow of the American College of Dentists, International College of Dentists and Pierre Fauchard Academy.
In a Q & A on his practice website, Dr. Shenkin was asked about what being a dentist meant to him.
"Life, for me, is not just about going to work and treating children," he said. "It's about taking care of the community and taking care of the future of health, the public, and even taking care of people that don't come to my office at all."
Dr. Shenkin is survived by his parents; brother, Todd, and sister-in-law, Sharon (Frankel); nieces, Elle and Gabriela; and partner, Noon Weiss, and her sons; according to an obituary published Sept. 3 in the Bangor Daily News .