ADA TV now available on Amazon Fire TV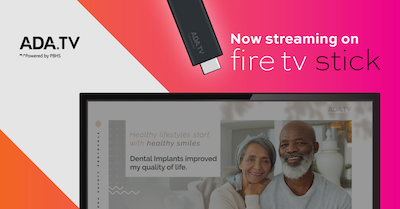 PBHS Inc. announced in February that ADA TV, its dental waiting room streaming service, is now available directly through Amazon Fire TV, allowing dental practices to use the broadcasting system on multiple devices.
Current ADA TV subscribers can download the ADA TV app on Fire TV and play their streaming content on any connected Fire Stick TV device or dedicated Fire TV edition Smart TV. Requirements include a Wi-Fi connection, an Amazon Fire TV device and an ADA TV subscription through PBHS, the website and marketing services provider endorsed by ADA Member Advantage.
ADA TV allows patients in waiting rooms to watch informative videos while educating patients about oral health specific services the dental practice provides. This includes hundreds of 3D procedural animations, educational tutorials, patient testimonials, COVID-19 safety protocols, as well as the ADA's entire Toothflix 2.0 video library, a set of promotional slides and more. Practices can supplement this content with their own video assets and online content from Facebook and YouTube feeds. New content is automatically added and downloaded monthly for immediate display on connected devices.
To learn more about ADA TV, call 1-800-840-5383 or visit pbhs.com/ada-tv.