March JADA finds implant failure rates similar in diabetic, nondiabetic patients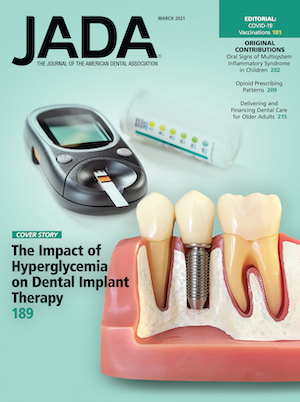 Dental patients with Type 2 diabetes have more peri-implant bleeding on probing and peri-implant bone loss than nondiabetic patients, but their rates of implant failure are similar, according to a systematic reviewand meta-analysis published in the  March issue of The Journal of the American Dental Association.
The cover story, "Impact of Hyperglycemia on the Rate of Implant Failure and Peri-Implant Parameters in Patients With Type 2 Diabetes Mellitus: A Systematic Review and Meta-Analysis," examined nine studies to evaluate the impact of hyperglycemia on dental implant therapy.
"[Patients with Type 2 diabetes] seem to be able to achieve a similar rate of implant survival as healthy subjects," said authors Ren Shang, of Ludwig Maximilian University of Munich in Germany, and Limin Gao, Ph.D., of Southern Medical University in China. "Regarding peri-implant parameters, [peri-implant bleeding on probing] and [peri-implant bone loss] are remarkably higher in [patients with Type 2 diabetes], indicating that hyperglycemia is an important risk factor for peri-implant inflammation."
The researchers also found increases in glycemic levels among diabetic patients did not significantly affect peri-implant bleeding on probing, peri-implant bone loss or probing depth.
"To evaluate whether patients with higher glycemic levels are more prone to peri-implant inflammation, we performed subgroup analyses based on the glycemic level," the authors said. "Among [patients with Type 2 diabetes], no association between peri-implant parameters and glycemic level is found, providing oral hygiene is strictly maintained."
Other articles in the March issue of JADA discuss oral signs of multisystem inflammatory syndrome in children, opioid prescribing patterns and the delivery and financing of dental care for older adults .
Every month, JADA articles are published online at JADA.ADA.org in advance of the print publication.