HPI: Rural dental offices showing more robust recovery than urban offices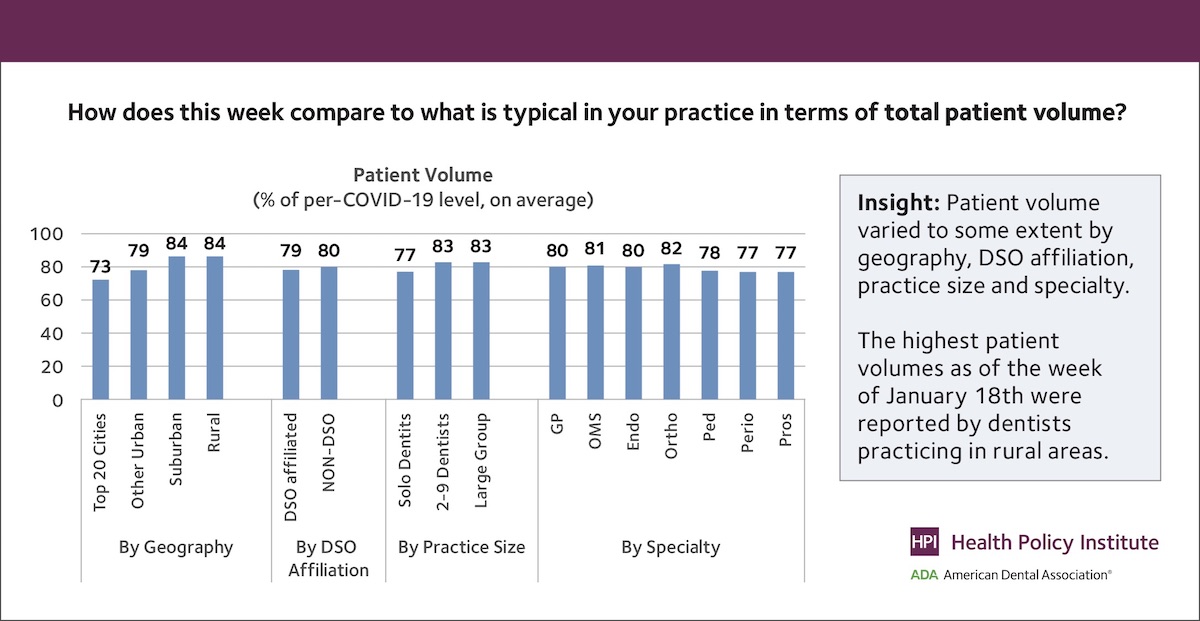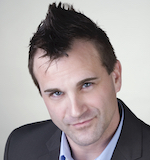 Dr. Boynes
The ADA's Health Policy Institute is "seeing a tale of two Americas in some of our polling data," said Marko Vujicic, Ph.D., chief economist and vice president of the Health Policy Institute.
The data shows a "different response to and attitude toward the pandemic in rural areas compared to those in big cities," Dr. Vujicic said.
Rural dental offices appear to be having a more robust recovery than urban offices in the midst of the pandemic, according to data collected the week of Jan. 18 by the Health Policy Institute.
Health Policy Institute data showed that rural practices reported having 84% of their pre-COVID-19 patient volume in January, compared to 73% patient volume in the most populous 20 cities.
Reasons for rural recovery
The Health Policy Institute's findings correspond with another study conducted by the DentaQuest Partnership for Oral Health Advancement in late 2020. That study showed that rural providers were maintaining overall operations at a higher level than non-rural counterparts, said Sean Boynes, D.M.D., vice president, health improvement for the DentaQuest Partnership for Oral Health Advancement.
Dr. Boynes, who has written and presented on the challenges and opportunities of rural oral health care, offered several observations as to why studies have indicated that there are higher patient volumes in rural practices, compared to those in urban practices, at the moment.
For one, he said, rural providers are more likely to have diversified business models and accept a wider range of dental insurance or benefit models, which includes participating in value-based or alternative reimbursement structures that pay on a per-member, per-month basis.
"This provides a payment structure that is not 100% reliant on providing operative procedures (restorations, extractions, etc.) for income," Dr. Boynes said. "In order to have a sustainable business model, rural providers must see everyone in the rural environment, including Medicaid and Medicare."
Teledentistry was another reason for an uptick in rural providers' business, Dr. Boynes said.
"Even though there are limits in broadband and technology in rural environments, rural providers were more likely to embrace teledentistry," Dr. Boynes said. "In fact, our research found that rural providers were more likely than those in urban/suburban environments to use it to triage patients to prioritize care, prescribe needed medications and visually examine the teeth and mouth. Seventy-seven percent of rural providers using teledentistry platforms expect the volume of encounters to increase or stay the same over the next year."
Another reason, Dr. Boynes said, was that in many states, shelter-in-place orders and regulations to limit operations were planned on a county-by-county basis. Urban areas tended to be more subject to those limitations at the outset of the pandemic.
"So, rural counties, especially in the earlier days of the pandemic, were not as affected so they were able to maintain a higher level of operation compared to urban counterparts," he said.
Dr. Boynes opined that political leanings also could have factored into the issue, as well.
"Rural populations have demonstrated a higher skepticism of COVID-19, which may have allowed a lower impact on not keeping dental appointments," he said.
Lastly, Dr. Boynes said that it appeared that the movement to remote working for many businesses, especially those in urban centers, could have had an impact on urban dental providers.
"Perhaps as individuals were no longer working in a city and living in a rural commuter area, they no longer visited their dentist located near a workplace," he said.
Rural practices well-positioned
Kelly A. Braun, dental delivery systems coordinator for the Pennsylvania Office of Rural Health, studies the delivery of care in rural communities. She pointed out differences in the types of dentists found in rural and urban areas that could explain why rural dentists are on average seeing more patients return to their practices.
"Often, dentists in rural communities might be the only practice in town, meaning that there is less competition for patients," Ms. Braun said. "There are typically also fewer specialists in these regions which could make it beneficial for dentists to offer a wider array of services. Expanded services could lead to the reduced risk of provider burnout as there is more variation day-to-day."
Dentists in rural areas might find fulfillment in seeing and treating all patients, Ms. Braun said, as well as enticing patients to trust them in the midst of the pandemic.
"Rural communities tend to be close-knit where activities focus on family, school, faith and community," she said. "Many of those factors can be considered 'protective' factors, making rural communities ideal for raising a family and having an impact locally. [Dentists] are likely to be more recognized within the community, be it at the grocery store or at their child's school. Living and working/serving a rural community could allow for deeper relationships to form both in and out of the dental chair."
Ms. Braun echoed Dr. Boynes' comments about dentists potentially wearing many hats in rural areas, allowing them to see a variety and abundance of patients to help the bottom line.
"Rural providers may have the opportunity to offer an expanded variety of services," she said. "General practitioners might need to offer more specialized treatment in rural areas as opposed to urban areas, as patients from rural areas might not be able to access endodontists, periodontists, oral surgeons, etc."
Like Ms. Braun, Amy Martin, DrPH, chair and professor of the department of stomatology at the Medical University of South Carolina, studies rural care.
Dr. Martin said that her research indicates high levels in trust of patients with their dentists in rural areas, with them more likely to report a regular source of care or dental home than urban patients. Dentists are likely to be prominent, respected members of the community, giving them a visibility often unmatched by urban dentists, she said.
"A rural dentist has to be an excellent clinician and a member of other community groups because they don't have the convenience of anonymity," Dr. Martin said.
Dr. Vujicic looks at the year ahead.
"The ongoing recovery depends heavily on vaccine rollout success in all pockets of the country, including rural areas where there's greater vaccine hesitancy even on the dental team," Dr. Vujicic said. "Dental providers have an important role to play not only in the oral health but in the overall health of the communities they serve, now more than ever."