Dr. Charles A. McCallum, 2006 ADA Distinguished Service Award recipient, dies at 95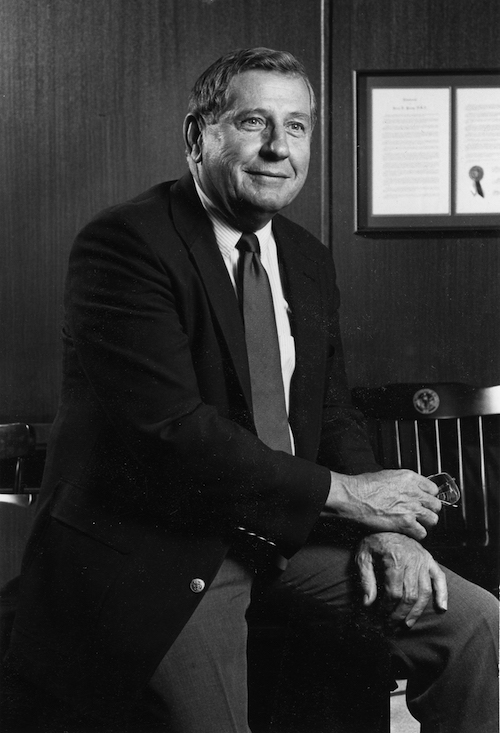 Dr. McCallum: "We're here because God put us here to make this a better world and a better place and to be kind to other human beings. It's a beautiful, beautiful challenge." Photo provided by UAB Archives
Vestavia Hills, Ala. — Charles A. "Scotty" McCallum, D.M.D., M.D., the 2006 recipient of the ADA Distinguished Service Award, died Jan. 16. He was 95.
For more than 60 years, Dr. McCallum dedicated his professional life to dental education and organized dentistry, serving as former president of the University of Alabama at Birmingham and as the first ADA commissioner on what is now The Joint Commission, the oldest and largest standards-setting and accrediting body in health care.
For his achievements as an educator and in leadership and service, he received the Association's highest individual award established by the ADA Board of Trustees.
"I've been so fortunate to have chosen dentistry as a career," Dr. McCallum told ADA News in 2006 after receiving the ADA Distinguished Service Award. "The people who have won this award — Dr. Harold Hillenbrand, Dr. Bob Shira, Dr. George Paffenbarger and more — I am flattered to be among them."
A native of North Adams, Massachusetts, who considered himself an adopted southerner, Dr. McCallum earned his dental degree from Tufts College Dental School in 1951 and his M.D. from the University of Alabama Medical College in 1957.
At the University of Alabama, he taught both medicine and dentistry, eventually rising to dental school dean and chief of oral and maxillofacial surgery at the schools of dentistry and medicine.
At the University of Alabama at Birmingham, which became part of the University of Alabama system in 1969, Dr. McCallum served as vice president for health affairs and director of the UAB Medical Center. He would later serve as president of the university from 1987-93. In 1996, the university would name the McCallum Basic Health Sciences Building in his honor.
"Our university family and the Birmingham community have lost a fierce advocate and wonderful friend," said UAB President Ray L. Watts, in a news release. "Scotty believed in the people of this university, their work and their mission to provide a quality education to all and to build a medical facility that could care for people of our state and beyond."
In 1979, Dr. McCallum became the first ADA commissioner of the Joint Commission on the Accreditation of Healthcare Organization Board — now called The Joint Commission. He spent 12 years on the commission, including two years as chair of the board.
Although Dr. McCallum stopped accepting private patients in 1995, he continued to teach and remained busy. He served as president of the American Association of Oral and Maxillofacial Surgeons, the American Association of Dental Schools (now the American Dental Education Association) and the Southern Conference of Dental Deans and Examiners. He also served as chairman of the Association of Academic Health Centers and was elected twice as mayor of Vestavia Hills, Alabama.
"[After] 37 years of living in this community, I should give something back to the community," Dr. McCallum told ADA News in 2006.
UAB, in a news release, shared what Dr. McCallum once said on what brings him joy as he accepted a lifetime achievement award from Birmingham's Vulcan Park and Museum in 2018.
"What I love doing is working with the people in this community who are so wonderful," he said. "I'm lucky that I came to Birmingham back in 1951. When you're making other people happy, I think that's so important. We're here because God put us here to make this a better world and a better place and to be kind to other human beings. It's a beautiful, beautiful challenge."
Dr. McCallum was preceded in death by his wife, Alice, his parents, sister and brother. He is survived by his four sons and their families, including eight grandchildren and three great-grandchildren. Due to COVID-19, the family announced it will hold a private service Jan. 25 atVestavia Hills United Methodist Church at 11 a.m. CST. The service will be livestreamed.