February JADA finds opioid prescribing differences among US military dental clinics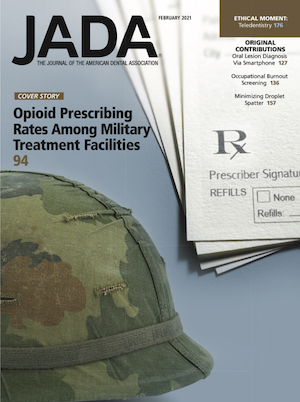 A study published in the February issue of The Journal of the American Dental Association found statistically significant differences in opioid prescribing among U.S. Military Health System dental clinics.
The cover story, "Opioid Prescribing for Surgical Dental Procedures in Dental Clinics of Military Treatment Facilities,"  examined 743,459 dental surgical encounters that took place from 2008 through 2017, finding opioid prescriptions were filled for 36.7% of them. Some variance in opioid prescribing among the dental clinics could be explained by facility characteristics, including region, type and percentage of surgeries that were for patients younger than 26, and practice variables, including percentage of surgeries that were for extractions, percentage of surgeries for periodontic procedures and percentage of dentists who were specialists.
Dentists at 11 of the 30 largest military treatment facilities prescribed opioids at a rate 4 percentage points higher than expected while dentists at the other nine had a prescription rate that was 4 percentage points lower than expected. The study suggests additional research into the factors that allowed some facilities to achieve lower prescription rates may lead to an overall decrease in opioid prescribing.
"There is no 'right' decision when weighing the benefits and risks to patients from opioid medication, but the amount of variability we have found among dental clinics suggests that there are opportunities to change practices," said corresponding author Patrick Richard, Ph.D., with the department of preventive medicine and biostatistics at the Uniformed Services University of the Health Sciences in Bethesda, Maryland. "Ideally, a realization of significant variability in rates of prescribing opioids will lead to open discussion among dental clinicians regarding the reasons for prescribing opioids and clinicians' experiences in following American Dental Association and American Association of Oral and Maxillofacial Surgeons guidelines that nonsteroidal anti-inflammatory drugs are often more effective than opioids for surgical procedures, particularly for tooth extractions."
Building on earlier policy indicating that dentists should consider nonsteroidal anti-inflammatory analgesics as the first-line therapy for acute pain, the ADA adopted a policy on opioids in 2018 that supports prescription limits and mandatory continuing education for dentists. The policy is believed to be one of the first of its kind from a major professional health organization.
For more information on how the ADA is working to combat opioid abuse, visit ADA.org/opioids .
Other articles in the February issue of JADA discuss oral lesion diagnosis via smartphone , occupational burnout screening and droplet spatter minimization.
Every month, JADA articles are published online at JADA.ADA.org in advance of the print publication.