'Light at the end of the tunnel'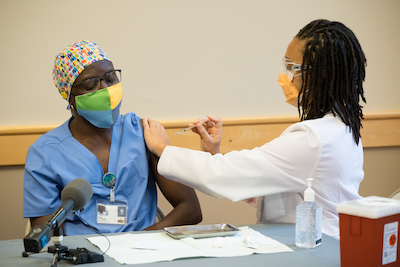 Portland, Ore. — Ryan Thrower, D.M.D., is no stranger to administering vaccines.
As a fourth-year Oregon Health & Science University dental student in 2019, she gave then-OHSU School of Dentistry Dean Phillip Marucha, D.M.D., a flu shot after Oregon became the first state to allow dental students and dentists to administer any vaccine to patients of any age.
But on Dec. 16, 2020, while waiting to administer a COVID-19 vaccine to cardiovascular intensive care nurse Ansu Drammeh, Dr. Thrower said she felt differently.
It wasn't nerves, said Dr. Thrower, now a first-year orthodontic resident at OHSU. It wasn't the cameras or the fact that her colleagues, classmates and Oregon Gov. Kate Brown were virtually rooting her on.
"It was because of the weight it carried," she said. "The light at the end of the tunnel that it indicated."
On Dec. 16, during a virtual press conference by Gov. Brown, Dr. Thrower became the first dentist in the U.S. — and possibly the world — to administer a COVID-19 vaccine, according to OHSU Chief Medical Officer Renee Edwards, M.D.
In addition, being a Black, female dentist administering a vaccine to Mr. Drammeh, also a person of color, was not lost on her.
"Black and brown communities have been disproportionately affected by this pandemic," Dr. Thrower said. "It was important for our communities to see people who look like them who trust the vaccine. We set a tone as health care providers."
Administration of vaccines by dentists in Oregon became possible on May 6, 2019, when Gov. Brown signed into law Oregon House Bill 2220, which added the prescription and administration of all vaccines into a dentist's scope of practice.
The Oregon Dental Association, which helped draft the bill, worked with OHSU, the Oregon Health Authority and the Oregon Board of Dentistry to create a training program for dentists who wished to provide vaccinations in their practice. As of December 2020, about 100 Oregon community dentists and 200 OHSU dental faculty and students have completed the training.
Dr. Thrower said the training program, which included a self-directed online module and in-person and hands-on training, only took her about three days to complete.
The Oregon law sought to help the state reach specific health goals, including increasing the number of Oregon adults receiving the annual flu shot; increasing the number of school-age children receiving vaccines; and, of particular interest to some dentists, administering the HPV vaccine to prevent oral and throat cancers.
In addition, the ADA House of Delegates passed a resolution in 2020, offering its support to dentists who are seeking to administer vaccines. Resolution 91H-2020 states that dentists have the requisite knowledge and skills to administer critical vaccines that prevent life- or health-threatening conditions and protect the life and health of patients and staff at the point of care.
Dr. Thrower said dentists are not trying to replace other health care professionals who typically administer vaccines. However, dentists can play a role, especially amid the COVID-19 pandemic, to ensure their communities are safe.
For now, the state of Oregon remains in Phase 1 in its vaccine allocation plan, which is focused on those who work in health care.
Dr. Thrower expects to receive her first COVID-19 vaccine injection by mid-January. When the COVID-19 vaccination becomes available to the general public, she'll be ready to do her part.
"We are equipped to handle medical emergencies," she said. "We also see our patients more regularly than other doctors, so this has opened another pathway for people to get vaccinated."
During the December press conference, it took Dr. Thrower less than two minutes to sanitize her hands, clean the injection site, administer the shot and place the band-aid on Mr. Drammeh.
"He was the real MVP," Dr. Thrower said.
The ADA has created a fact sheet for dentists about the COVID-19 vaccines and has also posted a map with hyperlinks to state and local jurisdictions that contains population vaccination prioritization details, as well as the most current information about where dentists are authorized to administer the vaccine.
In addition, the ADA is hosting a free webinar to address why dentists should be considered primary care providers and their background makes them well-trained for providing vaccines. Vaccinations by Dentists: A New Role in Primary Care will stream Jan. 27 at noon Central. Dr. Marucha, professor of periodontology at OHSU who received his flu vaccine from Dr. Thrower in 2019, will present.
The ADA continues to monitor developments related to COVID-19 vaccine approval and administration on behalf of the profession and public. Visit ADA.org/virus for the latest information.