ADA Council on Scientific Affairs member elected ADI president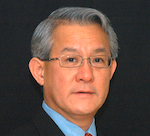 Dr. Park
Jacob G. Park, D.D.S., a member of the ADA Council on Scientific Affairs and chair of the Standards Subcommittee for the council, was elected as president of the Academy of Dentistry International in February during its board of regents meeting.
Dr. Park is also chair of both CAD/CAM subcommittees in the ADA Standards Committee on Dental Products and the U.S. Technical Advisory Group to the International Organization for Standardization Technical Committee 106 on Dentistry.
Dr. Park is a professor of dentistry/clinical at both the School of Dentistry and medical school of the University of Texas Health Science Center at San Antonio. He holds fellowships with the International Congress of Oral Implantologists, American College of Dentists and International College of Dentists.
"My goal as president of the ADI is to lead the academy in the right direction to heal unthinkable trauma from COVID-19 and create a positive environment which will help our members move back to 'normal,'" Dr. Park told ADA News. "I feel that being the president of this prestigious organization is such a lifetime honor and I will do my best to serve the academy with the highest level of efforts."
The ADI represents more than 3,000 fellows in more than 85 countries. Dr. Park succeeds Gerhard K. Seeberger, D.D.S., a native of Germany now living in Italy.