ADA Member Advantage endorses Compliancy Group for HIPAA-compliance management solution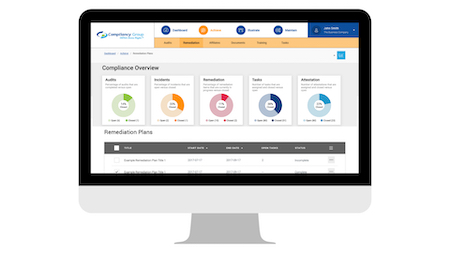 Compliance with the Health Insurance Portability and Accountability Act can be difficult for dental offices to navigate.
To help Association members, ADA Member Advantage has selected Compliancy Group as the exclusively endorsed HIPAA-compliance management solution.
New customers save 15% on Compliancy Group's services and receive five times bonus points on payments made using the new ADA Visa Business Rewards Card.
Compliancy Group's HIPAA software, called The Guard, along with its Compliance Coaches, guide dentists through every step of implementing an effective HIPAA- compliance program with tech support and live coaching.
By working with a dedicated coach, dentists can become HIPAA-compliant quickly through self-paced virtual meetings.
The Guard stores all required HIPAA documentation, provides employee training and protects practices in the event of an audit. Once dental practices have successfully completed their compliance program, their coach verifies and validates their efforts, issuing them the HIPAA Seal of Compliance. The seal can be displayed on a dental practice's website, email signature and signage to demonstrate dedication to protecting patient information.
"One of the largest HIPAA breaches reported in 2020 targeted dental practices," said Compliancy Group President and CEO Marc Haskelson in a statement. "HIPAA-compliant practices are less likely to fall victim to breaches and minimize the risk when they do occur. HIPAA-compliance is an important part of running a successful dental practice. Compliancy Group is dedicated to guiding Association members through implementing a fast and effective compliance program."
To find out more, members can visit Compliancy Group's website, or contact Kelly Koch at 1-855-854-4722, ext. 514, or email ada@compliancygroup.com .