ADA toolkit helps dentists discuss COVID-19 vaccine with patients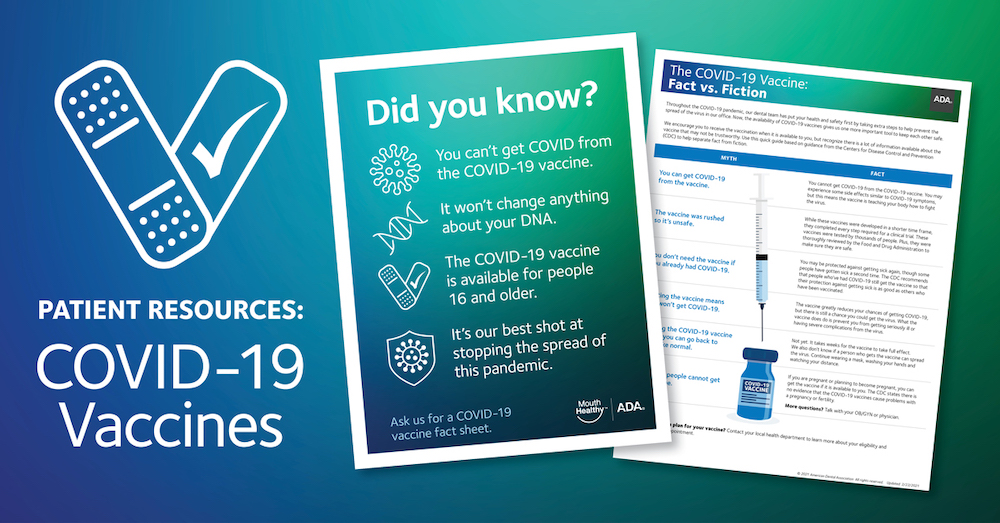 "How was this vaccine developed so quickly?"
"Is the vaccine safe and effective?"
"I'm pregnant (or planning to be). Is it safe to get vaccinated?"
When patients ask these questions, dentists can have the answers. Responses to these commonly asked questions are among the resources available in the latest toolkit kit available to dentists in an effort to improve vaccine confidence, protect the public's health and end COVID-19.
The toolkit, Patient Return: Talking with Your Patients About COVID-19 Vaccines, includes the following information:
Conversation starters, talking points and tips to help dentists bring up the subject of vaccination and ways to communicate with patients.
What to share and not share regarding the dental team's vaccination status.
Answers to frequently asked questions regarding the various COVID-19 vaccines.
Downloadable in-office signs to display in waiting rooms, exam rooms and near the reception desk.
Social media dos and don'ts.
In addition, the toolkit, which was published on March 2, includes two PDF tip sheets that separate the fact vs. fiction regarding the COVID-19 vaccine, and what research recommends to women who are pregnant or planning to start a family. As of May 27, the toolkit is now available in Spanish and is in front of a firewall through June 30.
According to research from a February Associated Press poll, a third of U.S. adults are skeptical of the vaccine, with factors such as a person's age, where they live, their level of education, race and political affiliation impacting their decision.
The toolkit also reminds dentists to respect that patients' opinions vary and approach the conversation with empathy.
The Food and Drug Administration on Feb. 27 issued an emergency use authorization for Johnson & Johnson's COVID-19 vaccine — the first one-shot vaccine to be authorized for the prevention of COVID-19. The new vaccine was developed by Janssen, the pharmaceutical component of Johnson & Johnson. The FDA has previously granted emergency use authorization for the Pfizer-BioNTech and Moderna COVID-19 vaccines.
To download the Patient Return: Talking With Your Patients About COVID-19 Vaccines toolkit, visit ADA.org/vaccinetoolkit . 
For key facts about COVID-19 vaccinations, the ADA has created a fact sheet for dentists and dental team members about the status and safety of COVID-19 vaccines. The Association also has posted a map of the United States with hyperlinks to state and local jurisdictions that contains population vaccination prioritization details, as well as the most current information about where dentists are authorized to administer the vaccine.