One year of COVID-19 response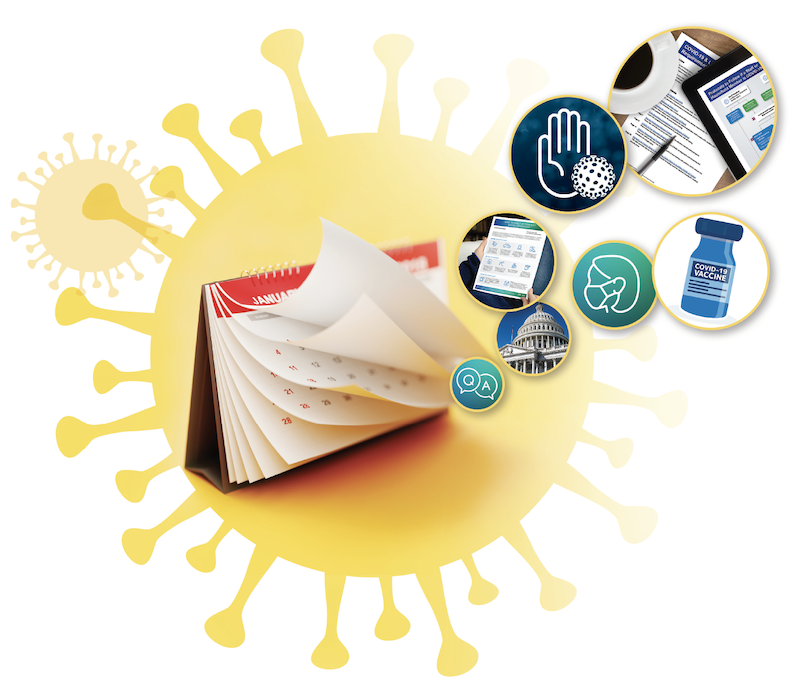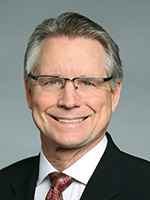 Dr. Klemmedson
Editor's note: Explore a one-year interactive timeline, COVID-19 and Dentistry, on how the profession responded to the challenges of the pandemic at ADA.org/covidtimeline.
When the ADA Board of Trustees was deliberating to recommend that dentists focus solely on urgent and emergency treatment in March 2020, there were still many unknowns.
"The science was evolving," said ADA President Daniel J. Klemmedson, D.D.S., M.D., who was serving as president-elect at the time. "The vast majority of Americans were not even wearing face masks yet."
However, the U.S. COVID-19 outbreak was accelerating, and just five days before the ADA issued its postponement recommendation, the World Health Organization declared COVID-19 a global pandemic.
"At that time, public health directives centered on flattening the curve — using social distancing and isolation to help mitigate disease spread and alleviate the burden on overwhelmed hospital systems," Dr. Klemmedson said.
It was on March 16, 2020, that the ADA Board of Trustees voted to recommend that dentists postpone all but emergency and urgent care. By the week of March 23, 2020, about 76% of dentists had closed their offices to all but emergency patients, according to the ADA Health Policy Institute.
"It was certainly a difficult moment for many dental practices," Dr. Klemmedson said.
Fast-forward 12 months later, and the COVID-19 vaccination rollout in the U.S. is ramping up with most states including dentists and their teams in Phase 1a to receive the vaccine. At least 26 states are allowing dentists to administer the vaccine.
To date, according to HPI, 99% of U.S. dental practices are back open with patient volumes reaching about 80% of pre-pandemic levels on average.
"I believe that our profession responded well to the challenges, and I am proud that the ADA was instrumental in leading dentistry through the pandemic," Dr. Klemmedson said. "Our results also show that dentists everywhere — not only ADA members — have been able to benefit from the Association's guidance and support."
Weeks before the pandemic affected dental practices, the Association was already busy preparing to offer dentists much-needed guidance and advocacy. In late January 2020, the ADA formed a team comprising scientific and public health experts and ADA staff to lead the Association's response as more member dentists turned to the ADA with their questions.
The ADA created a centralized hub on its website, ADA.org/virus , with answers to frequently asked questions about the disease, a working definition for dental emergencies developed by the ADA Board of Trustees, and interim guidance on minimizing the risk of transmission of what was then described as the novel coronavirus before, during and after treating emergencies, developed with member volunteer oversight by representatives from the ADA Board of Trustees and ADA Council on Scientific Affairs.
In April 2020, the Association established the Advisory Task Force on Dental Practice Recovery, which created and released the Return to Work Interim Guidance Toolkit to help dentists return to more normal practice operations while protecting their staff, dental team, patients and themselves from COVID-19.
Over the subsequent months, the task force released a hazard assessment guide and checklist for dental settings to reduce the risk of COVID-19 spread; launched the Patient Return Resource Center, with template resources to help dental team members communicate with patients about the increased safety measures in dental offices; and created resources to help dentists stay informed with their respective states' dental regulations, recommendations and mandates.
"Dentistry has been greatly affected by the pandemic; however, we have been fortunate to have seen gradual and meaningful recovery over the last several months," Dr. Klemmedson said. "By implementing the enhanced infection control protocols recommended by the ADA and the CDC, our profession has proven its ability to operate safely."
In October 2020, an article in The Journal of the American Dental Association reported that COVID-19 prevalence among dentists, as of June 2020, during the initial acceleration phase of the pandemic was less than 1%.  An estimated 3.1% of U.S. dental hygienists had contracted COVID-19 as of October 2020, according to research from the ADA and American Dental Hygienists' Association.
"We didn't expect a global pandemic to helpus bolster dentistry's track record for safety, but I'm proud that our framework has quite clearly demonstrated its value," Dr. Klemmedson said.
Meanwhile, the ADA advocacy efforts were in full swing over the past year to ensure federal stimulus packages provided dentists the support they needed. It mobilized its more than 151,900 dental advocates in grassroots action alerts to send nearly 600,000 emails to U.S. leaders during deliberations related to COVID-19 legislation.
The Coronavirus Aid, Relief and Economic Security Act, or CARES Act, became law in March 2020 and included Small Business Administration loans, retirement account withdrawals, and student loan payment and interest deferral.
In addition to advocating with lawmakers on behalf of the dental community, the ADA worked with key federal agencies to secure and distribute much-needed personal protective equipment as dentists went back to work. To date, approximately 64,000 dentists have received over 4.1 million KN95 masks and 835,000 gowns. In addition, the ADA is currently distributing 50,000 KN95 masks and650,000 gowns to approximately 25 community health clinics in underserved communities.
Moving forward in 2021, Dr. Klemmedson said the ADA will play a role in equipping dentists with tools to educate their communities on the COVID-19 vaccine — one patient at a time.
"Dentists are trusted health care providers, and we know that our voices can contribute immensely to building vaccine confidence in our nation," he said.
The ADA has posted public-facing content on MouthHealthy.org and on social media, as well as collaborated with other health care organizations in an effort to reduce vaccine hesitancy.
"I've said this a few times before: COVID-19 has given us an opportunity to raise the bar for our profession," Dr. Klemmedson said, adding that what the profession has learned in the past year can positively reshape its approach to clinical practice moving forward.
"The pandemic has invigorated areas of scientific discourse that could spur clinical advancement in the near future," he said. "I believe that if dentistry applies the lessons we've learned in the last 12 months, we can position ourselves for a stronger future. For all its challenges, the pandemic can have a lasting positive impact if we choose to learn from it."
The ADA will continue to monitor developments related to COVID-19 vaccine authorization and administration on behalf of the profession and public,